THANK YOU TAMMY ~ WELCOME CLAUDIA
Tammy Hartzell has served as our Child Care Worker since February, 2011. She is beginning her nursing clinicals this semester and is unable to continue serving in this capacity. We celebrate her career success and thank her for 5 years of faithful service.
It is also our pleasure to welcome Claudia Davis to our Child Care Staff. Claudia is a child care specialist with Kind Mind Kids and a Certified Nurse's Assistant (CAN). Please stop by the Nursery on Sunday morning and welcome her to our community.
EMBRACING SPIRITUAL AWAKENING: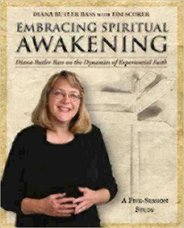 A Five Session Lenten Study
Tuesdays:
February 16 -
March 15, 2016

Potluck Suppers Study Sessions
6:00 - 6:30 p.m. 6:30 - 7:30 p.m.

Interfaith Resource Center Road Trip to Dover, Delaware
Wednesday - March 2, 2016
Bus leaves IRC parking lot 9:30 a.m.
1530 Foulk Road, Wilmington, DE 19803
Returning at 4:30 p.m. (Bring your own lunch)
$55 per person… includes bus and entrance fees.
We will see The St. John's Bible at Biggs Museum and visit Barratt's Chapel.
RSVP as soon as possible to reserve your space. 302.420.7117
MEDITATIONS ON THE PASSION
Sunday March 6 @ 4:00 p.m.
In the spirit of Lent and a preview of Holy Week, please join us for this evening service of selected readings interspersed with hymns and special music sung by the choir. "For if we have been united with him in a death like his, we will certainly be united with him in a resurrection like his." – Romans 6
Holy Week and Easter 2016 Schedule of Services
THE SUNDAY OF THE PASSION: March 20, 2016
8:00 a.m. Holy Eucharist
10:30 a.m. Liturgy of the Palms, Holy Eucharist,
& dramatic reading of the Passion
MONDAY IN HOLY WEEK: March 21, 2016
5:30 p.m. Holy Eucharist, in the Chapel
TUESDAY IN HOLY WEEK: March 22, 2016
5:30 p.m. Holy Eucharist, in the Chapel
WEDNESDAY IN HOLY WEEK: March 23, 2016
12:15 p.m. Holy Eucharist and Healing
MAUNDY THURSDAY: March 24, 2016
6:15 p.m. Holy Eucharist and Washing of Feet
Agapé Supper
Stripping of the Altar & Vigil
GOOD FRIDAY: March 25, 2016
1:00 p.m. The Way of the Cross:
Service of Meditation presented by the youth
7:30 p.m. Good Friday Liturgy
HOLY SATURDAY: March 26, 2016
10:30 a.m. Liturgy, at the Tomb
EASTER DAY: March 27, 2016
5:30 a.m. The Great Vigil of Easter
7:30 a.m. Festival Eucharist of the Resurrection