Immanuel Church, Highlands

IN MEMORIAM
Alfred G. LeSieur
April 4, 1940 ~ August 4, 2015
Visitation
The Parlor
Immanuel Church, Highlands
Wednesday, August 12, 2015
Nine-thirty in the Morning
Eucharist in Celebration of Life
Immanuel Church, Highlands
Wednesday, August 12, 2015
Ten-thirty in the Mornin

Rest eternal grant to him, O Lord;
and let light perpetual shine upon him.
Please remember the LeSieur family
in your prayers.
IMPERFECTION
I think imperfection is the organizing principle of the entire human, historical, and spiritual enterprise. Imperfection, in the great spiritual traditions, is not just to be tolerated, excused, or even forgiven. It is the very framework inside of which God makes the God-self known and calls us into gracious union. It's what allows us--and sometimes forces us--to "fall into the arms of the living God" (Hebrews 10:31).
Richard Rohr
ADOPT-A-STUDENT/FOOD BANK BACKPACK PROGRAM
This year Immanuel's outreach ministry will be combining our efforts to help at-risk students fight hunger and meet school supply needs. We will be collecting donations in the foyer until Aug 16. Immanuel will provide the backpacks which you make take to fill with items and return by our deadline. Please read more about these programs to see how you can become a devoted, caring sponsor.
Adopt-A-Student under Adopt-A-Family serves identified families in crisis and is coordinated by the Division of State Service Centers in all three counties. Last winter left many families struggling to pay for heat bills. They are still on payment plans and may have exhausted assistance programs leaving little room in the budget for school supplies or uniforms. The goal of the program is to encourage a positive attitude toward school by helping each student start the school year with the necessary supplies to achieve success. Gift cards to stores such as Forman Mills, Rainbow and Walmart that provide school uniforms are also welcome. $25-$50 will provide up to two uniforms for one child. Below is a list of requested items not normally donated in large quantity.
Individual packs of
hand wipes
scientific calculators
Toothbrushes
Paperback dictionary/thesaurus
Combination locks
Mini staplers
Post-it notes
Graph paper
Compass Protractor
3-hole punch that clips into a binder
Misc. items welcome
Food Bank of Delaware Backpack program seeks to provide children at-risk of hunger with nutritious, easy-to-prepare food for preparation and consumption at home. They provide food for children (k-12) in need for weekends and holidays when school is not in session and when federal school meal programs are not available. More than 5,000 children participate each year. The program helps reduce health problems associated with under nutrition, reduces the barrier of hunger that contributes to poor school performance and empowers school personnel to take direct action to benefit hungry children. It also increases awareness of positive nutrition to student's families and provides parents and guardians resources available to low-income families.
Backpacks or bags are filled with food by volunteers and delivered to secure sites on Fridays. They are distributed to children in a discreet manner in nondescript bags or backpacks. Depending on availability schools supplies are also added. Please read list of requested items this year.
Individual packages of pretzels, raisins, fruit snacks, granola bars, oatmeal bars, crackers. Tuna (easy to open), Mac-n-Cheese. Juice boxes. 4-6 cup packages of applesauce or pudding. PB& Jelly.
Thank you for your continued support. Wishing you God's peace and Blessings.
Gretchen Broadwater and Connie Shultz,
Program Coordinators
Friendship House Volunteer Picnic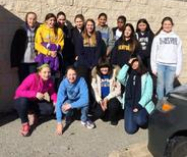 August 9th
What?
We are hosting a volunteer picnic to thank all of our wonderful supporters this past year! We couldn't have accomplished serving so many people without your help. Come and meet other volunteers, board members, staff and directors and let us say Thank You!
Where?
Meet us at the Brandywine Springs Lawson Pavilion located at the Brandywine Springs State Park: 3300 Faulkland Road Wilmington, DE 19808
When?
Sunday, August 9th from 12:00 pm till 3:00 pm. Feel free to come anytime that is convenient for you!
RSVP
If you are able to come, please RSVP and let us know so that we can get a head count for food!
| 302-652-8133 | fhkime@gmail.com | Website |

Highlands Voice Deadline: 4:00 p.m. each Tuesday for the next week's issue.
Phillip Stephens, Parish Administrator and Highlands Voice Editor
Office hours: 8:30 – 1:30, Monday through Friday.
Phone: 302.658.7326 ext. 10
THE ELEVENTH SUNDAY AFTER PENTECOST
1 Kings 19:4-8
Psalm 34:1-8
Ephesians 4:25-5:2
John 6:35, 41-51
---
PARISH INTERCESSIONS
Rochester (USA) - (II, The Episcopal Church): Prince Singh, Bishop
Trinity Parish and
Old Swedes, Wilmington: Patricia Downing, Rector; Juan George,
Associate Priest;
Ginny Wilder,
Associate Priest
Food Bank of Delaware
Those in need of our prayers for strength, guidance or healing:
Tom, Maria, Christopher, Jeremy, Joan, Janie, Lois, Gerry, Marian, Mike, Richard, Arie, George, Cathy, Marie, Leslee, Victoriano, Tom, York, Beverley, Eve, Keith, Don, Austin, Kim, George, Barb, Phyllis, Lat, Valerie, Kenn, Fred, Kay, Ed, Timothy, Rebecca, Mary, Aileen, Tom, Timothy, Tish, Sande, Mark, Robert, Donna, Norman, Cecilia, Judy, Grace, The Children of Guatemala, George, Lana, Steve, Alan, Maryann, John, Dan, Paul, Ashley,
Michael, Joanne, Morgan, Carolyn, Devin,
Those that are on assignment in the Middle East and throughout the world in the service of their country:
Those who have died, and for the comfort of their families: Al
---
CALENDAR
---