IMMANUEL CHURCH, HIGHLANDS


CHILDREN'S CHRISTIAN EDUCATION
Godly Play
Sunday, October 2nd @ 10:30 a.m.
Unlike previous years, classes begin at 10:30 a.m.
with everyone joining us in church after the Peace
for Communion.
After the Processional,
we will dismiss children and teachers
with a prayer,
children should come to church for the dismissal.
May God bless our new program year!
Middle School & High School:
Planning & Pizza
Saturday, October 29th
5:00–7:00 p.m.
THE FEAST OF ST. FRANCIS
Sunday, October 2, 2016
Pet Blessing
8:00 & 10:30 a.m.
Please bring your appropriately chaperoned pet
to church for a blessing
PARISH PICNIC:
Rain or Shine ~ Inside or Outside!
Sunday, October 2, 2016
Right after Worship
Please bring a dish to share:
either a side dish or dessert
Burgers, hot dogs, and drinks
will be provided
THANK YOU!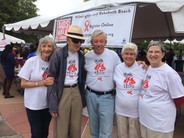 Thank you to our walkers for and donors to the 30th Annual AIDS Walk Delaware on Saturday, September 30th. Our intrepid walkers were: Fr. Kim, Deacon Sheila, Steve Patchel, Anna Mae Buhl, George Parshall, and Sue Welles. We raised $770.00 to help those living with AIDS and to prevent the spread of HIV/AIDS in Delaware. If you still want to contribute, it's not too late. Contact Sue Welles: 302.299.9876 or swelles1@verizon.net.
Outreach Ministry
YOUR OPINIONS ARE VITAL!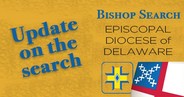 Dear Brothers and Sisters in Christ in the Diocese of Delaware,
The Search Committee is putting together a profile of our Diocese. To that end we will be holding 26 "Town Halls" around the diocese in the month of October to get people's input about what they hope for our diocese and for our next bishop.
So that those meetings can be focused on what is of most interest and concern to you, we are sending out this brief survey to help us structure those meetings effectively. We would be very grateful if you would fill it out, either online right here or via a paper copy, which is being made available through the parishes.
Thank you for your prayerful input. Look for more to come on the times, dates and locations for the Town Halls.
Faithfully,
Steve Boyden and Martha Kirkpatrick, Co-Chairs,
Bishop Search Committee
For more information about the search, please go to www.bishopsearchdiodel.org. Please respond to the survey by October 11.
THE BRANDYSINE SINGERS
Present
Duruflé's Requiem and
Bach's Der Geist hilft under Schwachheit auf
Saturday, October 8, 2016
7:30 p.m.
2400 W. 17th St.
Wilmington, DE 19806
Admission: $15 in advance, $20 at the door
Advance tickets can be purchased on our website www.thebrandywinesingers.org


YOU ARE INVITED!
Parish Social in the Parlor
Friday, November 4, 2016
5:00-7:00 p.m.
Come enjoy an informal gathering with new and old friends, along with tasty hors d'oeuvres, a variety of beverages, and good conversation. This is a fun opportunity to get to know newer or longtime parishioners in a relaxed setting. Child care is provided. Need a ride? Contact Sue Welles at 302.299.9876 or swelles1@verizon.net
UPCOMING MUSICAL EVENTS AT IMMANUEL
.
The Brandywine Singers
Saturday, October 8 @ 7:30 p.m.
Bach Motet and Duruflé Requiem
Choral Evensong
Sunday, October 16 @ 4:00 p.m.
Sung by the Parish Choir and guests
Highlands Chamber Players
Sunday, November 13 @ 7:00 p.m.
Music from the 18th-21st centuries with cello, clarinet, flute, recorder, voice, and piano

Immanuel is a
Welcoming Community,
Celebrating and Sharing
the Good News of Jesus
through Worship, Prayer, Learning,
and Service.

Highlands Voice Deadline: 4:00 p.m. each Tuesday for the next week's issue.
Phillip Stephens, Parish Administrator and Highlands Voice Editor
Office hours: 8:30 – 1:30, Monday through Friday.
Phone: 302.658.7326 ext. 10
THE TWENTIETH
SUNDAY AFTER PENTECOST
Habakkuk 1:1-4, 2:1-4
Psalm 37:1-10
2 Timothy 1:1-14
Luke 17:5-10
---
PARISH INTERCESSIONS
The Church of the Province of West Africa: Daniel Sarfo, Primate & Metropolitan, CPWA, Archbishop of the Internal province of Ghana and Bishop of Kumasi
The Episcopal Church of Sts. Andrew & Matthew: David T. Andrews, Jr., Rector Lloyd S. Casson, Rector Emeritus
The Food Bank of Delaware
Those in need of our prayers for strength, guidance or healing: Tom, Maria, Christopher, Jeremy, Joan, Janie, Richard, George, Cathy, Leslee, Victoriano, Tom, Beverley, Eve, Molly, Keith, Don, Austin, Kim, George, Barb, Rebecca, Aileen, Judy, Aixa, Fam, Salvador, Erika, Mac, Kay, Cis, David, Natasha, Tatiana, Norman, Hugh, Tony, Sandy, Steve,
Fran, Richard, George, Ellen, Betsy, Lisa, Bob, Ruth, Jack, Edwina, Ferme, Sonia, The Gonzalez Family, The Families of San Marcos
Those that are on assignment in the Middle East and throughout the world in the service of their country: Damien
Those who have died, and for the comfort of their families: Mark
---
CALENDAR
---