MICHAEL CURRY INSTALLED 27TH PRESIDING BISHOP AND PRIMATE OF THE EPISCOPAL CHURCH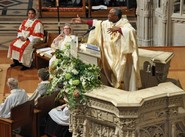 The Episcopal Church installed Michael Bruce Curry on Nov. 1 at Washington National Cathedral in Washington, D.C. A highly diverse crowd of 2500 guests filled the cathedral for a multilingual service that began with a Piscataway Indian drum processional and included a gospel choir and prayers of blessing by Jewish and Muslim leaders. In his sermon, the 62-year-old Curry prioritized evangelism and reconciliation for his 2 million-member flock. - See more at: https://sojo.net/articles/michael-curry-installed-presiding-bishop-episcopal-church-urges-way-love#sthash.99auUmUW.dpuf
DELAWARE HOSPICE FESTIVAL OF TREES
November 16-18
10:00 a.m. – 4:00 p.m.
Do you like to decorate Christmas trees? Join fellow parishioners during coffee hour on November 8th in a fun activity of decorating trees and wreaths to benefit Delaware Hospice. Large trees are sponsored by corporations and donated to shelters, nursing homes, hospitals, etc., and small trees and wreaths are sold to the public. For more information contact Connie Shultz at 302.373.1281 or connieshultz@hotmail.com.
NEW EDR COORDINATOR
We thank Brenda McCourt for her 5 years of service as coordinator for Emmanuel Dining Room. We are also delighted to welcome Rob Volko as the new coordinator. Rob shares, "This is one of our most important ministries and I look forward to continuing to help and serve EDR and the people who count on ICH."
GUEST PREACHER
Bill Perkins, Executive Director of Friendship House, will be our guest preacher at both services on November 15, 2015.
COMMITMENT SUNDAY
A long-standing fall tradition in most churches is to ask parishioners to consider their financial giving to God, and God's work in the world, in and through their church. This year, Commitment Sunday here at Immanuel Church is November 22nd and on that day we hope that you would return your completed commitment card (placing it in the offering plate).
It is very important that every member of our community of faith prayerfully consider their overall financial commitments such that God is clearly their number one priority.
I invite everyone to join me for a stewardship conversation either Sunday 11/8 @ 9:00 a.m. or Tuesday 11/10 @ 6:30 p.m. I especially invite anyone who has not previously made a financial commitment to our church.
God's Peace,
Kim
DITTY BOXES
The collection of items for Ditty Boxes for the Seamen's Center at the Port of Wilmington is well under way. The final day to contribute will be November 15.
Please contribute any of the items listed below and put them in the red bucket in the foyer:
Knitted hat and Scarf, Comb, Shampoo, Cough Drops, Candy, Warm Socks, Toothpaste, Razors, Playing Cards, Hand Lotion,
Bars of Soap, Winter Gloves, Toothbrush, Deodorant, Chapstick, Sewing Kit, Stationery and Pens
Please see Deacon Sheila if you have any questions.
DRAMA KIDS PARENT SURVIVAL NIGHT
November 20, 2015
5:00 - 9:00 p.m.
Need a night out? Leave the kids with us for an amazing, fun night of games and crafts! $30/child with siblings being an additional $10. Costs less than a babysitter!! We partner with local restaurants to get you deals as well. This time it's Trolley Tap House and Santa Fe. "Drama Kids Parent Survival Nights" are all the rage. Don't let this one pass you by. November 20th from 5:00 – 9:00 p.m. at Immanuel Church, Highlands. Register online at www.dramakids.com/de1 Spaces fill up fast!
PARISH LIFE DAY
Ages and Stages of Faith
"Growing with God"
Featuring The Reverend Scott Gunn
Executive Director of Forward Movement and
co-creator of 'Lent Madness'
November 21, 2015
8:30 a.m. - 3:15 p.m.
St. Anne's Episcopal School, Middletown, Delaware
REGISTER TODAY!
First 75 online registrants will receive
Free Diocesan Gift
MORNING WORKSHOPS
Go Online to Love & Serve the Lord:
Does your church have a compelling online presence? Do you engage your community on social media? Do you make connections with people in between Sundays? Scott Gunn leads a conversation about how your church can (and should!) have a compelling presence on the web and on social media. Learn how to use social media to share the Good News of Jesus and to enrich the lives of his followers.
Journaling & Yoga: Led by Alyson McWilliams
Parenting Teens is Always an Adventure:
Led by the Rev. Louise Howlett
Looking Good: Ten Ways to Improve Your Photos:
Danny Schweers, will give you ten easy ways to improve your photos as you click the shutter.
The Millennial Generation & Faith -
exploring the mission field in our own backyard:
Led by the Rev. Ginny Wilder
It's About Time! Led by the Rev. Brad Hinton
Right Pathways, For God's Sake!
Led by the Rev. Chuck Weiss
Unpacking the Invisible BackPack:
Led by the PACT team.
AFTERNOON WORKSHOPS
Go Online to Love & Serve the Lord:
repeat of morning.
Table Painting—Connecting with God in paint:
Led by the Rev. Ginny Wilder
(Grand)Parenting Children is Wonderful
& Challenging: Led by the Rev. Louise Howlett
Simple Steps for Combating the Blues:
Led by Alyson McWilliams
Meditation, Heartfulness and Centering Prayer:
Led by Francie Thayer
Neither Death, Nor Life, Nor Angels,
Nor Principalities . . .: Led by Rick Harra
How to be Inclusive of People
with Mental Differences: Led by Chuck Tarver
Looking Good: Ten Ways to Improve Your Photos:
repeat of morning workshop.
ECW Annual Meeting: Delaware Annual Day registration.
Workshop descriptions can be found in the brochures at your church or on our website @ www.dioceseofdelaware.net
For more information and to register,
Please see brochure in your church office or online @ www.dioceseofDelaware.net.
Event Contact: Cynde Bimbi, 302.256.0374.ext.106 cyndebimbi@dioceseofdelaware.net
AWAY IN A MANGER: AN ADVENT DAY OF PRAYER AND REFLECTION
December 1, 2015
9:30 a.m. - 3:30 p.m.
Jesus House Prayer and Renewal Center
2501 Milltown Rd
Wilmington, DE 19808
302.995.6858
St. Francis of Assisi is often credited with giving us "the first Christmas crib. While his devotion to the Christmas mystery has no doubt influenced our modern custom of arranging Nativity scenes in our churches and homes at Christmas, what St. Francis did at Greccio, a small town in Italy, was something more—something deeper. You are invited to "come to the stable" on this day of prayer to reflect on how this familiar scene portrays the kind of human heart which can hold in welcome our Incarnate God-Child who comes to dwell with us. Clare A. D'Auria, OSF, a Sister of St. Francis of Philadelphia, will be our retreat leader. Cost is $35.00 per person before December 1st or $40.00 at the door. Sign up on our website http://jesushousecenter.org/events/away-in-a-manger/ or call our office at 302.995.6859 to register.
UPCOMING MUSICAL EVENTS
Sunday, December 6 @ 4:00 p.m.
Lessons and Carols for Advent
Sunday, December 13 @ 7:30 p.m.
Osher Madrigal Singers
Sunday, December 20 @ 6:00 p.m.
Cathedral Choir School: Lessons & Carols for Christmas
There are music flyers in the foyer to take home.
Remember to mark your calendar!