Immanuel Church, Highlands

THE FEAST OF SAINT FRANCIS
BLESSING OF THE ANIMALS
CALLING ALL PETS
SUNDAY, OCTOBER 4 @ 10:30 A.M.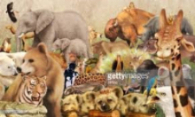 "Because all creatures are connected, each must be cherished with love and respect, for all of us as living creatures are dependent on one another." - Pope Francis
"The God of the whole gave a living soul to each furred and feathered thing; And I am my brother's keeper and will fight his fight; And speak for the beast and bird till the world shall set things right" - Ella Wheeler Wilcox, poet and artist
We will offer the blessing of animals on this Sunday during our 10:30 a.m. worship. Everyone is invited to bring their pet, but please be sure you can keep your pet under control at all times. If it is not practical to bring your pet, it is fine to bring a picture, or other representative item (like a stuffed animal) instead.
EVENSONG: SAINT FRANCIS OF ASSISI
SUNDAY, OCTOBER 4, @ 4:00 P.M.
"Come to me, all you that are weary and are carrying heavy burdens… and you will find rest for your souls." Music will include Walmisley's dramatic Canticles in d minor, and a sumptuous motet by John Sheppard, "In peace I shall sleep and rest"
THANK YOU, IMMANUEL WALKERS
Thank you to our six intrepid walkers and all who donated to this year's AIDS Walk DE to help prevent the spread of AIDS in Delaware - one of the top 10 states for rates of infection. We raised $720.00 and donations are still coming in. If you would like to contribute, please see Fr. Kim or Sue Welles. Thank you! The Outreach Ministry.

ATTENTION: PARENTS OF YOUTH
Dear Parents of our youth,
I am very pleased to announce that the Reverend Ginny Wilder, from Trinity Church, will be here on October 11th to do a presentation on a possible joint youth group program for grades 7 – 12! I am very excited about the possibilities of our two churches working together and I strongly encourage both parents and children to attend the presentation. The presentation will occur during coffee hour downstairs in our dining room.
Peace,
Kim
AED
[AUTOMATED EXTERNAL DEFIBRILLATOR]
We are pleased to announce that we now have an AED which is an emergency life-saving device used in situations of cardiac arrest. More details will follow including operational procedures and training opportunities.
GRIEF SUPPORT GROUP
Are you anxious about facing the approaching Fall and Winter Seasons with their holidays and holydays without your Loved One? Jesus House Prayer and Renewal Center, 2501 Milltown Rd, Wilmington, DE 19808, is offering a Grief Support Group on Wednesdays from 11:00 a.m. – 12:30 p.m. in Bethany Cottage. The meetingS will be held on: October 21 and 28, November 11and 18, Deccember 2 and 16, 2015, and January 6 and 13, 2016.
These bereavement support groups are designed to offer support, comfort and coping skills to adults who have sustained the loss of a loved one. The Co-Facilitators are Chaplain Frances Castello, M.Div., BCC/Ret., and Spiritual Director Angela Malmgren, M.S. in Pastoral Care.
For more information and/or to register, please call Frances Castello at 484.732.8026 or 201.669.0566 or Angela Malmgren at 302.650.0066.
Don't hesitate to contact me if you have any questions!
Thank you,
Spring Davidson, Director
Jesus House Prayer and Renewal Center
2501 Milltown Rd, Wilmington, DE 19808
302. 995.6859
UPCOMING MUSICAL EVENTS AT IMMANUEL
Saturday, October 24 @ 7:30 p.m.
Highlands Chamber Players
Sunday, December 6 @ 4:00 p.m.
Lessons and Carols for Advent
Sunday, December 13 @ 7:30 p.m.
Osher Madrigal Singers
Sunday, December 20 @ 6:00 p.m.
Cathedral Choir School: Lessons & Carols for Christmas
There are music flyers in the foyer to take home.
Remember to mark your calendar!

Highlands Voice Deadline: 4:00 p.m. each Tuesday for the next week's issue.
Phillip Stephens, Parish Administrator and Highlands Voice Editor
Office hours: 8:30 – 1:30, Monday through Friday.
Phone: 302.658.7326 ext. 10
THE NINETEENTH SUNDAY AFTER PENTECOST
Genesis 2:18-24
Psalm 8
Hebrews 1:1-4; 2:5-12
Mark 10:2-16
---
PARISH INTERCESSIONS
Sunyani - Ghana,
West Africa:
Festus Yeboah-Asuamah, Bishop
The Episcopal Church of Sts. Andrew and Matthew:
David T. Andrews, Jr., Rector;
Peter Huiner,
Associate Priest;
Lloyd S. Casson,
Rector Emeritus
St. Stephen's Food Pantry
Those in need of our prayers for strength, guidance or healing:
Tom, Maria, Christopher, Jeremy, Joan, Janie, Lois, Gerry, Marian, Mike, Richard, George, Marie, Leslee, Tom, Victoriano, Beverley, Eve, Cathy, Keith, Don, Austin, Kim, Barb, Rebecca, George, Aileen,
Judy, Alxa, Fam, Salvador, the Ahmed Family, Suzanne
Those that are on assignment in the Middle East and throughout the world in the service of their country:
Those who have died, and for the comfort of their families: Assad
---
CALENDAR
---