DAYLIGHT SAVINGS TIME ENDS!
2:00 a.m.
November 5, 2017
Please set your clock back one hour.


2018 PLEDGE CARDS
2018 Pledge Cards are available on the credenza in the foyer. If a designated card is not there for you and you want to make a pledge, please take one of the blank ones found in the back of the box. Pledge envelopes for 2018 will be distributed in early December. If you want 2018 envelopes, you must return a pledge card.

DELAWARE COMMUNION

The November 2017 edition of
The Delaware Communion Magazine
is available online! Click here to view.

PARISH LIFE DAY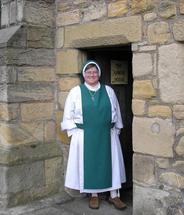 Listen… and Leap!
November 18, 2017
8:30 a.m. – 3:15 p.m.
St. Anne's Episcopal School
Middletown, Delaware
FEATURED GUEST:
Sister Barbara Jean Brown
Workshops:
A Heart of Peace
Yoga for Healthy Bones
Better Photos with Any Camera! (including smart phones)
Listening for God's Abundance
Conversations with Children: a way of proclaiming the Good News
Stop Bullying
Mitigating the Impact of Unconscious Bias
From Sophia to the Holy Spirit
Developing Your Spiritual Senses
Coping with Grief of Loss
Meditation Plus
Centering Prayer: Receiving God's Love
ECW Meeting
If you would like to register, please click here.
DITTY BOXES
The collection of items for Ditty Boxes for the Seamen's Center at the Port of Wilmington will start earlier this year. We will be kicking off the collection of items for Ditty Boxes on October 29 and the final day to contribute will be November 26th. Please contribute any of the items listed below and put them in the collection box in the foyer:
Knitted hat and Scarf

Toothpaste

Toothbrush

Comb

Razors

Deodorant

Shampoo

Playing Cards

Chapstick

Cough Drops

Hand Lotion

Sewing Kit

Candy

Bars of Soap

Stationery and Pens

Warm Socks

Winter Gloves
A ditty bag is a small bag used by soldiers and sailors to hold toilet articles or other personal items. A Ditty Box is just a larger version of this. Please see Deacon Sheila if you have any questions.
PRAYER AND SUPPORT FOR THOSE IN NEED!
The devastation from Hurricanes Harvey, Irma, and Maria is already at historic proportions. Episcopal Relief & Development is working with local partners as they develop their relief efforts and stands ready to assist wherever possible. Please join in praying for all those struggling to survive these terrible storms – and if you can, click on the link below and make an emergency gift to help Episcopal Relief & Development aid in the relief efforts. Thank you for your compassionate support.
Click here to

or mail your contribution to the following address:
Episcopal Relief & Development
P.O. Box 7058
Merrifield, VA 22116-7058
THE STOCKLEY CENTER
The Stockley Center in Georgetown, DE is the 2017 outreach target of the Diocesan ECW. The Stockley Center generally houses about 50 severely handicapped adult men and women. All parishes in the Diocese are asked to collect the items needed, which will be presented to a representative of the Stockley Center at Parish Life Day, November 18. Please note: Because of allergies and the fragile health of the residents, The Stockley Center cannot accept any toiletries - soap, lotion, shampoo, etc.
Items needed:
Slipper Socks - most residents are non-ambulatory, and don't wear shoes.

Art & Craft Supplies - colored paper, glue stick, washable markers and crayons, colorful foam cut-outs, ribbon, wiggle eyes, stickers, etc.

Card and Board Games - UNO, Skip Bo, etc. (NO plain playing cards); simple board games with not a lot of small pieces

Jigsaw Puzzles - the kind with large pieces, especially the wooden type

Money - Cash donations are always welcome, so you can help The Stockley Center purchase what they need.
Bring your parish or personal donation to the ECW table at Parish Life Day, November 18, and it will be presented to a representative of The Stockley Center.