RESTING IN THE PRESENCE
On Sunday mornings during Lent, the choir and ministers are not processing in; rather, we are taking our places for worship at 10:20 a.m. Please join us during this quiet time as we rest in the Spirit's presence.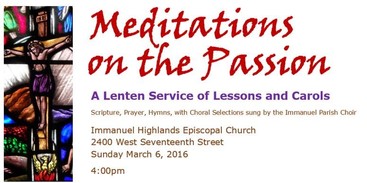 BISHOP SHAND IS COMING
April 24, 2016
On behalf of The Rt. Rev. Wayne P. Wright,
The Rt. Rev. James J. Shand,
Retired Bishop of Easton,
will make the annual Episcopal Visitation
to Immanuel, Highlands,
on April 24th.
He will be the Celebrant and Preacher
at a combined 10:00 a.m. service.
Undesignated offerings received during this liturgy
will be given to Bishop Wright's Discretionary Fund.
If anyone is interested in
Confirmation, Reception, or Renewal of Baptismal Vows,
please see the Rector as soon as possible.
[NOTE: THERE WILL BE
NO 8:00 A.M. LITURGY ON THIS DAY]
Interfaith Resource Center Road Trip to Dover, Delaware
Wednesday - March 2, 2016
Bus leaves IRC parking lot 9:30 a.m.
1530 Foulk Road, Wilmington, DE 19803
Returning at 4:30 p.m. (Bring your own lunch)
$55 per person… includes bus and entrance fees.
We will see The St. John's Bible at Biggs Museum and visit Barratt's Chapel.
RSVP as soon as possible to reserve your space. 302.420.7117
EMBRACING SPIRITUAL AWAKENING: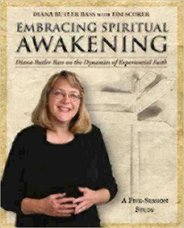 A Five Session Lenten Study
Tuesdays:
February 16 -
March 15, 2016

Potluck Suppers Study Sessions
6:00 - 6:30 p.m. 6:30 - 7:30 p.m.

Holy Week and Easter 2016 Schedule of Services
THE SUNDAY OF THE PASSION: March 20, 2016
8:00 a.m. Holy Eucharist
10:30 a.m. Liturgy of the Palms, Holy Eucharist,
& dramatic reading of the Passion
MONDAY IN HOLY WEEK: March 21, 2016
5:30 p.m. Holy Eucharist, in the Chapel
TUESDAY IN HOLY WEEK: March 22, 2016
5:30 p.m. Holy Eucharist, in the Chapel
WEDNESDAY IN HOLY WEEK: March 23, 2016
12:15 p.m. Holy Eucharist and Healing
MAUNDY THURSDAY: March 24, 2016
6:15 p.m. Holy Eucharist and Washing of Feet
Agapé Supper
Stripping of the Altar & Vigil
GOOD FRIDAY: March 25, 2016
1:00 p.m. The Way of the Cross:
Service of Meditation presented by the youth
7:30 p.m. Good Friday Liturgy
HOLY SATURDAY: March 26, 2016
10:30 a.m. Liturgy, at the Tomb
EASTER DAY: March 27, 2016
5:30 a.m. The Great Vigil of Easter
7:30 a.m. Festival Eucharist of the Resurrection