IMMANUEL CHURCH, HIGHLANDS


CONFIRMATIONS, RECEPTIONS, AND REAFFIRMATIONS
Due to the retirement of our bishop, all churches will participate in regional confirmations this year. Our date is June 4th. Please speak to the rector if you may be interested.
IMMANUEL CHURCH HIGHLANDS
2017 ANNUAL MEETING
SUNDAY, FEBRUARY 19, 2017
Notice is hereby given that the Annual Congregational Meeting of Immanuel Church, Highlands, shall be held on Sunday, February 19, 2017 at 12:00 noon in the Church Parish Hall located at 2400 West 17th Street, Wilmington, DE 19806.
CANDIDATES FOR ELECTION TO VESTRY
Eleanor Austin
Vickie Forster
Kate Sahmel
CANDIDATE STATEMENT
Vickie Forster:
I am humbled to be asked to serve on the vestry at Immanuel Highlands Episcopal Church. A recent (since autumn 2015) member of this community of Episcopal faith, I feel very fortunate and blessed to belong to this church and worship amongst wonderful people.
Born and raised a Southern Baptist in Oklahoma City, OK, I attended undergraduate and graduate school in Oklahoma, studying physical- and bio-chemistry. Following completion of my education in 1985, I moved to Berlin, Germany with my future husband, who was a native of Berlin and had attended Oklahoma University as an exchange student. Lucky enough to gain employment with Schering AG in Berlin, we lived and worked in Berlin until 1993 when we moved back to the United States with Schering's U.S. subsidiary, Wilmington-based, Nor-Am Chemical Company. In 2000, I began an independent regulatory consultancy focused on plant biotechnology and crop protection and continue working in this business venture.
I am happy and willing to serve Immanuel Highlands and our community in the spirit of Christ in any capacity I am asked, in so far as I am able to do so.
NOMINATIONS BY PETITION
The time to nominate by petition is now open.
All nominations must be received by
Monday, February 13, 2017.
Forms are available in the office.
,
LENTEN SILENCE
Lent begins on March 1, 2017. Throughout this season, the ten minutes before worship will be a time of preparation. As you enter the church, please honor the time with Holy Silence.
LENTEN ADULT STUDY 2017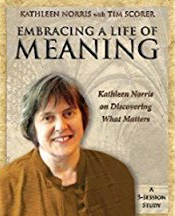 Tuesdays
March 7 – April 4
Supper: 6:00 p.m.
Program: 6:30 – 7:30 p.m.
COME JOIN US TUESDAY EVENINGS DURING LENT!
Together we will explore Embracing a Life of Meaning
Belief Matters: Why does belief matter? To what do we give our hearts? What is the core message of what we believe-creeds or commitment? To what extent is to believe also "to belove?"
The Bible Matters: The Bible is our collective story. How is that story reflected in our daily lives? What is it about the Bible that always seems to address our present moment?
Community Matters: In community, individualism and imperfection meet grace and acceptance. What is our part in the Body of Christ?
Place Matters: In what ways is faith set within the physical space if home, church, land and people?
We Matter: What does it me to remain in God's image and to counter our selfishness by embracing the world and its needs?
To order a copy of the book, please sign-up on the sheet posted on the bulletin board in the foyer.
Immanuel is a
Welcoming Community,
Celebrating and Sharing
the Good News of Jesus
through Worship, Prayer, Learning,
and Service.

Highlands Voice Deadline: 4:00 p.m. each Tuesday for the next week's issue.
Phillip Stephens, Parish Administrator and Highlands Voice Editor
Office hours: 8:30 – 1:30, Monday through Friday.
Phone: 302.658.7326 ext. 10
THE SIXTH SUNDAY AFTER THE EPIPHANY
Deuteronomy
30:15-20
Psalm 119:1-8
1 Corinthians 3:1-9
Matthew 5:21-37
---
PARISH INTERCESSIONS
Lusaka - (Central Africa) David Njovu, Bishop
St. Anne's School, Middletown:
Peter C. Thayer, Headmaster;
Kathy Hanna, Chaplain
Our music ministry:
for Steven our organist and choir director and our choir
Those in need of our prayers for strength, guidance or healing: Tom, Maria, Christopher, Jeremy, Joan, Janie, Richard, George, Cathy, Leslee, Victoriano, Tom, Beverley, Eve, Molly, Keith, Don, Austin, Kim, The People of San Marco, Guatemala, George, Barb, Rebecca, Aileen, Judy, Aixa, Fam, Salvador, Thelma, George, Carolyn, Ellen, Betsy, Lisa, Bob, Ruth, Jack, Edwina, Sharon, Rod, Katherine, David, Shirley, Janet, Tim, Steve, Chelsea, Betty, Sande, Sandy, Leelee, Peter, Barbara, Lilliana, Sue, Adrian, Anne, William, Latasha, Reinaldo
Those that are on assignment in the Middle East and throughout the world in the service of their country: Lupita, Tim
Those who have died, and for the comfort of their families:
---
CALENDAR
---