Immanuel Church, Highlands

DID YOU KNOW?
Immanuel Highlands was one of the founding churches of Friendship house. Carl Mazza, a Presbyterian minister and founder of the Meeting Ground in Earlsville, MD, started a Sunday breakfast for men on the street during the brutal winter of 1987-1988. Pete Clark, Carl's right hand man at the Meeting Ground, had suggested a breakfast because Sunday mornings were lonely for the homeless. At that time, there was no place open to the homeless and no public transportation available on Sundays.
Chuck de Lormier, retired from the military, and Ann Hornbach, a former Army nurse, became Immanuel's first participants. Breakfasts were held out on the sidewalk in front of 214 Market Street. Tables were set up outdoors. The Metropolitan Community Church next door allowed the men to use the restroom facilities and to warm-up in their tiny storefront. Men had to rotate in and out on the sidewalk as the entire crowd couldn't fit into the church's storefront.
Later, an Easter 1987 Breakfast was held in Rodney Square and then breakfasts were held in the park at 4th and Shipley Streets. St. Andrew's Church offered their kitchen for food preparation for breakfasts in the park. Westminster Presbyterian, First and Central Presbyterian, and Immanuel Highlands were the churches responsible for the breakfasts with Carl Mazza remaining the visionary force.
OUTREACH OPPORTUNITY!
Andrew's Place Shelter, located in the basement of the Episcopal Church of Saints Andrew and Matthew, is in downtown Wilmington. It is one of Friendship House's many ministries. Andrew's Place was started in the winter of 1987-1988 as a cold weather emergency shelter. During this past year, between October and May 31st, 68 unduplicated residents stayed at Andrew's Place.
On the first Saturday night of each month, Immanuel has had the pleasure of providing dinner for the gentlemen at Andrew's Place. We always enjoy chatting with the men and with John Owens, the shelter manager.
This year, Al and Cis LeSieur, Sue Welles, Fr. Kim and Sherry Capwell, Maria duPont and Bob Penneys, Becky Terhune, George and Libby Bayley, John Day and Darla Max, John and Cathy Callahan, Deacon Sheila Sharpe, and Bob Maunder and Alex Lehr-Maunder have had a wonderful time visiting with the gentlemen.
We are always looking for more people to join us. You prepare food at home and bring it to Andrew's Place on the first Saturday at 5:00 p.m. We eat with the gentlemen and leave around 6:15 p.m. It is one of the best opportunities you'll have to chat with folks about a variety of topics ranging from music to technology to current events to military service.
This is the perfect time to begin thinking of the fall. If you have any questions and are interested in signing-up, feel free to call Alex Lehr-Maunder at 302.438.1370.
THE 78TH GERERAL CONVENTION OF THE EPISCOPAL CHURCH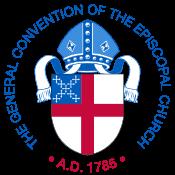 June 25 - July 3
Salt Lake City, Utah
Follow the proceedings at the following link:

Highlands Voice Deadline: 4:00 p.m. each Tuesday for the next week's issue.
Phillip Stephens, Parish Administrator and Highlands Voice Editor
Office hours: 8:30 – 1:30, Monday through Friday.
Phone: 302.658.7326 ext. 10
THE SIXTH SUNDAY AFTER PENTECOST
Ezekiel 2:1-5
Psalm 123
2 Corinthians 12:2-10
Mark 6:1-13
---
PARISH INTERCESSIONS
Oyo - (Ibadan, Nigeria): Williams Oluwarotimi Aladekugbe, Bishop
St. Paul's Church, Georgetown:
Joseph Rushton, Rector
Friendship House:
Bill Perkins,
Executive Director
Those in need of our prayers for strength, guidance or healing:
Tom, Maria, Christopher, Jeremy, Joan, Janie, Lois, Gerry, Marian, Mike, Richard, Arie, George, Cathy Marie, Leslee, Victoriano, Tom, York, Beverley, Eve, Keith, Don, Austin, Kim, George, Barb, Phyllis, Lat, Valerie, Al, Kenn, Fred, Kay, Ed, Timothy, Rebecca, Mary, Aileen, Tom, Timothy, Tish, Sande, Mark, Robert, Donna, Norman, Cecilia, Judy,Grace, The Children of Guatemala, George, Lana, Steve, Cathy, and Alan
Those that are on assignment in the Middle East and throughout the world in the service of their country:
Those who have died, and for the comfort of their families:
---
CALENDAR
---