The medical system in Madagascar is broken as it is in many countries. Our guard's wife, Elizabeth has been very very sick for several weeks. It began when I received a phone call from our back-up physician on March 20th telling me that Elizabeth was at her clinic, bleeding from the pores in her skin, her mouth, her eyes! Her hemoglobin, the protein in red blood cells that carries oxygen was incredibly low, so low that any of us would be passed out on the side of road, but clearly her body had been compensating for sometime as she was still walking around. We agreed that she needed to get to the hospital immediately.
Before you continue reading, take a quick mental picture of what you would expect at the emergency room or once admitted to a hospital in the USA.... now throw that picture out the window.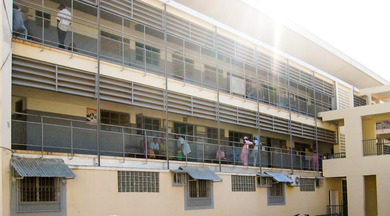 image from friends at http://mccropders.blogspot.com/
Replace the clean, efficient, and competent care with these realities...
* Can you imagine not being able to get a blood transfusion for your wife who is hemorrhaging because you didn't bring anyone to the hospital who can replace the blood?
* Can you imagine that when you do bring SIX friends and family members to donate blood, FOUR of them are turned away because it's 10am and the employees of the blood bank are scheduled to go home at 11am?
* Can you imagine if at other times friends arrive early to the blood bank only to be refused from donating because they didn't get enough sleep, they recently ate beans, or because their blood is "dirty"?
* Can you imagine that for every unit of blood that you receive, you must replace it with 2 units of blood from others... in addition to meeting all those stringent rules above?
* Can you imagine watching your loved one lay in a filthy hospital bed at the entrance of the emergency department half naked and without dignity or privacy for days on end as other sick patients are rushed in to the large room that houses 10+ patients?
* Can you imagine that in this emergency room are patients that have tuberculosis or have been gravely wounded in a car accident or children with severe diarrhea and dehydration... meanwhile your wife laying there amidst the other sick patients has lost so much blood that her white blood cell count is dangerously low and unable to fight off the looming infections all around?
* Can you imagine being the caregiver in the hospital because it's not the job of the nurse and so a family member stays 24/7 to ensure that your loved one gets food (that another family member brings), that your loved one gets medication, gets blood transfusions, etc?
* As the caregiver, can you imagine putting your loved one on the bedpan and then with the full bedpan, walking down the hospital hall, through reception and then disposing of its contents on the ground just outside of urgent care or the long-drop down the hall?
* Can you imagine having to tiptoe to avoid human excrement as you make your way to the hospital toilet?
* Can you imagine having to purchase all gloves, medications, gauze, syringes, etc sometimes at the hospital pharmacy but when they're out of stock, to have to ride your bike to multiple pharmacies around town in search of the needed items for your wife... even in an emergent situation?
* Can you imagine spending over a month in the hospital, progressively worsening each day and your four young children are not allowed to visit?
* Can you imagine watching your wife's life slip away in the hospital without ever being told what's happening to her-- including a diagnosis, treatment plan and prognosis of survival?
* To take it a step further, can you imagine being lied to by the doctor so you don't feel sad about the situation?
As the days and weeks marched on, Elizabeth continued to fight for her life, her husband Fidelise continued by her side, Jamie and I continued to press into the doctors and medical staff-- to provide her with the blood that she desperately needed, fighting for justice for Elizabeth in an unjust medical system, being a voice for a family that was otherwise unheard because of their social status, and paying all the medical bills that undoubtedly the family would have never been able to pay. In the end and after talking with the doctor, Jamie and I were the ones that had to explain to Elizabeth, her husband, her mother and aunt, that there was nothing more that could be done at the hospital, she was dying and her days were short. The family's desire was to go home so that Elizabeth could spend her final days in dignity with her children by her side. That same day, the ambulance from the maternity center picked Elizabeth up and took her home.
Throughout this journey, Elizabeth's faith in the Lord remained strong and unwavering, trusting God that He would heal her and yet, at peace with whatever plans the Lord had for her, whether that meant she would die at the age of 34 leaving a husband and four children or if that meant the Lord would choose to extend her life.
From a medical standpoint, the best guess diagnosis was acute aplastic anemia related to a toxin in a plant that she was drinking daily for several months leading up to the emergency. Essentially, her bone marrow was incredibly damaged and the production of new blood cells stopped! With supportive treatment alone, the estimated fatality rate is 70%. Compounded with the medical system here in Madagascar...
And yet.... the LORD. The Lord is good! He alone spared Elizabeth's life! She has been home for over two weeks-- getting stronger by the day, all bleeding has ceased, she's walking around a little more each day, her is appetite growing, her slurred speech is becoming a bit more clear, and her faith in Jesus is just as strong as she praises Him!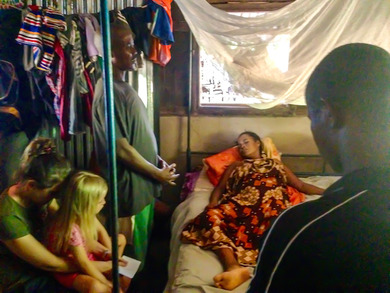 We're in awe and amazed by the miracle we had the privilege to witness as God chose to preserve Elizabeth's life! These last two pictures are taken just one week apart-- the top soon after her arrival home several friends surrounded around Elizabeth in prayer, and the image below taken just last week when we went to visit again! Rejoice with us! Please continue to pray with us for continued restoration to full and complete health!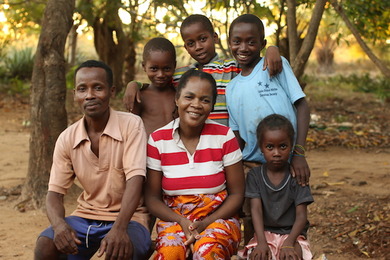 *permission given by Elizabeth to share her story*