Back on the Red Island...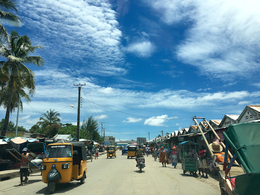 Thank you for praying us back to Madagascar earlier this month! We arrived after only one hiccup due to a passport at the airport which caused us to spend an additional 3 days in the USA. In the end, the extra time in Santa Barbara was such a gift! We slept, walked on the beach, went surfing, had additional time with friends and family and even were able to pick up prescription medication for the kids that hadn't come into the pharmacy prior to our first attempt at departure. God knew that we desperately needed some extra time and we actually boarded the plane a bit rested!

50+ hours after our departure, we arrived in Madagascar with all 23 pieces of checked luggage plus our carry-ons! You may wonder what in the world we brought back in 23 pieces of luggage.... if so, check out the side bar over there ----------------------------------------->>>>>>>>>>
A week after our departure from the USA, we made the 11-hour drive back to our home in Mahajanga and have since unpacked and begun to settle in.

The kids have done well with the transition back to life in Madagascar and for this we're so thankful! They're thrilled to be back with English and Malagasy friends and started back at French School this week-- which is indeed an adjustment as they brush up on their French which they haven't used for 6 months!
At dinner, we've been having lively discussions as we ask the kids various questions from a "transition game" that is intended for missionary families that cross cultures. Last night's question was, "if you could have an American friend visit you in Madagascar, who would it be and why?" After they each answered this question, Gavin, our youngest at 5 years old went on to say, "I wish we were in Santa Barbara and all our Malagasy friends, actually ALL Malagasy people could be there with us". So telling isn't it? Our life is indeed split between two worlds and these worlds are so totally different and not just in the miles that separate them.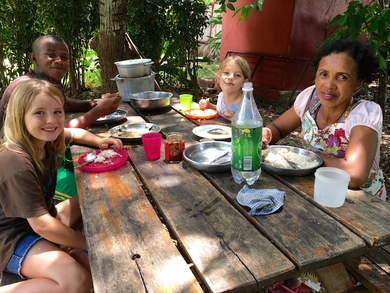 We greatly appreciate your prayers for our sweet kids who continue to transition back to life in Madagascar as they miss friends and family in the USA. Please also join us in praying for their schooling in French as they adjust back to a different educational system. Finally, please pray for Selah, a volunteer who will arrive February 17th to assist in homeschooling our kids in their English education four afternoons a week! May we together pray for Selah's transition to Madagascar and for wisdom, grace and fun as she works with our kids and the Carlstrom kids!
New Life...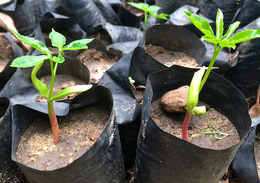 We're so thrilled with the way our Malagasy and American teammates have carried on the ministry in our absence! New life is sprouting all around us-- in the last week alone, three babies were born and thousands of young trees have been transplanted into the ground at various Eden Projects sites. On Monday we will officially start back to work at the maternity center and with Eden Projects.
A chance for New Beginnings...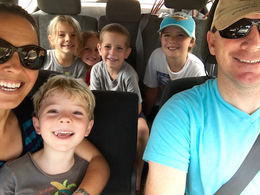 In some ways, this has been the easiest "welcome back" and yet in other ways, this has been one of the harder transitions back to Madagascar for Jamie and I.
The difficulty hasn't been in the frequent power outages that leave us sleepless at night, or only the trickle of water that comes out of the faucets, nor has it been the cold showers or even the crazy unfound leak from our kitchen sink that leaves our floor in puddles multiple times a day. The difficulty hasn't been the heat and humidity, the leaky roof that is saturating some of our walls with subsequent mold due to the heavy rains nor transitioning back into French school or Malagasy language and culture. The difficulty hasn't even been with the horrendous internet connection issues that are not allowing us to work from home, though I'd be lying if I didn't say this is one of the more frustrating things!
Because in truth, these are all merely inconveniences and for the most part, first world problems in the third world country in which we live. Rather the difficulty in our transition back has been the gut-wrenching feeling that surrounds the enormity of the task ahead of us to take the next step in the ministries of the Sarobidy Maternity Center, Eden Projects and Sarobidy Creations. In the months ahead, we'll begin more renovations at the maternity center in preparation of and more importantly for when we begin deliveries at the center later this year! With Eden Projects as we solidify the existing projects, increase our network of partners with other NGO's and governmental agencies and expand future project sites and employment. And for Sarobidy Creations as we continue to expand our retail partnerships for the artisans as a way to help financially support the maternity center. Amongst all of this, as we welcome new families and a single into the ministries and we attempt to lead well the greater WorldVenture group of missionaries in Madagascar.
Even more daunting however, is that we recognize full well our inabilities, insufficiencies, lack of education and expertise in these areas. At the same time, we DO know that the Lord works in and through us despite ourselves and where we are weak, He is strong and where our abilities end, His have only begun and they are infinite!
Truth be told, we understand the boundaries necessary to avoid the burn out that we experienced when we left Madagascar six months ago! However we also know from personal experience that following through with these boundaries is easier said than done and for that reason, this is the hardest and most daunting part of the transition back for us. We realize that we've been given the gift of time away which in many ways, allows us to more easily institute new beginnings as we enter back into life and ministry here.
Please pray with us that we would have wisdom as we set up clear and necessary boundaries in relation to all that vies for our attention... in relation to daily work hours, needs of others, delegating tasks, and taking time off so that we may find rest, enjoy our ever-growing children, foster our marriage, remain healthy, and continue to grow in our love and knowledge of the Lord by spending more time with Him!
Prayer Update...
Last month we asked you to pray for three very specific situations-- ongoing pain that Alissa has been experiencing due to a sports injury, the anticipated upcoming purchase of the Sarobidy Maternity Center property, and a deep-seeded corruption issue from within the church here in Madagascar that has a chance to be quite destructive to the greater ministry.
We ask that you would continue to pray with us for these situations!
If you missed the details last month, you can read about them by
clicking here...
Thank you for your faithful commitment to stand with us in prayer and partnership as together we serve the Lord here in Madagascar!
Standing in the promise of new life and new beginnings in Christ,
Alissa, Jamie, Isabella, Eliana and Gavin
January 2016






In This Issue
Back on the Red Island...
New Life...
A Chance for New Beginnings...
Prayer Update...
---
---
---
this month's
RED ISLAND
RESTORATION
BLOGS:
---
---
---




23 Pieces of Luggage???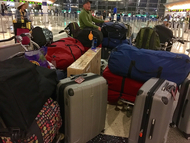 You may wonder... what the heck do we pack in 23 pieces of checked luggage? Here's a glimpse...
toilet seat
kitchen faucet
prenatal vitamins for the ladies at SMC
several boxes of latex gloves
birthday presents for our kids upcoming 2016 birthdays
parts to repair the quad, AKA, our "midwife mobile"
a transmission for someone else's quad
enough computer printer ink for 2 years
fruit basket
500 condoms for SMC.... the other 500 will come at a later time!
handheld dustpan and broom that actually works as intended
linens for our house
linens for the guesthouse
properly functioning clocks for SMC
dried chilis to make yummy homemade enchilada sauce
Christmas decorations
a toilet plunger that properly does it's job....
pillows
gifts for nearly 40 friends!
clothes, shoes, bathing suits and medication for the next 20 months for a family of five
AND the list continues....
---
---
---


JAMIE & ALISSA
SHATTENBERG

BP 200
Mahajanga (401)
United States:

1534 San Miguel Ave

Santa Barbara, CA
93109


jandaandfamily@gmail.com
---
---
---