From our Artistic Director:
Our Summer Intensives and Kids' Camp have now come to an end and we're thrilled to have had the opportunity to share our enthusiasm and love for dance with a new cohort of great young dancers. Our superb faculty this summer included Johanna Bergfelt, Rosemary James, Patricia Miner, Julia Sasso, Darryl Tracy, and Debbie Wilson, all highly regarded and accomplished members of our Professional Training Program. Andrew Hartley and Emma Kerson, core faculty in our Young Dancers' Program, led a delightful and inspired Kids' Camp program. Read on to learn more about the amazing month of summer dance here at the School.

In this newsletter, we are pleased to acknowledge our many gifted alumni for their recent accomplishments – awards, graduations, and appointments – and offer them our heartiest congratulations! We wish you all a wonderful summer and we look forward to re-connecting with you again in the fall.


Patricia Fraser
Artistic Director

Dora Mavor Moore Awards
The School is delighted to congratulate
winners of the 2015-16 Dora Mavor Moore Awards
.
Graduates
Mairéad Filgate
and
Brodie Stevenson
, along with
Zhenya Cerneacov
, won for Outstanding Original Choreography, for
Various Concert
. Mairéad, Brodie, and Zhenya are the driving forces behind
Throwdown Collective
.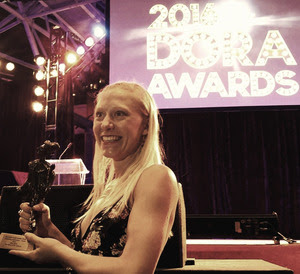 Jillian Peever was the winner of the Outstanding P
erformance – Female, for Sharon B. Moore's The Mystery of Mr. Leftovers, developed from the seed of a work created through the School's Sharon Moore Solo Project, an initiative to provide an opportunity to a new graduate to engage in a creative process with Sharon Moore. It is a gift to the School from Sharon, and is her contribution to the artistic development of the dancer. Mr. Leftovers garnered the Dora award for Jillian Peever as well as nominations for Outstanding Original Choreography and Outstanding Production. From a little seed … Here's Jillian at the 2016 Dora Awards.
Graduates and exquisite dancers
Kassi Scott
and
Kathia Wittenborn
were cast members in
Peter Chin's
Woven
, and won the Dora for Outstanding Performance – Ensemble. Read more about Peter's company Tribal Crackling Wind
here
.

Sharon B. Moore appointed to Humber College Faculty


Sharon Moore
has been appointed to Humber College's School of Creative and Performing Arts as a full-time instructor in the three-year Theatre Performance program. Along with her new position at Humber, Sharon will continue her association with the School as our Resident Choreographer and collaborator on the
Sharon Moore Solo Project
- this year she works with 2016 graduates Hilary Knee and Jake Ramos.
Read about the appointment here
- congratulations, Sharon!
York University Graduates
We're thrilled to announce that a number of our alumni have graduated from York University - congratulations all!
Jolene Devoe
- B.F.A. in Dance and member of the Dean's Honour Roll
Jennifer Dick
- M.A. in Dance
Syreeta Hector
- M.A. in Dance
Michelle Silagy
- M.F.A. in Dance

Summer Dance at the School of Toronto Dance Theatre
July was a full-on, jam-packed month of dance here at the School.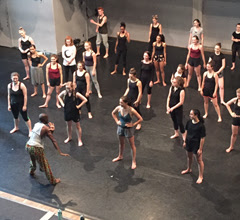 We started off with our Pre-professi
onal Summer Intensive, welcoming a group of enthusiastic dancers from the US, Mexico, Germany, and different corners of Canada. Every day for two weeks they trained in ballet, contemporary, Graham, and Horton techniques, got to test the waters of improvisation, attended a special workshop, tried their hands at collective creation, learned challenging repertory, and performed on our mainstage in front of a full house of family and friends. Here they are pictured in an African Dance Workshop with Pulga Muchochoma.
"My students had an amazingly fantastic time at the Summer Intensive! They loved that it was challenging and pushed them out of their comfort zones, but they felt encouraged and safe in doing so. I am so pumped to see how this experience has changed their movement quality!" - Melissa, dance studio teacher in Nova Scotia.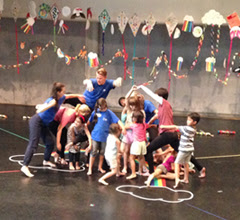 Summer Dance Camp
for kids was next – a week-long adventure filled with dance, games, laughter, and creativity!

The kids got to explore their musical talents with our fantastic accompanists Michael Menegon and Stich Wynston, created their own percussion instruments, had many fun outings to the park, learned how to work, dance, and play in a group, and showcased their talents in a spectacular show for their families complete with handmade stage decorations and live music! Here's a quick snap from the camp's final showing!
Our Teen Intensive brought together a diverse group of dancers ages 13 to 16 from across Canada for a week of intensive training in technique and repertory. We caught up with two of the Teen Intensive participants and asked them a few questions:

What's the best thing about being a dancer?

Bridgit Tooker (13, from Truro, Nova Scotia):
I find dance is a way to express yourself. Sometimes when I'm feeling insecure, movement and dance help me overcome my insecurities and feel free.
Duncan James (15, from Campbellville, Ontario):
I love learning about new ways to move my body, that's a very unique quality that makes dance different from other activities.
What's been the highlight of the Teen Intensive for you?

Bridgit:
I like that we had to learn different techniques. I've never heard of Horton before, but now it's something I want to keep training in!
Duncan:
Getting to learn different modern techniques – modern style is my favourite style of dance.
What's next in your dance life?
Bridgit:
I'd like to pursue dancing, and I hope to study here at the School one day!
Duncan:
I'm going to return to my studies at Cawthra Park and keep training at the Dance Class Milton, and after graduating high school I hope to come to study dance here at the School.

Any questions or feedback? Please contact:
Lilya Sultanova | Communications & Outreach Coordinator
lilya@schooloftdt.org | 416-967-6887 ext. 25