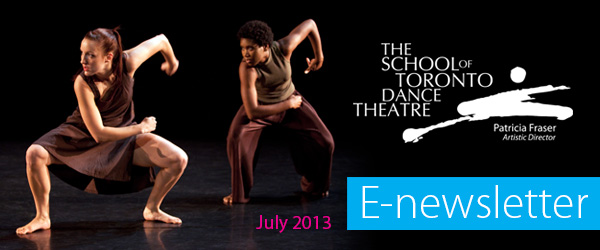 Dancers: Kathia Wittenborn, Kassi Scott I Photo: Cylla von Tiedemann

From our Artistic Director

As I write, we are in the middle of another Summer School, with a tremendous new group of students working each day with wonderful energy and enthusiasm. We have just finished our final audition for September's incoming first year class, and we are all eager to begin working with them, as well as with our returning students.

We are greatly looking forward to hosting the choreographers who are lined up to create works for us, starting in the fall. We have a brilliant group of highly gifted artists preparing to choreograph with our PTP dancers, and they include: Kate Alton (our 2013 Kathryn Ash Choreographic Award winner), Nova Bhattacharya, Marc Boivin, Jennifer Dallas, Danny Grossman, Christopher House, Louis Laberge-Côté, Sharon B. Moore, Tedd Robinson, Julia Sasso, and Darryl Tracy. And that doesn't include the special guests who will be creating and re-creating wonderful chamber dances for ACCELERATION 2014, our third year concert in March. We'll let you know about them in our next E-newsletter!
Wishing you all an excellent and rejuvenating summer,
Patricia Fraser
Artistic Director

Faculty profile - Wendy Chiles



Wendy Chiles is a core faculty member at The School of Toronto Dance Theatre, teaching dance history and the Graham technique in the School's Professional Training Program, and the Graham technique in the Summer School and the Contemporary Dance Classes program.

...



Full article



Photo:

Krista Friesen

Student profile - Joshua Sailo

Joshua Sailo, born in Mizoram, a small state in north-east India, is preparing himself for his second year at the School, come September. This past year marked a period of transition for Joshua into the world of dance. Though he shone in Momentum 2013 in works by Sharon B. Moore and Julia Sasso, the art form is actually very new to him...

Full article



Photo: Jae Yang

Alumni Profile - Molly Johnson



Molly Johnson is a native of Cape Breton and alumna of The School of Toronto Dance Theatre. She works with such acclaimed artists as Nova Bhattacharya, Sylvie Bouchard, Susie Burpee, and Heidi Strauss. Over the past seven summers she has performed in parks across Ontario and beyond with Dusk Dances, and she collaborates regularly with Forcier Stage Works...



Full article



Photo: Molly Johnson
---
Stay tuned for our next issue in November 2013!

Join our email list, and receive future newsletters directly to your inbox!


Any comments or feedback? Please email us at info@schooloftdt.org
Find our more about our programs and performances at
schooloftdt.org