FROM OUR ARTISTIC DIRECTOR:
Happy New Year!

Here at the School, we are back into a busy winter term. In their first week, diving right in, our third year dancers began to work with guest artist Elizabeth Auclair on Graham technique and repertory, and all students began working with our raucous and riotous Bouffon Master, Massimo Agostinelli. Additionally, our third years will be performing during Dance Ontario's Dance Weekend, which takes place later this month at the Fleck Dance Theatre, Harbourfront, January 26-27.

Coming up on February 3rd, we look forward to the first of our two annual Toronto auditions, when we will have the chance to meet some of those who will form next September's incoming first year class.

In this issue, we have a profile of the newest member of our administrative staff, the multi-talented Colin Frotten, who joined us last fall, not only as our Communications & Engagement Manager, but also on our faculty as our music teacher. We have a profile on third year student Tanveer Alam, and a feature on four of our accomplished alumni: Sarah Fregeau, Mairi Greig, Kate Holden, and Jarrett Siddall, who will appear with the renowned Peggy Baker Dance Projects, in Baker's new work, who we are in the dark, premiering at the Bluma Appel Theatre, February 21-24.

I hope you enjoy reading about our gifted faculty, staff, students, and alumni and, on behalf of all of us at the School, I wish you the very best for 2019.

Patricia Fraser
Artistic Director
PROFESSIONAL TRAINING PROGRAM


FIRST AUDITION - Sunday, February 3, 2019

We are accepting applications to audition for our Professional Training Program for September 2019! Come train with us - apply to audition today and take the first step towards creating your future in dance. Start your journey here at the School.

Auditions (Toronto):
February 3, 2019 (apply before end of TODAY - January 18)
or July 13, 2019

CLICK HERE to find out more about the program and the application process.

STAFF/FACULTY SPOTLIGHT


COLIN FROTTEN



Colin Frotten is our new Communications & Engagement Manager, and has also joined the faculty as our music teacher. Originally from Nova Scotia, Colin is a pianist, tenor, vocal coach and arts administrator with over four years of arts management experience.

"In my short time here at the School, I can say that I am confident I made the right choice! The School's approach to teaching young artists aligns directly with my core values as an educator and coach, and the amazing staff, faculty, and students have welcomed me with open arms."

Click here to read more about Colin...




© Alvin Collantes

STUDENT PROFILE


TANVEER ALAM



Born in Montreal, third year student Tanveer Alam started his dance training in the Indian classical dance form Kathak.



"Being here (at the School) has allowed me to try new things; learning a whole different way of moving. It has been really instrumental for the things I want to do after I leave the School"



Most recently, Tanveer has created a work that will be presented in the upcoming Dance Ontario DanceWeekend, January 26-27, at the Fleck Dance Theatre.

Read more...



Peggy Baker, rehearsing who we are in the dark © Jeremy Mimnagh

ALUMNI WATCH


SARAH FREGEAU, MAIRI GREIG, KATE HOLDEN, and JARRETT SIDDALL



Four gifted grads of our Professional Training Program have been working with Peggy Baker on an exciting project set to premiere in Toronto, and then tour to Montreal, Hamilton, Banff, Whitehorse, Kingston, and Ottawa.

Read more about Sarah Fregeau (2009), Mairi Greig (2010), Kate Holden (2001), and Jarrett Siddall (2012) here...
---

FROM OUR COMMUNITY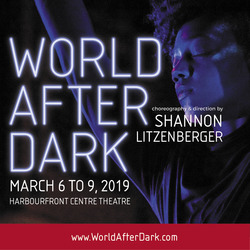 Running March 6-9, 2019 at Harbourfront Centre Theatre and inspired by Christopher Dewdney's award-winning book Acquainted with the Night, World After Dark explores our relationship with the physical night. From the three stages of nightfall to the science of the cosmos; from the birth of nightlife to the empire of dreams, Dewdney's compelling poetic reveries journey us on an epic voyage through the mysteries of night. Choreographed and directed by Shannon Litzenberger, with an outstanding, multi-disciplinary ensemble of performers, World After Dark invites us to reclaim the night within us - a metaphor for the sensual, the embodied and the feminine.
Tickets and information:
http://www.worldafterdark.com
Any questions or feedback? Please contact:
Colin Frotten | Communications & Engagement Manager
colin@schooloftdt.org | 416-967-6887 ext. 25
---
THANK YOU TO ALL OUR SUPPORTERS!
Everything we do is made possible by your generosity.
Please consider supporting the School of Toronto Dance Theatre and DONATE TODAY