'Education Works' Virtual Forum to Look Ahead to 2014 Legislative Priorities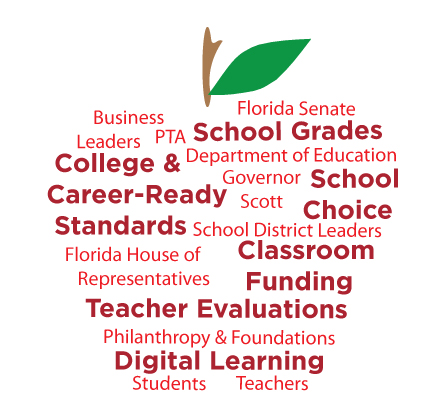 With the 2014 Legislative Session approaching and heightened statewide conversation about myriad issues that will be debated, the CFEF is hosting a one-hour virtual forum Thursday, January 23 at 9:00 am (EST). Participants will learn about the top education priorities of our state's education, business, philanthropic and parent organizations and hear directly from several Tallahassee leaders. Senate Education Appropriations Chair Bill Galvano (R-26) will speak to the budget scenario while Senator John Legg (R-17) and Representative Manny Diaz, Jr. (R-103) will address what the hot topics for education policy are this year.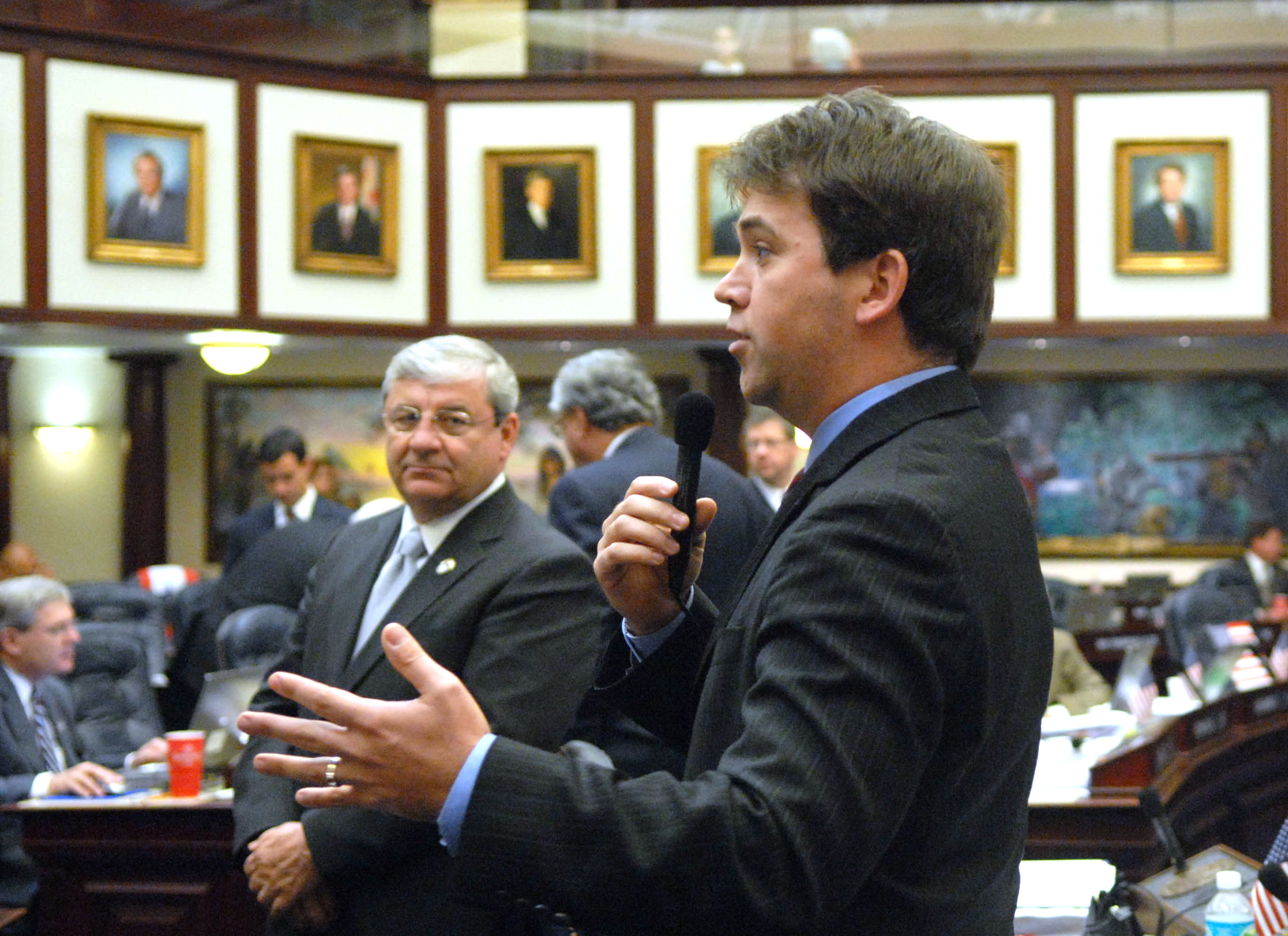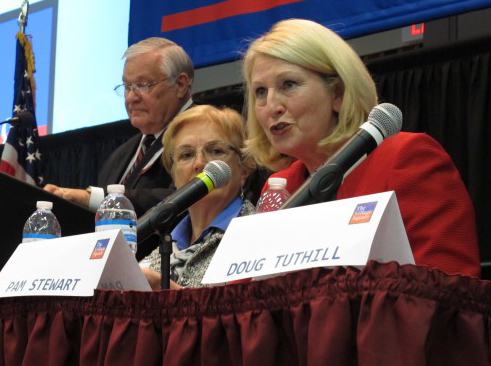 Commissioner of Education Pam Stewart will share the latest on the adoption of Florida's version of Common Core State Standards and choosing a related student assessment tool aligned with those standards.
"We know our local education foundation leaders and supporters care about our students and schools or they wouldn't be providing nearly $60 million a year to fund enhancement and innovation in our classrooms," said CFEF President Mary Chance. "We believe they also want to be informed about how and why policy decisions are made for our schools so we hope to provide a comprehensive snapshot of the current issues in this hour."
There's still time participate in the free webinar-based forum – just click here to register.
---
STAR School District Leaders and Local Education Foundation Leader Receive Statewide Honors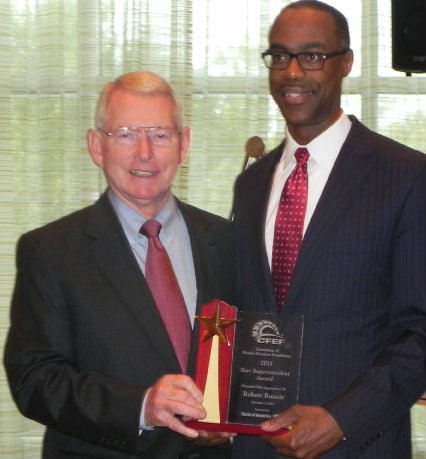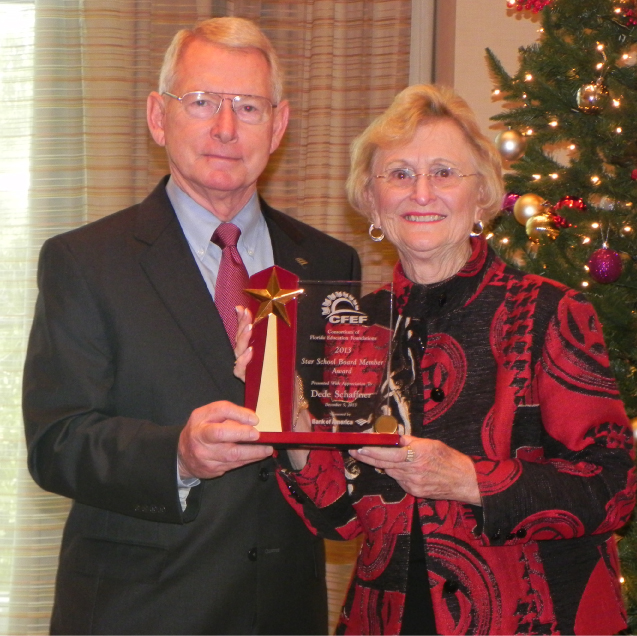 Mike Fields, state president of Bank of America, pictured with Star Superintendent of the Year, Robert Runcie (left) and Star School Board Member, Dede Schaffner (right).
Two Florida school system leaders were recognized for their exemplary leadership by the Consortium of Florida Education Foundations (CFEF) December 5th at the 68th Annual Joint Conference of Florida School Boards Association and Florida Association of District School Superintendents in Tampa. Robert Runcie, Superintendent in Broward County and Seminole School Board Member Dede Schaffner were chosen from among seven nominees for championing community and business involvement in education through their local education foundations.
"We think it's important to celebrate the school district leaders who make it a priority to foster private-sector support of public education through their local education foundations," said Donna Lueders, CFEF Membership Chair. "This year's recipients are outstanding examples of the many individuals who advocate for our local education foundations and help us raise more than $50 Million annually to support our students, teachers and schools."
This year's STAR awards were sponsored by Bank of America, a strong and longtime supporter of local education foundations as well as a supporter of statewide efforts to strengthen education foundations through the CFEF.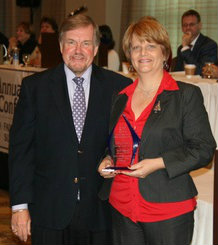 The Sunshine State School Public Relations Association (SUNSPRA) President Joe Landon presented Judi Zanetti with the Margie Davidson "Leading Light" award.
Judi Zanetti, the executive director of the Public Education Foundation of Marion County, was named the 2013 Margie Davidson "Leading Light" recipient at the same conference for her role in launching the successful "Tools 4 Teaching" program, a teacher supply store housed at the Foundation office. Since opening four years ago, Tools 4 Teaching has collected more than $400,00 in donated supplies and has provided 11,505 shopping visits for Marion County teachers. Nominees for the prestigious award must have contributed to an education program or project which created an environment of positive change in student achievement, school-community connections, career and technical education, and education advocacy.
---
What Happens When an Algebra Lesson Doesn't Look Like One?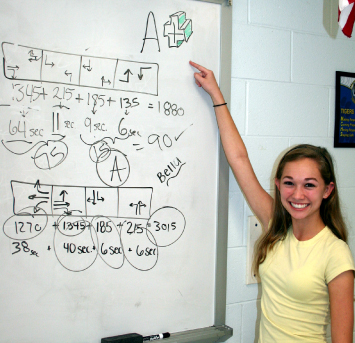 A Martin County high school student celebrates her solution reaching maximum efficiency for traffic pattern design.
Led by Florida Power & Light's Manager of Project Development and Education Foundation of Martin County board member David Bates, local engineers and teachers have developed interactive lessons designed to introduce the engineering profession and promote understanding of critical algebraic concepts through their application to real-world situations. Students are designing traffic patterns and water retention ponds, and learning about nutrient loading and flight mission fuel burn calculations -- all while learning algebra in a context that makes it real and connected to the world of work.
Re-Engineering Algebra has achieved overwhelmingly positive results for the past four years. After one 90-minute session, 51% of students said they would now consider becoming an engineer while 17% said this was not a career path they had thought about before participating in the lesson. Virtually all students asked for more lessons of this type and the program is extremely well received by teachers and administrators, particularly as the roll out of new Florida Standards in education call for students to be able to apply knowledge.
With strong private-sector support leveraged with a $1 for $1 match from the State of Florida, the EFMC will expand the initiative this year to develop three new math and science lessons and conduct 63 classroom sessions.
"This program has helped us moved beyond career day presentations and into really engaging students in problem-solving so they can see how these seemingly abstract concepts actually matter in the world of work," said EFMC Executive Director Lisa Rhodes. "Our volunteer engineers and teachers have really worked together to develop meaningful lessons and we think the program can be adapted in other school districts with industry partners and engineering societies."
---
Making College Real and Students College-Ready
A Hillsborough county high school student participating in Graduation Pathways program and his mentor set personal and academic goals for the future.
What does college mean for a kid with no one in their family who has ever been on a campus? How can we help those students really be ready for the rigors of college and choose a program that's right for them? What can we do to make college affordable and minimize student debt?
College readiness and access are core initiatives of several of Florida's local education foundations. Here are some highlights of current programs that are making a difference for hundreds of under-served students this school year:
---
How Are Your Local High Schools Doing with FAFSA Completion?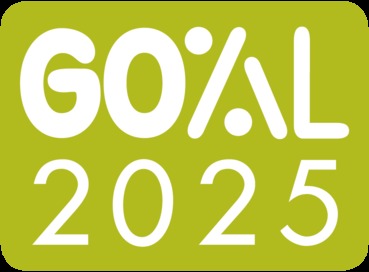 The Florida College Access Network is a statewide CFEF partner committed to creating and strengthening a statewide network to catalyze and support communities to improve college and career preparation, access, and completion for all students. Recently, they released an interactive map that tracks federal financial aid application completion rates at each high school to strengthen and guide local efforts to increase college readiness, access and completion in our state. Try out this new mapping tool by clicking here.
---
Get on the Bus, Florida!

More than 90 teacher projects are posted now through www.getonthebusflorida.org with citizens and businesses stepping up to crowd-source a teacher's great idea! Check them out and choose one to support today like this one for The Children's Garden at Maplewood Elementary in Broward County.