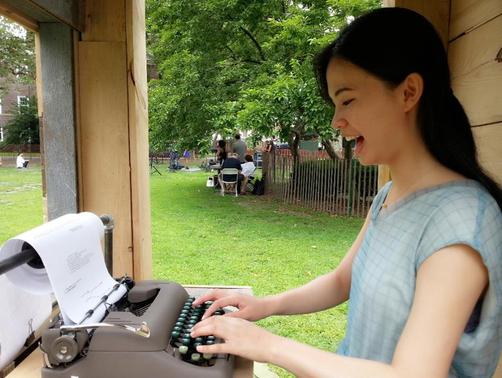 Hi Everyone!
We are super excited to announce the relaunch of our interactive literary art installation with a blast from the past:
The Typewriter Project
! The Typewriter Project's latest installment will bring together the diverse and talented voices of NYC's Alphabet City. The project will be open to the public from June 15th to July 19th, from 3pm-8pm on Monday-Friday, and
12pm-8pm on
Saturdays & Sundays. The installation will be located
on the south side of Tompkins Square Park near the Hare Krishna tree.
The Typewriter Project is a series of literary art installations completely run by public participation. The project is comprised of small, wooden shelters just big enough for a seat, desk, and typewriter, which invite passer-bys to join in a citywide linguistic exchange that exists in both the analog and digital realms. The booth is outfitted with a vintage typewriter, 100-foot long paper scroll, and a custom-built
USB typewriter kit
, which allows every keystroke to be collected, stored, and posted online for users to read, share, and comment upon. The project is largely inspired by the idea of an
Exquisite Corpse
, a surrealist writing game in which several authors contribute to one poem. Obviously each entry in The Typewriter Project can be its own distinct lyric, but we hope that users will also be influenced by was written before them on the scroll. By creating a new and unique form of public dialogue, this project hopes to capture something of the sound, narrative, and nuance of this specific corner of the city. The Typewriter Project's mission is to investigate, document, and preserve the poetic subconscious of the city while providing a fun and interactive means for the public to engage with the written word.
So get ready for the spectacular opening event on Monday, June 15th from 6-8pm! There will be snacks, music, and typewriters galore! This opening and the project itself are completely free and open to the public.
The scrolls produced during this iteration of the project will be on display at
The New York City Poetry Festival
on Governors Island on July 25th and 26th along with the booth itself, so don't forget to
register
for the (also FREE) NYC Poetry Festival today!
Follow @typewriternyc on
Twitter
,
Instagram
, and
Facebook to stay up-to-date on the project, and don't forget to hashtag #thetypewriterproject.