With the NBA and College Basketball seasons
underway, you are probably aspiring to become the
best basketball player you can be. Here are 5 tips that
are sure to improve your game and dazzle everyone
in the stands:
1. Develop your opposite hand.
You may be able to consistently go to your right side, but what happens when an opposing team forces you to go
left? Developing your opposite hand can make you
very difficult to defend, and will allow you to
become more versatile on the court.
2. Make sure you are in shape. Basketball is a game of endurance, and therefore, you must be able to have the same stamina when you start the game and end the game. Conditioning yourself will improve your performance late in games, especially when shooting free-throws and outside shots.
3. Refine your footwork. Whether you are shooting, passing, or playing defense, your footwork is extremely important. For example, work on getting your feet squared to the basket and moving your feet while in a defensive stance. This will improve your game on both sides of the ball and increase your field goal percentage.
4.Develop good relationships with your teammates and coach.
A championship isn't
won by one person--it is won by a team, including
the coach. Work with your peers and coach on
game plans, and develop solid relationships.
5. Work on your passing. It is great to score lots of points, but it is even better to be a team player and average about three assists per game. Getting everyone on your team involved creates coherence and better communication between you and your teammates, as well as a top-caliber team.
Born in Argentina, Federico Brodsky is an internationally renowned sports marketing specialist with over 15 years of work experience in basketball coaching, sports management, marketing,community leadership and player scouting, as well as firsthand knowledge of the game itself, due to his experience as a professional basketball player. He is currently CEO of Swish Hoops! Basketball in Davie, Florida and is a sports consultant for the American Basketball League and the Maccabi Haifa Basketball Team in Israel.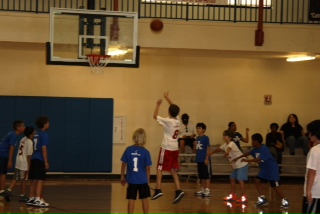 Save the date!
Swish Hoops! is proud to announce that our Spring Youth league will commence the week of March 10, 2013 with the evaluations and drafts for each respective league. Games will begin after the drafts and the season will last until June. A special early bird price of $130 (members of the JCC) and $170 (non-members) will be available later this month. Remember, to reserve your spot by pre-registering at www.swish-hoops.com.
Registration will open on January 25. Should you have any questions, please contact our offices at 954-434-0499 ext. 112 or Brian Mazur at brian@swish-hoops.com.