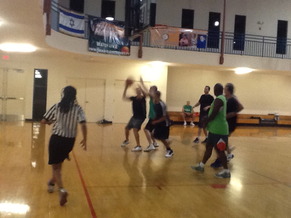 Our popular 18+ Adult League is back this summer and we want you to make a run for the championship. The Adult League begins the last week of June and will last until August. Leagues run on Monday, Tuesday, Wednesday and Thursday nights from 7 until 10:30PM. Each team is guaranteed to play in at least 8 games and the top teams receive awards at the end of the season. Whether you are looking for a competitive or recreational league, the Swish Hoops! staff can assist you in finding a league in which you are comfortable playing in. Registration has now opened, and be sure to register your team online to avoid a late fee and reserve your team's spot before the leagues fill up. Should you have questions please contact us at 954.434.0499 ext. 112 and remember that the road to the championship begins here.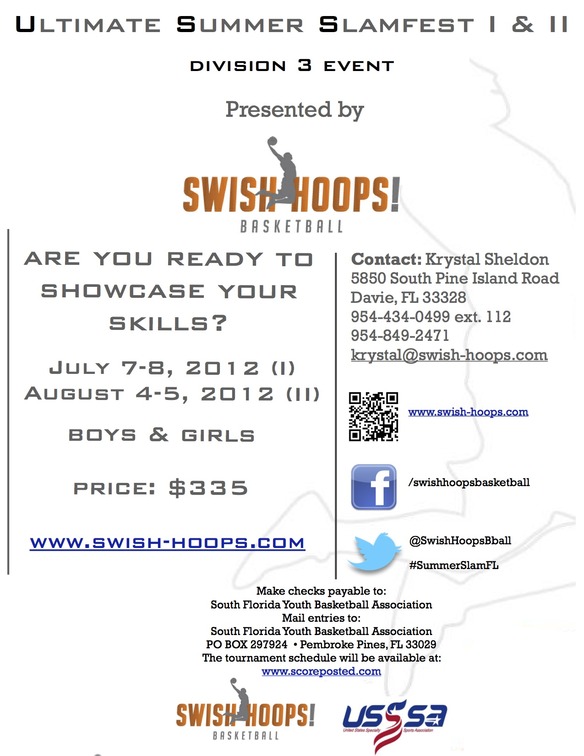 Swish Hoops! is proud to present the Ultimate Summer Slam Fest I & II on June 7-8, 2012 & August 4-5, 2012.
Don't miss out on the opportunity to play in he last Division 3 Travel Tournament of the summer. Come and showcase your skills in the best tournament in South Florida.
To register, mail entries to:
South Florida Youth Basketball Association
PO BOX 297924 • Pembroke Pines, FL 33029.
Make checks payable to: South Florida Youth Basketball AssociationThe tournament schedule will be available at: www.scoreposted.com.
For questions, please contact our Tournament Director Krystal Sheldon at 954.434.0499 ext. 112 or at krystal@swish-hoops.com.