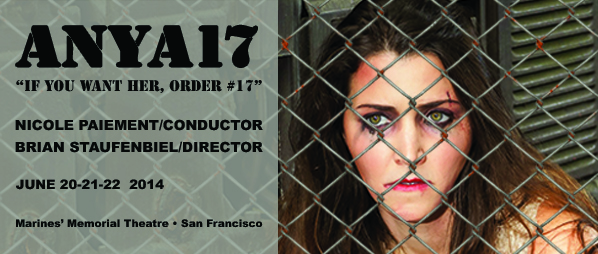 ANYA17 COURAGE | AGAINST IMPOSSIBLE ODDS
As our North American premiere of Adam Gorb's Anya17 draws nearer, we've been exploring the timeless operatic themes which connect Anya with great operas of the past. Starting with Betrayal and Evil, on through Justice we arrive at our final theme,

.
Anya has been

by her lover Uri and enslaved by

incarnate Viktor. Gabriel, a client who has fallen in love with her, becomes an instrument of

in a climactic confrontation. But does Anya survive? Does she find freedom?
At the risk of their very lives and against impossible odds, Anya and Elena plot their escape from the evil Viktor. They know the violence he is capable of committing, but their deeply loyal sisterhood and their determination to regain freedom give them the resolve to maintain hope and seize the opportunity. This manifestation of courage, in the face of overwhelming adversity, is a hallmark of Anya17.

Opera abounds in examples of personal courage:
In The Abduction from the Seraglio Constanze's steadfast determination to free herself from the imprisoned life of the harem led Mozart to write one of his longest and most demanding soprano arias "Martern aller Arten" ("Tortures of all kinds").
Pamina's suffering in The Magic Flute leads her to the serenity, and even the wisdom, to become Tamino's guide through the "trials of fire and light."
Verdi's Nabucco, and in particular its famous Chorus of the Hebrew Slaves "Va pensiero", became the voice of his countrymen's aspirations for liberty and self-determination.
Falsely accused of inciting mutiny, Britten's Billy Budd finds new courage as he awaits his execution. The ecstatic ballad he sings haunts Captain Vere as he experiences remorse for the young sailor's death.
We have been exploring the timeless themes which inform Adam Gorb's masterwork Anya17, and the historical roots of these themes throughout opera history. These universal themes of Betrayal, Evil, Justice, and Courage are displayed through sharply-drawn characters, expressive, compelling, and real.
Anya17 will open your eyes, and your heart.
But the only way to

is to buy tickets. Today!

ANYA17 PERFORMANCE TIMES
Friday June 20 and Saturday 21 at 8:00 p.m. • Sunday June 22 at 4:00 p.m.
MARINES' MEMORIAL THEATRE
Historic, recently renovated Beaux Arts Theater
609 Sutter Street (between Mason and Taylor Streets)
In downtown San Francisco, in the heart of the theater district where parking is easily accessible, and many fine restaurants are within walking distance.
TICKETS
Phone: 415-626-6279
50 Oak Street, San Francisco, CA 94102
info@operaparallele.org