---
2018 Children's Behavioral Health Conference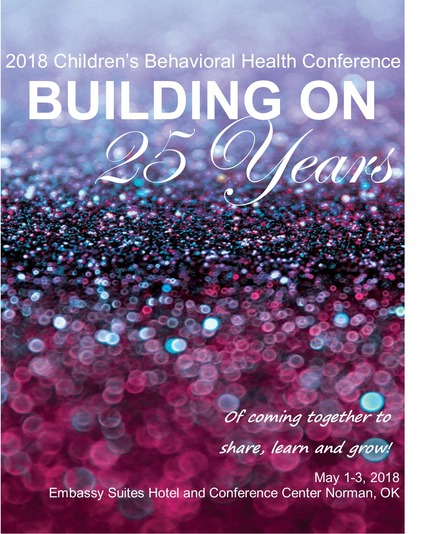 OVERVIEW
The 2018 Children's Behavioral Health Conference: Building on 25 Years of coming together to share, learn and grow. This conference will bring together local, state and national leaders to discuss best practices in the areas of behavioral health and substance use disorder treatment, recovery and overall wellness. This three-day event will provide participants with practical tools they can utilize in their agencies and communities to assist with facilitating treatment, recovery and wellness. The conference dates are Tuesday, Wednesday, and Thursday, May 1-3, 2018, at the Embassy Suites Norman Hotel and Conference Center, located at 2501 Conference Drive, Norman, Okla., 73069.
FAMILY DAY REGISTRATION
These sponsored registrations are for family members only for May 2nd (Conference Day 2).
Registration will close Monday, April 23, 2018.
Register
early to secure your spot.
YOUTH DAY REGISTRATION IS NOW OPEN!!
This registration is for Youth/ Young Adults ages 14-25. The registration is for the youth and for any adult chaperones accompanying youth under the age of 18. Register here.



---

Health Care Transition
T
he Child Neurology Foundation has released a
Transition of Care Video Series
that demonstrates the unique experience and needs of young adult patients

transitioning from a child neurologist to an adult neurologist. Two videos show

the journey of patients and their families as they approach the transition to adult health services. The Series
also showcases perspectives and experiences of 5 national transitions experts–child and adult providers who care for individuals with neurologic conditions–through in-depth interviews.
--from gottransition.org



---

Our partners value the opinions, experiences, and wisdom of OFN families. The following agencies/organizations have reached out to OFN asking for your feedback. If you can provide any insight or information in the areas listed below, thank you!
Maternal & Child Health (Title V Grant)
As one of the largest federal block grant programs, Title V is a key source of support for promoting and improving the health and well-being of the nation's mothers, children, including children with special needs, and their families.
Oklahoma Title V programs need feedback on the public health priorities and needs for families in our state. To see what they do and what current priorities are please click here.
To give input on what is needed or where there are gaps for children and families, please email Alicia Lincoln at
alicial@health.ok.gov
.
Mental Health Services
Recently, the Oklahoma State Department of Human Services (DHS) contracted with The University of New Hampshire Institute on Disability to study mental health and crisis services for people who have an intellectual or developmental disability (ID/DD) in the state of Oklahoma and to make recommendations on improving those services.
One component of this study is a telephone interview with family members to ask them about their experiences with the mental health service system. The interview should take about 15-20 minutes and all of your responses are completely confidential. Your answers will be combined with answers from other families to provide feedback to DHS on the mental health service needs for individuals with ID/DD in Oklahoma and their families.
If you are willing to participate in this process, please contact the study project manager, Ann Klein, at ann.klein@unh.edu or you can contact her by phone at 513-377-1464.
---
Lifespan Respite Program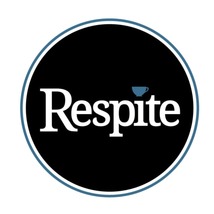 Do you know someone who needs a temporary break from caregiver duties?
The Lifespan Respite Grant Voucher program may be able to help!
Respite service can provide a much-needed, temporary break from the often exhausting challenges faced by family caregivers. Respite vouchers let caregivers hire another person to temporarily care for their loved ones. The Lifespan Respite Grant Voucher program provides respite services for caregivers who do not qualify for other respite programs.
Apply for the Voucher here.
---
DDS Waiting List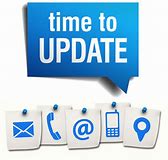 If you or someone you know is currently on the DDS Waiting List, please update contact information at the
OKDHS website
..
---
Trauma Informed Care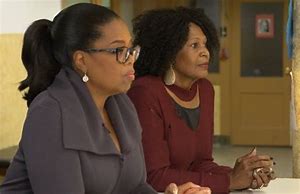 Recently, Oprah Winfrey did a piece on
60 Minutes piece
about Trauma Informed Care. It is a powerful segment that gives a small glimpse into trauma informed care and it's life-changing effects. Be sure to also watch the 60 Minutes Overtime segment to see the profound impact it made on her personally.
---



---
National Infant Immunization Week

April 21-28, 2018 is National Infant Immunization Week (NIIW). During this week, we celebrate the critical role vaccinations play in protecting the health of Oklahoma's children, families and communities. Oklahoma ranks 47th in the nation for its poor health outcomes, so NIIW serves as a call to action for parents and caregivers to improve the health of our communities, especially the most vulnerable members. NIIW seeks to ensure full immunization for infants by age 2, protecting them from 14 vaccine preventable diseases, including whooping cough and measles.
The Oklahoma Alliance for Healthy Families is a grassroots advocacy network of parents, caregivers and healthcare providers working to protect our children and communities from vaccine preventable diseases. Our goal is to positively impact the health of our schools, communities and families through education and advocacy. To learn more about the Oklahoma Alliance for Healthy Families, visit our Facebook page.
---
Supporting Parents Wanted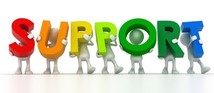 Family and Professional Partnerships are a big part of OFN. We are so grateful for the many parents who share their experience with other parents and professionals.
If you would like to be as Supporting Parent, we have several upcoming trainings. More more information on dates and locations, visit the OFN Website.
Upcoming Events


On the Road: Sponsored by
Sooner Success Tulsa/Rogers counties
Assisting families and professionals with resources and navigating the healthcare system
April 26
6-9 p.m.
Tulsa Technology Center, Lemley Campus, Health Sciences Building
Panelist format with speakers from various state agencies and organizations
Free (flyer coming soon with registration information)
_________________

All Abilities Night
_______________

MY MIND MATTERS DAY
RALLY AT THE OKLAHOMA STATE CAPITOL
April 18, 2018
Rally begins at 10 am
Speakers begin at 10:30 am
4th floor rotunda
SEE YOU THERE!!
__________________

May 5th, 2018
__________________
SoonerCare Tip


If the beginning of Spring is making your child sneeze, he or she might have seasonal allergies. SoonerCare covers some over-the-counter allergy medications with a prescription. Talk with your doctor about what medicines might work best for your child.