Hon. Ronald E. Albers, Hon. Nancy L. Davis, Hon. Gail Dekreon,
Hon. Charles F. Haines, Hon. Donna J. Hitchens, Hon. Catherine Lyons,
Hon. Kevin M. McCarthy, Hon. Mary C. Morgan,
Hon. Marjorie A. Slabach, Hon. Ksenia Tsenin, Hon. Carol Yaggy
______________________________________________________________________________
Dear Friends,
We, the undersigned, are lesbian and gay judges and commissioners of the San Francisco Superior Court. We wholeheartedly support Judge Richard Ulmer for re-election.
In the time he has been on our bench he has made a progressive and productive contribution. Within a few months of his appointment he was elected to our Court Executive Committee, which makes policy for the entire court. He is a strong supporter of collaborative courts, including Drug Court, Behavioral Health Court, and the Community Justice Center, and has taken the time to learn about each program in the hope of a future assignment to one of them. He has stated his commitment to innovation and constant reexamination of our court processes to make sure that they are as efficient and green as possible while effectively serving the public. He is willing to experiment with new methods of doing things, keeping what works and not being afraid to jettison what does not. In other words, he is a judge who appreciates the importance of building a judicial institution that serves the public in addition to doing justice in each individual case.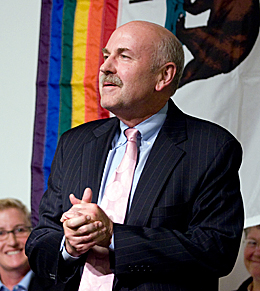 Judge Ulmer brings an unusual depth and breath of experience to our court. He was a partner at a major Bay Area law firm where he handled a wide variety of cases including intellectual property, antitrust and unfair competition, appeals and writs, automotive distribution, contracts, employment law, fraud, licensing, international arbitration, prison reform, and professional malpractice.
As an attorney, Judge Ulmer devoted considerable time and effort to pro bono representation of persons who have limited or no access to the legal system. For almost a decade he led a team of almost 50 lawyers and legal assistants from his firm in investigating and litigating issues about horrific abuses in the California Youth Authority. This litigation ultimately resulted in widespread policy and programmatic reforms. As a result he received the California Lawyer of the Year Award in 2006. Even more importantly, he has stated that that experience left him with the conviction that rehabilitation is not only possible and compassionate, but also economically efficient.
Under Judge Ulmer's leadership as chair of his law firm's Pro Bono Committee, his firm has had extensive involvement with the Domestic Violence Clinic of the Pro Bono Project of Silicon Valley. Volunteer attorneys represented battered women in domestic violence restraining order hearings, in addition to addressing related issues concerning child support, custody and visitation. At the time Judge Ulmer was appointed to the bench, he was supervising 50 such cases.
We are very grateful and proud that Judge Richard Ulmer is our colleague. Please join us in supporting Judge Ulmer on November 2.
Hon. Ronald E. Albers, Hon. Nancy L. Davis, Hon. Gail Dekreon, Hon. Charles F. Haines,
Hon. Donna J. Hitchens, Hon. Catherine Lyons, Hon. Kevin M. McCarthy, Hon. Mary C. Morgan, Hon. Marjorie A. Slabach, Hon. Ksenia Tsenin, Hon. Carol Yaggy