HCC Central Art Gallery presents
With The Grain
Reception, Tuesday, September 1 from 5:30 - 7:30
Tuesday, August 25th through Wednesday, September 23rd

Raina Chamberlain, Dan Havel, Alex Larsen, Jesse Lott, Edward Lane McCartney, Page Piland, Patrick Renner, Dean Ruck.
---
Houston's famous disregard for its own history is challenged in HCC Central Art's exhibit,
With The Grain
, in the Central Gallery through September 23. The eight artists in this exhibit present new works inspired by fragments of wood salvaged from the old buildings torn down in Houston on almost a daily basis. The public is invited to come meet the artists at a reception held in the gallery, Tuesday, September 1 from 5:30 - 7:30.
These artists, like the woodworkers, carpenters, and architects who came before them, study the grain of the wood they choose to incorporate into their work. The size, color, and shape of the wood t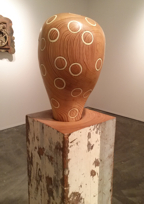 oo play a role in creating works of art that repurpose and recontextualize the materials. In much the same way that the rings of a cut tree reveal its age and history, these new works reveal the history of Houston, even as its historic homes and structures are razed. And in the same way that a new beauty is revealed in the grain of wood as the bark is stripped away, these artists discover a new appreciation in their repurposing of their rescued parts of walls, floors, roofs, and embellishments.
The Central Art Gallery is located in the Fine Arts Center, 3517 Austin at Holman in Midtown. Gallery hours are Monday - Thursday, 9AM - 9PM, and Friday - Saturday, 9AM - 3PM. For more information, call 713-718-6600.
Top image: Raina Chamberlain, detail from
Walled,
2015, Fabric thread, reclaimed wood, acrylic. Bottom image: Alex Larsen,
Chip,
2015, pine beam, Durham's Rock Hard Water Putty.
---
But wait, there's more!
Gallery curators Michael Golden and Bennie Flores Ansell discuss
With The Grain
, the art and the artists, in articles on
Houstonia
and
Houston Public Media.
---
Central Art and Artists in the News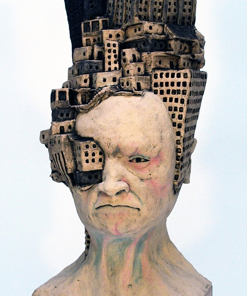 Congrats to Central ceramicist
Clara Hoag
, on her solo exhibit,
Icon/o/clast
in the Mary Matteson-Parrish Art Gallery, at Lone Star College in Conroe. The show will be in the gallery through September 24th. You can read all about Clara and her creative process in
this article
in The Courier.
Life drawing instructor
Joan Laughlin
will also be celebrating a solo show, when her exhibit
The Forest and the Trees
, opens at the Jung Center on September 3.
The Forest and The Trees
is a collection of paintings that mirror our tenuous, often conflicted, relationship with Nature. Joan describes the development of these haunting portraits of nature in
this article
on Houstonia.There will be a reception September 12 , 5:00pm – 7:00pm, at the Jung Center, 5300 Montrose.
---