Hi Feather,
With Father's Day around the corner, I want to celebrate dads who are keeping their homes and communities off limits to sexual abusers—and I want to invite all dads to get involved.
Men make up 30 percent of the participants at Parenting Safe Children worksh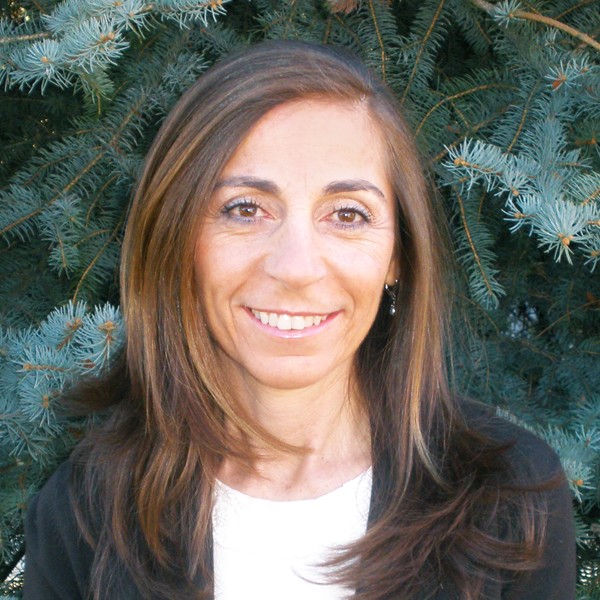 ops, and involvement is steadily increasing. We salute these dedicated dads because they are protecting their children and communities in a way you might not have thought about. Some child sexual abusers assess a child's level of vulnerability by considering the engagement of the child's father. This sexual abuser seeks to replace the child's dad as the trusted authority figure. In the words of a father who attended a Parenting Safe Children workshop, "If you are not listening to your child, someone else may be."
Our communities will be safer when ALL caregivers—female and male—teach body-safety rules, seize teachable moments with ease, and are as comfortable talking about body safety as bike safety.
I think you'll enjoy some of the stories below, from dads.
Please share this e-newsletter with all of the men in your life.
Consider forwarding it to
a father who is keeping his community off limits, with a message of thanks
a father who might not know about Parenting Safe Children as a resource
any listservs or associations by, for, or about dads
Happy Father's Day!
Your partner in safety,
Feather Berkower
Meet Some Dads Who are Making a Difference
!
Ethan – No secrets in our home!
As much as couples may want to attend the Parenting Safe Children workshop together, sometimes parents come separately so one can be at home with the kids. In the end, what's most important is that parents are on the same prevention team. In this case, Ethan's wife attended the workshop first and then Ethan came a couple of months later. In the meantime, his daughter taught him a few things!

"About two days after my wife attended the workshop, my five-year-old daughter had already learned the new rule in our home about no secrets, only surprises. She then spent about two months training me on the new rule. In fact, just the other day I slipped and she caught it right away, and with a little sense of superiority, I noticed. Humor aside, I am so impressed that she gets it's not just semantics; it really is about a policy of not keeping things from each other. That is amazing and powerful."

Parenting Safe Children salutes Ethan!
Steve's kids are in college, but he won't rest until his community is off limits to child sexual abuse. Not only is he hosting a Parenting Safe Children workshop this fall, he's going to Africa this summer and will share the Off Limit's handouts on raising kids and building homes and communities that are safe from sexual abusers.

"We dads aren't very comfortable with this 'stuff,' but we need to be involved, which is why I scheduled a workshop in Gunnison, CO this fall. I hope as many men as possible will attend. I'm also working with our church on prevention. In our last staff meeting, I gave the Parenting Safe Children information to our college, high school, middle school, and children's ministers. Then in our Board meeting, I distributed the handout on building an off-limits community. Child sexual abuse prevention is everyone's responsibility—and I encourage all men to get involved."

Parenting Safe Children salutes Steve! If you want to be a hero and host a workshop for the guys, email me!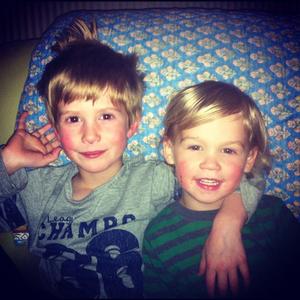 Kipper is constantly on the move as a software developer and parent to two young boys. But he always makes the time to teach his kids body-safety rules and screen caregivers.

To other dads he offers: "Your child will not always be under your watchful eye. Th
ey will be under the supervision of someone else many, many times in their lives. So learning to screen caregivers and teaching your kids how to protect themselves from sexual abuse should absolutely be considered parenting 101 fundamentals.

This is no different from teaching your kids to look both ways when crossing the street, wearing a helmet when they ride a bike, and always wearing a seat belt. It doesn't have to be an awkward thing either. You don't tell your kids they will sustain brain trauma if they hit their head when riding a bike. You just tell them to wear the helmet to be safe. Talking with kids about sexual abuse prevention doesn't have to be scary."

We posted body-safety rules in our home where everyone can see them. I'm on bath-time duty every other night, and I always review these rules with the boys. They know them by heart and it's part of the routine. (Now if I can just get them to learn our phone number!)

"We also screen caregivers because I feel it's a parental responsibility to ask questions about how churches, the YMCA, etc., screen their employees. What are their policies for interactions with kids? Will my child ever be alone with someone? And then we review our family body-safety rules with them. I have not once walked away from these conversations feeling uncomfortable or awkward, and people are always very respectful when I bring it up." Download the Parenting Safe Children Nanny Packet!

Parenting Safe Children salutes Kipper!
Con – Another bath time, another teachable moment
Every day children present us with teachable moments—those precious and timely opportunities to teach and reinforce body-safety rules and healthy sexual development.
H
ere's a glimpse into bath time with a dad and his two children.

"It was just after bath time and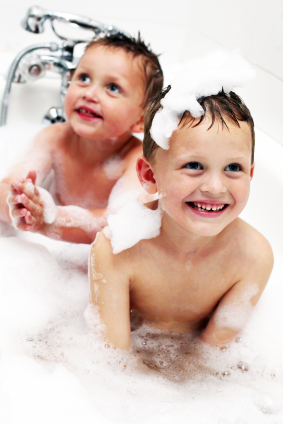 our youngest of 3 years was checking herself out in the buff so I asked, 'Can you name any of your private parts?' She is always good at saying 'butt,' so I clarified with buttocks and we went down the list. (Of course I had to tease her for a second that her foot was a private part.) She added that only she can touch her private parts while alone in her room. Smart girl!
I asked what she should do if someone touched her private parts and she responded with a profound, 'NO, I don't like that.' I mentioned that if someone did touch her private parts she should tell Mommy and Daddy. A look of concern came over her face, but I reassured her she wouldn't be in trouble and that we want to help keep her safe.
Continued...
Meet Some Dads Continued...
Another bath time, another teachable moment continued...
This conversation then spilled into the bathroom with our five year old. Like most things, it is amazing how quickly our girls are picking up on the body-safety philosophy, with a few teachable moments. We appreciate you introducing our family to body safety."

Parenting Safe Children salutes Con!
Joe – Man to Man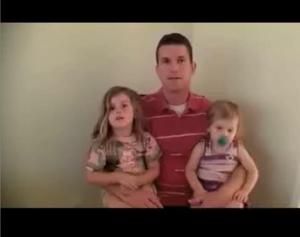 Joe took the Parenting Safe Children workshop and immediately began screening caregivers and teaching his two daughters body-safety rules. Check out his message to other dads and spread the word about the practical and easy things fathers can do to keep their kids safe.

Parenting Safe Children salutes Joe! (Joe hosted a Parenting Safe Children and you can, too.)
R. Carl Hart – In the words of a survivor
Carl is a survivor of child sexual abuse and has dedicated his life to keeping kids off limits to sexual abusers. Here's his perspective on father, children, and prevention.

"My father worked full time and was out of the house four nights a week. He didn't take an interest in my activities and I sought out the praise of another man. Over eight months my scout leader gained my trust and put a wedge between me and my father. I began to distance myself from both my parents, and he, my scout leader, became the person I turned to.

If you are present and active in your child's life, a predator will be less likely to target him or her. Take the time to build an open and trusting relationship with your child, which starts early and endures. Fathers have a unique opportunity to provide nurturing and support to raise an 'off-limits child.'
"
Some great conversations are happening on the Parenting Safe Children Facebook page, where nearly 1,200 people have "gathered" to talk about keeping kids off limits to sexual abusers. Join these and other discussions:
My in-laws were visiting last week and grandpa said to my son, "If you give me a kiss, I'll help you get dressed." What would have been a good response?

My boys talk to strangers often in public places. How does one differentiate between "grooming" and idle chitchat?
If you feel the need to speak privately or to get advice about a pressing situation, schedule a phone consultation with Feather.

Share this e-newsletter:

Forward this message to a friend!


We post news stories on Facebook so become a fan now! Or you can check out news coverage, like our recent article in Wellness Times, on the Parenting Safe Children news page.



In case you missed it, th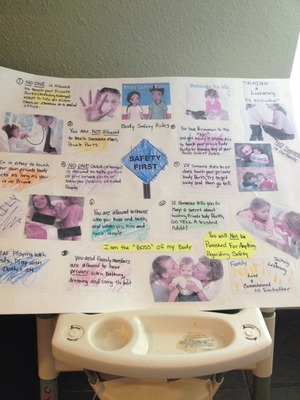 e Parenti
ng S
afe Children workshop in Texas was a huge success! Check out this body-safety rules poster. These two moms don't waste any time when it comes to keeping their kids off limits!

I am booking well into the fall.
Click here to
look at my schedule to see if there is a workshop coming up near you.

Or contact Feather@parentingsafechildren.com to be a hero and host a workshop!
Read Off Limits

Sammy – I read Off Limits and now my wife and I are on the same prevention team.
Sammy is a science teacher and lives with his wife and daughter in Oakland, CA. (Hmmm, maybe Off Limits makes for a good Father's Day gift!)

My wife read Off Limits when our daughter was just starting to talk. We agreed that this was something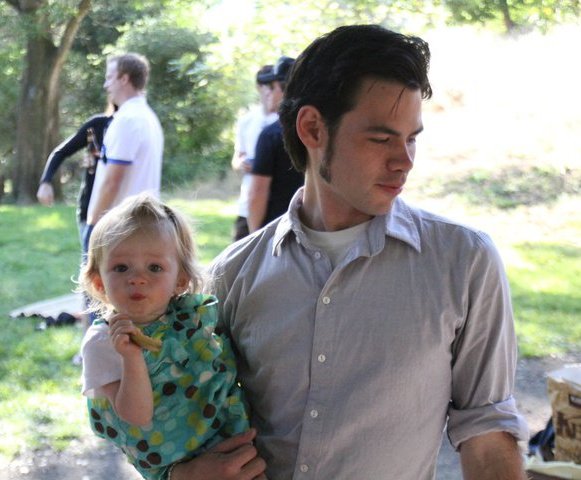 we wanted to be on the same page about. I didn't read the book right away because, let's face it, I need to be grading papers in my limited spare time and the subject matter isn't exactly relaxing.

A few months later, after some serious exchanges related to how we could improve as a prevention team, I told myself to suck it up and be a man about it. I picked up Off Limits and learned tangible things I could do right away. The book just makes this subject easier to deal with.

Right off the bat, i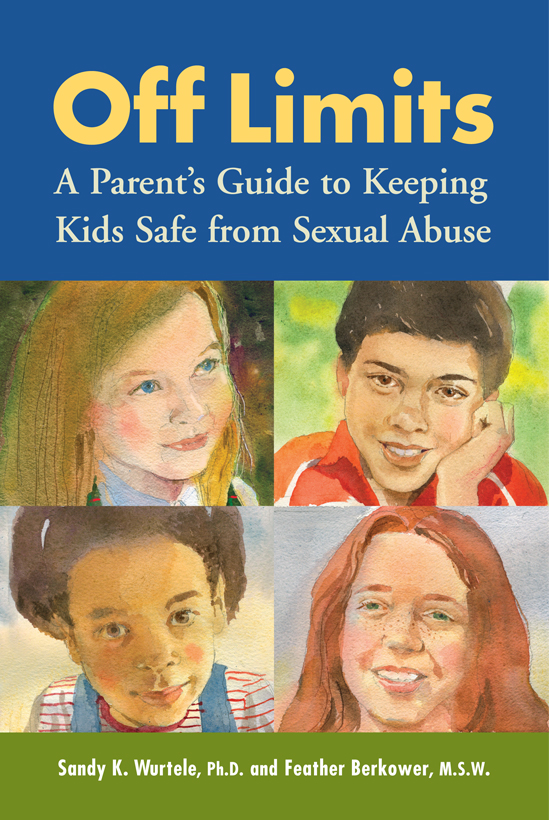 t is the feeling of confidence telling extended family members not to ask for affection in exchange for a treat or as a bribe to get presents. It's knowing that my toddler will be safer when I respect that she does not want a hug, even though it means I don't always get that awesome hug when I get home. And most of all, it is being certain that even when I am not physically there to protect her, I'm giving my baby girl the skills to be an off-limits kid.

Parenting Safe Children salutes Sammy!

Share this e-newsletter:

Forward this message to a friend!
Update your email address.