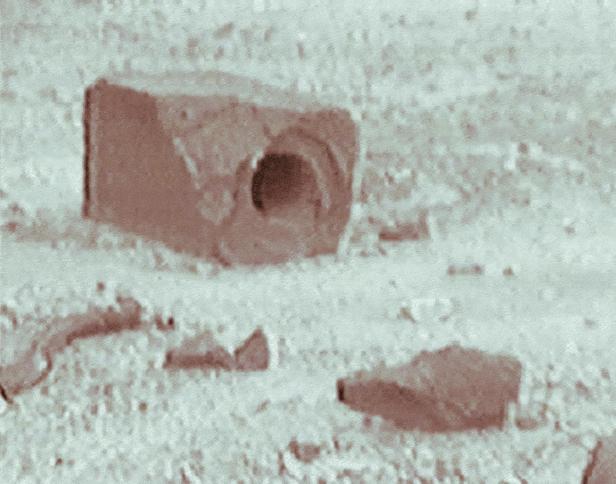 Nadim Abbas, Chernobyl_Core_png_gif, 2012, Digital image, Dimensions variable
---
Saamlung announces a presentation of
Nadim Abbas and Jon Rafman at ARTHK12,
the Hong Kong International Art Fair.
---
Nadim Abbas and Jon Rafman
VIP Preview 16 May 1400-1700
Hong Kong International Art Fair
Art Futures Booth No. AF24
Hong Kong Convention and Exhibition Center
---
Saamlung announces its inaugural participation in the Hong Kong International Art Fair, known as ARTHK12, in May 2012. Exhibiting in Art Futures, the section of the fair focusing on young galleries and emerging art, the gallery will present a selection of related projects from artists Nadim Abbas and Jon Rafman. Both artists are concerned with notions of machine vision and interplay between the image and the physical object, and will exhibit a series of interrelated installations, sculptures, and prints created specifically for the frenetic and consumerist context of a global art fair in the Asian metropolis.

Nadim Abbas, whose coral-and-blacklight installation Marine Lover was extremely well-received during ARTHK11, returns to the fair with a group of works that similarly transform environments into static images. At the core of his project is a fuzzy photograph of the burnt-out nuclear reactor core after the Chernobyl disaster: Abbas appropriates the only existing such image, originally captured on Russian state television, and fabricates a three-dimensional sculpture based on the model of the reactor. Counterintuitively, he then proceeds to physically block all views of the object aside from that explicitly present in the original image. Then there is an oddly scientific refrigerator, inside of which are placed puddings that, edible or not, resemble nothing as much as chunks of a crater-damaged alien moonscape arranged in petri dishes.

Around these twin anchors, Abbas will present several other series of images and animations. In one, macro photography of the decay of organic matter is made to appear as alien terrain, sutured together in one sweeping view across the exhibition space. In another, the inhospitable landscapes of science fiction films are captured in all of their bizarre detail and coloration. In a third series, visual parallels are drawn between man-made satellites and the architecture of bacteriophages, which appear again in an erotic group of animated GIFs. At stake in this overall body of work is the relationship between scale and legibility in perception, both human and machine.

Jon Rafman, exhibiting in Hong Kong for the first time, will present three-dimensional elaborations of his ongoing series Brand New Paint Job: a corner of the booth will be transformed into a reading room replete with carpet, drapes, furniture, and objects all covered in the trademark visual styles of a well-known twentieth century painter. Separately, a miniature motorcycle, similarly painted after a specific art historical moment, frames an extensive video entitled Tokyo Color Drifter, in which Rafman has edited footage of a ride into the city such that blocks of abstract morphing color replace buildings and scenery in a remarkably Tron-like rendering of speed.

Elsewhere, Rafman also includes several prints from his ongoing series New Age Demanded, in which unseen digital renderings of classical sculptural busts are entirely obscured by pieces of cloth and other symbols that are virtually sutured over their forms. During his period of residence in Hong Kong, the artist will be experimenting with the production of these pieces for display at the art fair and exploring more broadly the possibilities of fabrication in the city. Other projects planned for the period of the fair include the release of a custom-branded and -mixed energy drink and the unveiling of a new taxonomy of garden- and lobby-sculpture.

Rafman and Abbas share an unusual but highly convincing taste for the triad of modernism, science fiction, and kitsch, elements of all three of which are framed in their shared exhibition project for Saamlung at the Hong Kong Art Fair. At an almost-global fair in an almost-global city, these two artists draw lessons from folk phenomenologies of machine vision and urban culture to answer the question of how we should look through the visual noise of the fair and the environment surrouning it, and what we might actually be looking at.
---
Nadim Abbas (b. 1980, based in Hong Kong) weaves together formal sculptural tendencies and off-the-cuff research into intellectual history. His practice is largely concerned with the psychological patterns of the generic, kitsch, and cliché, consisting of recognizable components that are destabilized by his own uncanny work of arrangement. Abbas currently teaches at the City University Hong Kong School of Creative Media and the Hong Kong Art School/ RMIT University.
Jon Rafman (b. 1981, based in Montreal) considers himself an artist of prosumer materiality, exploring ideas of outsourcing and fabrication through their application to often absurd situations, including the retooling of various forms of consumer technology and entertainment to bring about a collision between amateur digital culture and high modernist art history. Rafman has recently exhibited at 319 Scholes in New York and Johan Berggren Gallery in Malmo.
---
Saamlung is the commercial gallery and project office founded by critic and curator Robin Peckham in 2011. Located in downtown Central, Hong Kong, the gallery presents work by emerging and historically significant artists from greater China and around the world in concise solo projects, curated group exhibitions, publications, and other satellite events.
---



---