A Message from the President
David Chack, President of AJT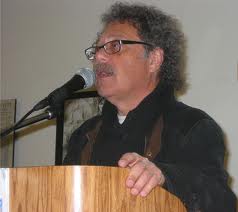 Dear Fr
ien
ds,
We are in the thick of planning the next 2013 conference to be held in the exciting theatre cities of Minneapolis/St Paul. Hence, the TWIN CITIES AJT CONFERENCE JUNE 2-5, 2013. I am pleased to report that the
Minnesota Jewish Theatre
will be our host, headed up by their Producing Artistic Director
Barbara Brooks
. The Twin Cities is one of the most progressive arts destinations in the country and it is known for Tony Award winning theatres including The Guthrie Theater and the Children's Theatre Company (CTC) and other renowned theatrical organizations such as the Playwrights' Center. There are also a multitude of cultural and natural offerings for free time and for pre/post conference activities. We are working to secure affordable hotel rates for our conference members near lovely restaurants, museums, theaters and pleasant places to stroll.
The AJT Board is working hard on ideas for the conference, coming off of the extremely successful LA Conference – making so many connections for people through the Playwrights' Forum, the AJT Showcase and workshop/session interactions. So if you have suggestions for the conference task force led by Diane Gilboa, Producing Artistic Director of Theatre Or, who is on our Board, please send them along to
her
or
Elayne LeTraunik
. We are extremely pleased to announce this so early in our planning and expect that our numbers will definitely be high because of this. Therefore when we send you the Conference and Hotel Registration Information please note the deadlines and register early for the best rates!
Believe it or not, the Association for Jewish Theatre is in its first full year as an independent 501(c)3 organization. This has led us to explore grants and other opportunities to make AJT into the best it can be to serve you our members - the playwrights, producers, theatre artists, theatre board members, writers and scholars, and theatre goers. The AJT Board is working very hard to look towards the future, not only to herald the vast amounts of Jewish theatre throughout the world -- but to provide real connections, funding, and program opportunities -- clearly demonstrating that Jewish theatre is alive and well. AJT now has over 200 members and associates with more joining all the time from all over the globe.
Have a Great Summer, Let Us Know Your Doings and Keep Jewish Theatre Alive!
David

Esther Arbeid of Toronto, Ontario, Canada
Film/Theatre Program Manager
Miles Nadal JCC

Emilie Beck
Los Angeles, CA
Director, playwright and producer and performer
Formerly Associate Manager of Center Theatre Group
Co-Literary Manager at The Theatre @ Boston Court

Renee Calarco
Washington, DC
Award winning playwright
Artistic Associate of First Draft and Charter Theater

Olivia Choate
Actress
Burbank, CA

Lawrence DuKore
New York, NY
Actor, playwright, screenwriter
Wrote the screenplay for "Greased Lightning" starring Richard Pryor

Henry Gabriel
Glasgow, UK
Playwright

Phil Johnson
San Diego, CA
Comedian, Actor, Singer
Performed on Broadway in Les Miz and toured in Sunset Blvd.

Janet Neipris
New York, NY
Playwright
Professor of Dramatic Writing, NYU Tisch School of the Arts

Jamie Pachino
Los Angeles, CA
Playwright, Screenwriter
Currently writes for the TV show Fairly Legal

Ellen Perecman
New York, NY
Playwright and Actress
Has performed in staged readings of classic Yiddish plays
Producing Artistic Director at New Worlds Theatre Project, NYC

Judith Rosenblatt
New York, NY
Solo Performer
Has appeared on and off Broadway
Appeared in Woman Before a Glass directed by Austin Pendleton

Tali Tadmor
Los Angeles, CA
Educator, Pianist
6 Points Fellow in L.A.
Sponsored by the Foundation for Jewish Culture

Larry Jay Tish
Cambridge, MA
Playwright/Solo Performer
Co-Wrote and stars in The Black-Jew Dialogues

Vox Box Arts
Los Angeles, CA
An Arts collective dedicated to presenting works for diverse income,
cultures and abilities

Lisa Grumberger
Phlladelphia, PA
Playwright
Author of Yiddish Yoga
Photograph below from
"My Name is Asher Lev" at Theatre J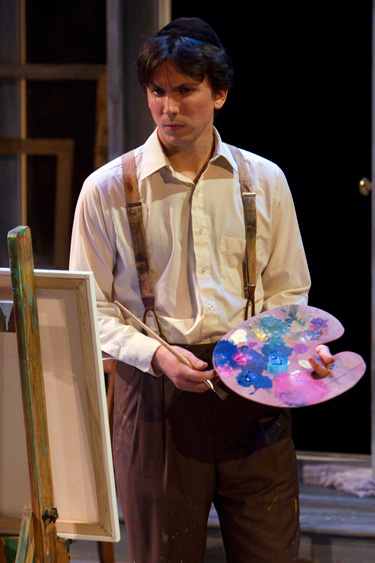 AJT Board Members

David Y. Chack, Pres.; Mira Hirsch, Past Pres.; Rebecca Joy Fletcher, Vice Pres.; Hannah Hessel, Vice Pres.; Doug Brook,Vice Pres.; Diane Gilboa, Sect.; Susan Lodish, Treas.: Barbara Trainin Blank; Aaron Henne; Leslie Marko; Eli Taylor; Mel Weiser; Bryna Weiss. Ex Officio - Ellen Schiff; Moti Sandak; Coord. Elayne LeTraunik