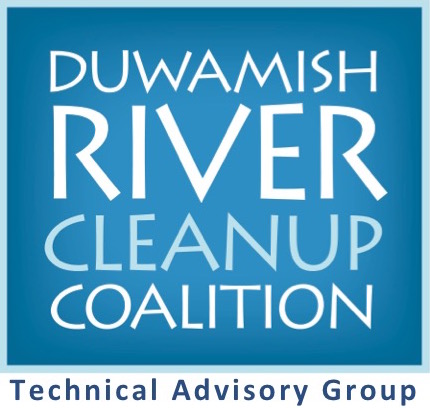 DRCC/TAG has been working for 14 years to ensure a Duwamish River cleanup that benefits and is accepted by the community and protects fish, wildlife and human health. EPA released their final cleanup for the river, the Record of Decision, in December 2014.

Your continued participation in DRCC/TAG is critical to a successful river cleanup! You can
get involved
by attending tours, coming to upcoming public meetings and hearings, volunteering at habitat restoration events, forwarding our newsletter to others, or making tax-deductible contributions to support our programs.
To contacts us:
206-954-0218 / email

Visit our website for more information about our activities and programs.
---
Many thanks to our generous funders: EPA Urban Waters Grant, EPA Environmental Justice Cooperative Problem Solving Agreement, EPA Technical Assistance Grant
, WA State Ecology Public Participation Grant, Bullitt Foundation, Russell Family Foundation, The Seattle Foundation, Peach Foundation, UW Superfund Research Program, Washington Foundation for the Environment, th
e Rose Foundation,
Brainerd Foundation, LUSH, NW Fund for the Environment, and Social Justice Fund

Thank you for being involved in the ongoing efforts to clean up and restore Seattle's

Duwamish River.
Forward this update to a friend!

As the colors and the seasons change - it is planting season! This past Saturday, hundreds of volunteers rolled up their sleeves as part of Duwamish Alive!. More on this great event below. Take a look at what else has already happened this season:
- Over 150 people joined DRCC/TAG as we celebrated the river through our first ever fundraiser, the
Duwamish River Chocolate Fest!
Thank you to everyone who came out and supported this event.
Check out photos
from the event.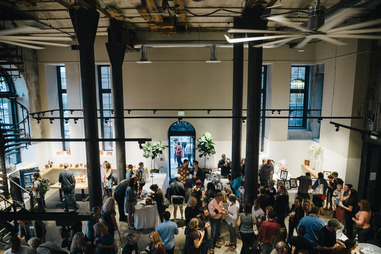 Courtesy of blueskyhill.com
- Mark Powell shared a little bit about what he learned from swimming the Duwamish River
through a video
. Thanks for bringing attention to this special place Mark and WEC!
- DRCC/TAG staff, board, and volunteers had the opportunity to be treated to a beautiful meal by community members in South Park. Thank you, Randy Wiger, for organizing and cooking this delicious treat!
-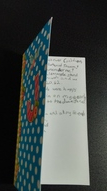 As we always say - every donation, big and small, is valuable! In our eyes, this is a a BIG donation! Every year, a young girl named Julia sends us a donation of the money she raised through a lemonade stand because the Duwamish River is HER river. This year, she even asked her friends to join her! Thank you, Julia! You are truly inspiring.
---
Volunteers work to Cleanup and
Restore our River at T-107!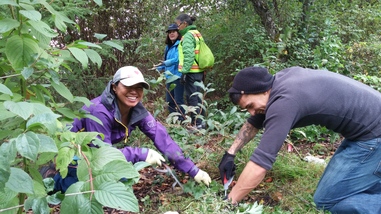 Planting and weeding at T-107 Park!

This past Saturday, hundreds of volunteers rolled up their sleeves to celebrate trees and keep this watershed healthy for our river and our Puget Sound! At T-107 Park, DRCC/TAG,
EarthCorps Sound Stewards
, and
Puget Soundkeeper
worked with over 50 volunteers to keep this important habitat and river access space healthy and beautiful. It was a great day; here are a few highlights:
- The day started with delicious coffee from
Fonté Coffee
- Volunteers split into two groups to take on land and water. On the water,
Alki Kayak Tours
donated their time and kayaks to pick up litter around Kellogg Island and along the banks of the river. Volunteers and Alki Kayak Tours - with support from the Puget Soundkeeper boat - worked together to pick up
286 pounds
of trash and debris
from our river! Amazing!
- On land, volunteers, led by Sound Stewards, maintained close to
18,870 of restoration area and planted 40 plants - including 12 trees!
These volunteers worked hard attacking invasive weeds at the site. As lead steward, Susan Ward, said - at the end of the day, there wasn't a weed left in sight!
- At the end of the day, volunteers were invited across the street to the
Duwamish Longhouse
to enjoy soup and listen to the sounds of Seattle performed by Steve Griggs Ensemble (which includes DRCC/TAG Executive Director, James Rasmussen!)
As one of 15 sites participating in
Duwamish Alive!
on Saturday, volunteers at this site joined over 400 volunteers across the watershed planting, weeding, and mulching. It was a great day for our river, our communities, our wildlife, and our region!
---
Clean Air in the Duwamish Valley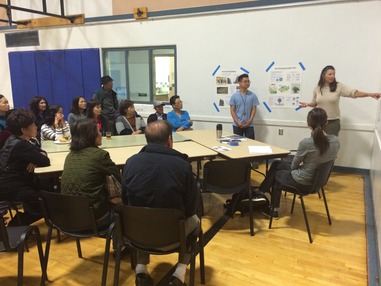 The Vietnamese-speaking community discusses potential action projects with Linn Gould of Just Health Action
Over the past month, DRCC/TAG and the project partners of the
Duwamish Valley Community Action for Clean Air
project worked together to host two clean air workshops in Georgetown and South Park. While there is a need to continue gathering community input, these workshops proved a success for having productive conversations with community members - in English, Vietnamese, and Spanish.
Here is a look at a little bit of what happened at the workshop:
- Alberto Rodriguez of DRCC/TAG and Erik Saganic of
Puget Sound Clean Air Agency
started the workshops by sharing some information about what is known about air quality in the Duwamish Valley. Erik continued the conversation with small groups, learning about what types of information was still missing for community members.
- With small groups of community members, Linn Gould of
Just Health Action
discussed potential projects to implement to reduce the community''s exposure to air pollution. These projects were identified through a literature review focused on potential green solutions for reducing air pollution exposure.
- Dr. Troy Abel and students from
Western Washington University, Huxley College on the Peninsulas
demonstrated the Community Air Watch map currently in development.
Check it out!
- Aileen Gagney of
American Lung Association
worked with the Duwamish Valley Youth Corps to build and distribute high quality air filters to those who participated or committed to participating in Healthy Home Assessments!
You can check out the workshops in action
through photos
from the South Park workshop.
While these workshops were a good start, these conversations need to continue to provide the community the opportunity to shape clean air action. Stay tuned!
Check out
the fact sheet
on what the project partners currently know about air quality in the Duwamish Valley.
Contact Alberto at alberto - at - duwamishcleanup.org or 206-453-9803 with questions!
---
Empowering Our Youth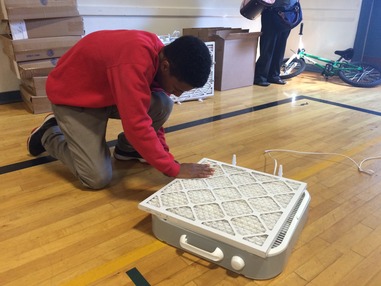 A Youth Corps member putting the finishing touches on a high-quality air filter at recent Clean Air Workshops

It is amazing to see what the Duwamish Valley Youth Corps achieves every month! They are a force in these neighborhoods.
This coming Saturday, the Youth Corps are hosting an
Environmental Education Youth Forum
on October 24 from 10am to 2pm at the South Park Community Center. The whole community is invited!
Last month, the Youth Corps worked with the Duwamish Community Action for Clean Air project to build and hand out high quality air filters! During one of the workshops, they also gave input on what projects to implement and what types of air quality information they were interested in learning. It is great to hear their vision for their community!
Do you know of a 13- to 18-year old youth living in South Park or Georgetown interested in learning hands-on environmental skills? Contact Carmen at carmen - at - duwamishcleanup.org for an application! The next cohort starts in January.
Like their page on Facebook
to follow along with what they are up to!
---
The Duwamish River is Everywhere!

Recently, there have been a number of articles featuring the Duwamish Valley - from the river to the work of DRCC/TAG to the air quality of the community. With more attention being drawn to the river and its communities, we hope more investment will follow. Here is a look at some recent ones:
-
My Grandfather and the Plane that Changed Seattle
- Ashley Ahearn's look at the impact of Boeing on Seattle's economy and history
Published September 29, 2015 by KUOW
-
Man Swims 55 Miles of Duwamish River, finds it's 'still alive'
- a look at Mark Powell's swim down Green-Duwamish River
Published September 30, 2015 by Seattle Times
-
Inclusive, Diverse, and Equitable River Conservation Efforts
- Alberto Rodriguez talks about the work of DRCC/TAG
Published October 2015 by The River Network
-
2015 River Network Heroes: B.J. Cummings
- Following her national award earlier this year, BJ is interviewed by Ecocentric
Published October 15, 2015 by Grace Communications Foundation
-
'Smell of Money' Polluted This South Seattle Neighborhood
- Air pollution is no small issue in South Park and Georgetown; this recent article takes a glimpse at some of the ways it is being addressed.
Published October 13, 2015 by KUOW
---
Addressing Community Priorities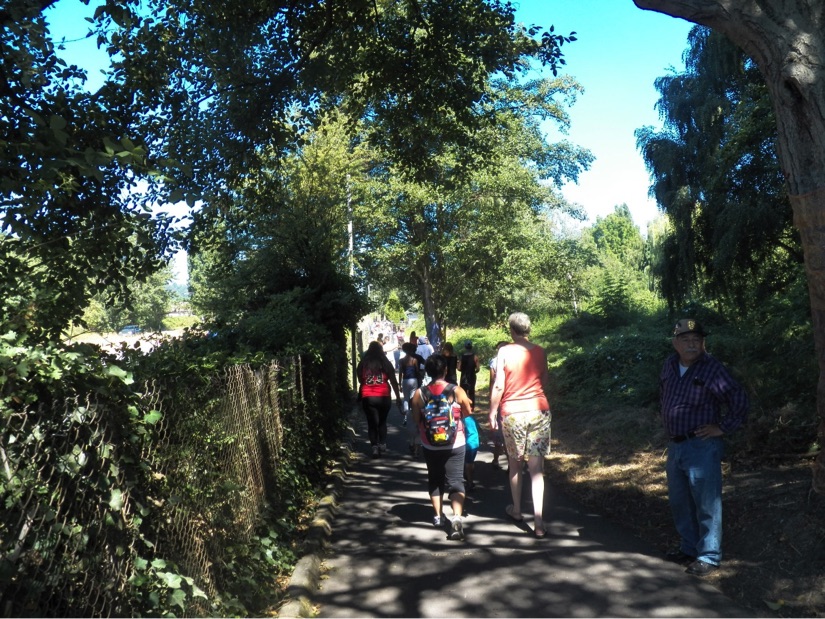 The South Park community walking during the 8th Avenue Trail Unveiling in July!

DRCC/TAG staff continues to work on priorities identified by the community in 2014 and 2015, supporting existing efforts and strategizing on how other priorities can begin to be funded and implemented.
Check out the
newest fact sheet
about the Healthy River/Healthy Communities project. Look for continued updates as we continue to support the community in their effort to take action on their priorities!
---
Get Your Green-Duwamish Watershed Map
Help us get maps into the hands of Seattle-area residents!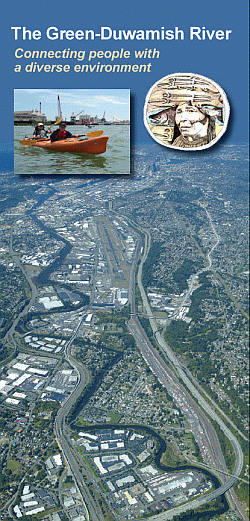 Do you have your award-winning Green-Duwamish River Map yet? Discover unique bike routes and trails, heritage sites, shoreline parks, habitat restoration areas, and more! Click here to get yours today!
Please consider making a tax-deductible contribution to help us provide maps for free to school children, local libraries, community centers, tour participants, and other visitors to the Duwamish River.