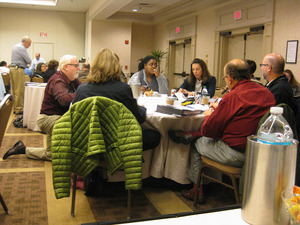 The Center for Juvenile Justice Reform (CJJR), in partnership with the American Institutes for Research (AIR) is still accepting applications for its inaugural
School-Justice Partnerships Certificate Program: Fostering Success for Youth at Risk,
which will be held from September 28-October 2, 2015 at Georgetown University.
This program provides an intensive learning experience to prepare school and district staff, court professionals, juvenile justice, law enforcement, and other child-serving community leaders with the knowledge and understanding necessary to address the immediate and long term needs of students known to, or at risk of entering, the juvenile justice system.
The goals of this certificate program are to promote an ongoing engagement in school among youth at risk, re-engage students who have been disconnected and improve academic outcomes for all, and create safe and supportive learning environments without excluding and forcing out those students who are most at risk for negative life outcome.
The application deadline is July 10, 2015.
Learn more
about the
School-Justice Partnerships Certificate Program
, including how to apply, tuition fees, and subsidies.
Download
the full application packet.
---
CJJR Names 149 Juvenile Justice Leaders as 2015 Fellows

The Center for Juvenile Justice Reform (CJJR) recently named 149 professionals from juvenile justice, child welfare, and other child-serving organizations as 2015 Fellows. Each fellow was recognized for successfully completing one of CJJR's Certificate Programs at Georgetown University and undertaking their Capstone Project.
The Fellows represent national and international child-serving agencies and organizations from 41 jurisdictions in the United States and Thailand. These individuals will become part of CJJR's Fellows Network of over 530 alumni.
Read
the official press release for more information regarding our 2015 Fellows.
View
a complete list of 2015 fellows.
---
Nonprofit Steps Up for Crossover Youth in Los Angeles County
Driven by research highlighting the inadequacy of Los Angeles County's treatment of crossover youth, Children's Law Center of California, a nonprofit law firm representing children in foster care, launched the Crossover Advocacy and Resource Effort (CARE). CARE is a grant-funded pilot program which aims to realize the unfulfilled promise of California's Assembly Bill 129: to ensure crossover youth are afforded the services they need from both juvenile justice and child welfare agencies. The CARE project strives to make this a reality by facilitating relationships between youth and agency workers and bridging the communication gaps between local agencies.
The CARE Unit's main grant is from the Center for Juvenile Justice Reform (CJJR), whose Crossover Youth Practice Model focuses on addressing the unique needs of youth that fluctuate between and are known to the child welfare and juvenile justice system (i.e. crossover youth). Through the CARE Unit and the CYPM, CJJR seeks to help jurisdictions ensure that practices are consistent and resources are shared between child-serving systems to positively impact the lives of crossover youth.
To learn more about CARE,
read
"Nonprofit Steps Up for Crossover Youth in Los Angeles County,"
The Chronicle of Social Change
.