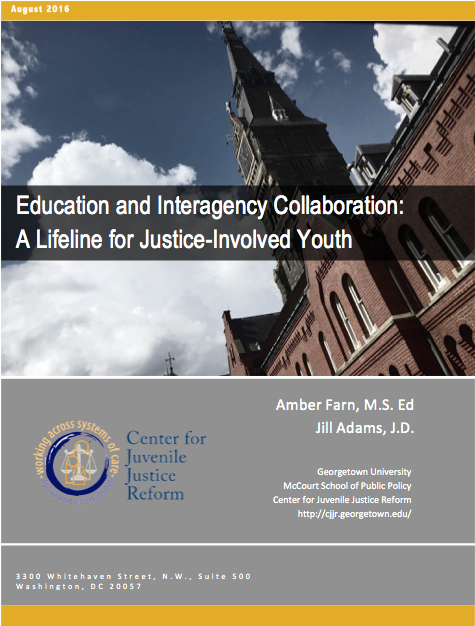 Research shows that a high-quality education experience is critical in facilitating youth's long-term well-being, as the education system provides youth with necessary supports, resources, and skills to become productive members of the society. Unfortunately, literature also suggests that youth involved in the juvenile justice system often do not have access to the same educational opportunities as their non-delinquent counterparts and tend to struggle with the transition to adulthood. To help systems address the education needs of justice-involved youth, CJJR authored an issue brief,
Education and Interagency Collaboration: A Lifeline for Justice-Involved Youth.
This issue brief reviews research on education for system-involved youth, details recent efforts to improve education outcomes for the population, and highlights the Washington Education Advocate Program, a school-based transition program that focuses on bridging the education achievement gap for youth involved in the juvenile justice system in the state of Washington.
---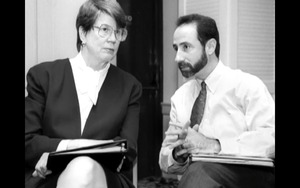 If you are lucky, you come across someone in your career who provides an "unforgettable interruption"—someone who teaches you, someone who guides you, someone who inspires you. In my career, and in the careers of so many others across the country, that person has been former United States Attorney General Janet Reno.
Reflecting on her career in public service, it is easy to see why Janet inspires so many people. From her legal education at Harvard University—where she was one of 16 female students in a class of more than 500—to her role as the first woman State Attorney for Miami (Dade County) and then the nation's first female Attorney General, Janet has always been a trailblazer. Her career has been particularly influential for women lawyers, ranging from my own daughter, a successful attorney in Miami who views her as a role model, to Attorney General Loretta Lynch, who has
said
that Janet Reno's "calm and steady leadership of the Department of Justice helped to shape the public's perception of women's role in government and public service."
On June 20, 2016, we launched an
endowment
at Georgetown University honoring Janet Reno. This initiative will allow us to celebrate Janet's career as a lifelong child advocate, the first female attorney general, and a major force for positive change within the Justice Department through activities like a women's leadership award and policy forums bearing her name. It has also given me, personally, a wonderful opportunity to hear from individuals around the country about what Janet means to them.
[...]
---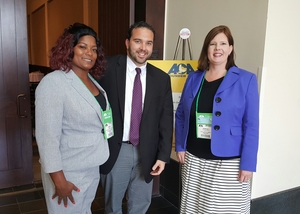 Last week, CJJR Senior Research Fellow Michael Umpierre and leaders from the Texas Juvenile Justice Department (TJJD) presented at the American Correctional Association's "146th Congress of Correction" conference in Boston, Massachusetts. The team, which included TJJD officials Rebecca Walters, Deidra Reece, and Cris Burton, highlighted an innovative program developed after TJJD staff participated in CJJR's
Youth in Custody Certificate Program
.
The initiative, titled the "Capstone Program," focuses on enhancing programming and services for youth in TJJD's facilities who have obtained a high school diploma or GED, including off-campus employment opportunities. In the program, youth have the opportunity to participate in student councils, learn practical life skills such as cooking, painting, and using power tools, and receive job readiness training (e.g., interview and resume-writing lessons). While the project is in its nascent implementation phase, it appears to be producing promising outcomes. Preliminary TJJD data showed that youth's participation in the Capstone Program at one facility is associated with an average of 53 percent decrease in behavioral incidents. Staff also reported an increase in youth engagement.
TJJD is one of four organizations currently participation in the
Youth in Custody Practice Model Initiative (YICPM)
, a joint program of CJJR and the Council of Juvenile Correctional Administrators. While early in the process, the agency has already introduced various reforms inspired by the YICPM, and CJJR and CJCA look forward to working with TJJD staff and partners on the effort.
---