Application Deadline: April 29, 2016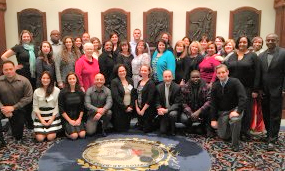 CJJR is still accepting applications for the
Juvenile Diversion Certificate Program
, which will be held at Georgetown ​University from August 2-5, 2016.
As a partner in the Models for Change initiative and a co-author of the 2011 Juvenile Diversion Guidebook, CJJR has joined with Juvenile Law Center, National League of Cities and the Police Foundation to conduct an intensive Certificate Program on juvenile diversion practices and programming, now in its 3rd year. ​
The Certificate Program brings together law enforcement officers, probation staff, prosecutors, defenders, school officials, judges, policy-makers, and other local leaders who are committed to strengthening their diversion efforts.
Applicants are strongly encouraged to apply as a team of up to seven individuals from the same jurisdiction. If you are interested in forming a team, please visit CJJR's new Team Leader Resources page. Subsidies are available through CJJR and​ OJJDP's Center for Coordinated Assistance to States. Applications are due by April 29, 2016.

---
Last week, the Center for Juvenile Justice Reform (CJJR) and representatives from two Crossover Youth Practice Model (CYPM) sites in Maryland held a training course at the Judicial College of Maryland, School of Judicial Education. Fifty-five judges from 16 counties in Maryland attended the event.
The daylong course,
Crossover Kids: Minors with Child in Need of Assistance (CINA) and Delinquency Issues,
aimed to help jurisdictions: better understand the benefit of providing coordinated, comprehensive services for children with both CINA and delinquency issues; identify successful models for providing coordinated services to the state's most at-risk youth; and learn about ways to implement a holistic approach to serving children who are involved in both the child welfare and juvenile justice systems.
Facilitated by the Honorable Cathy Hollenberg Serrette from the Prince George's County, Maryland Circuit Court, the training featured a panel of...

New "Prince George's County CYPM Implementation" Team Testimonial.
Watch Now!
---
Know an advocate or organizer who wants to set the youth justice world on fire? Tell them to apply to the
National Juvenile Justice Network's 2016-2017 Youth Justice Leadership Institute
.
The Institute is a robust, year-long fellowship program run by the National Juvenile Justice Network (NJJN) that focuses on elevating and supporting advocates and organizers who reflect the communities most affected by youth justice system practices and policies. NJJN strongly encourages people of color to apply.
Applications are due by April 25, 2016.