---
And Mary said, My soul does magnify the Lord...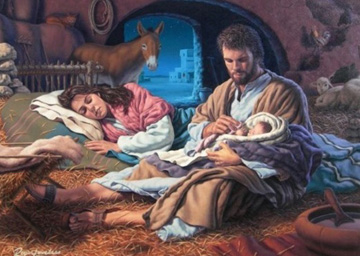 Mary gave birth in a barn. Two thousand years later, too many women in poor parts of the world still give birth under distressing conditions because their value is not recognized...

Mercy In Action exists to help families have safe births without going into debt and without risking their lives because they cannot access care. In much of the world, there is still "no room in the inn" for a pregnant woman who is poor, or a refugee....

We have been establishing and funding free birth centers for poor families in the Philippines since 1991, and to date almost 14,000 babies have been delivered free of charge for the poorest of the poor in Mercy In Action's Birth Centers. In addition, we have trained thousands of midwives and health care workers to serve everywhere there is a need. Our clinics, birth centers, schools and training programs all serve one purpose: to show God's love to the needy through quality, compassionate health care and maternity services.
This Christmas let us ponder the words of Mary's song:

He has brought down rulers from their thrones
but has lifted up the humble.
He has filled the hungry with good things
but has sent the rich away empty.
He has helped his servant Israel,
remembering to be merciful...

Luke 1:52-54
---
ONLY A RUMOR




by Soren Kierkegaard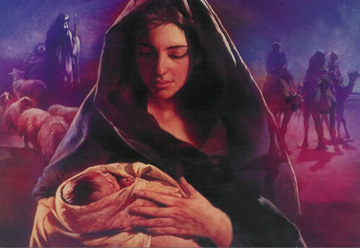 Now when Jesus was born in Bethlehem of Judea in the days of Herod the king, behold, there came wise men from the east to Jerusalem, saying, Where is he that is born King of the Jews? For we have seen his star in the east, and are come to worship him. When Herod the king had heard these things, he was troubled, and all Jerusalem with him. And when he had gathered all the chief priests and scribes of the people together, he demanded of them where Christ should be born.

Matthew 2:1-4

Although the scribes could explain where the Messiah should be born, they remained quite unperturbed in Jerusalem. They did not accompany the Wise Men to seek him. Similarly we may know the whole of Christianity, yet make no movement. The power that moved heaven and earth leaves us completely unmoved.

What a difference! The three kings had only a rumor to go by. But it moved them to make that long journey. The scribes were much better informed, better versed. They sat and studied the Scriptures like so many dons, but it did not make them move. Who had the more truth? The three kings who followed a rumor, or the scribes who remained sitting with all their knowledge?
---
A DEDICATED VOLUNTEER -

In Memory of Mike Allen




by Vicki Allen Penwell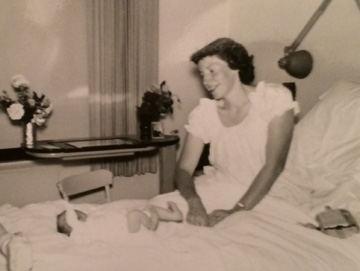 Photo to the right:

Mike Allen with her newborn daughter, Vicki, circa 1958. Vicki found this photo for the first time after her mom died...she had not known that a picture existed of the day she was born; the look on her mom's face says it all...

As the Executive Director of Mercy In Action, I have memorialized a few significant volunteers or contributors who passed on over the years, and this year I realize I should do no less for Mike Allen. She deserves this tribute on her own merit, which should not be ignored just because she also happened to be my mom.

Mike Allen was a staunch supporter of Mercy In Action from its inception until her death this fall. In 1982, she first assisted me at a home delivery in Alaska. From that point on, she thought midwifery and personalized family-centered maternity care was something every family deserved. In 1991, when we started working among the poor in the Philippines, she came to Manila for three weeks to help. Over the years since, she has served as a volunteer in many roles, but the longest-running role was as our point person in the USA for donations. She picked up checks at the post office near her home in California every day, and deposited them into Mercy In Action's account; this she did faithfully for years, keeping records of donations and often communicating with donors in her friendly, appreciative way. Many of you spoke with Mike Allen on the phone over the years, or got a note from her, but how many of you knew she was my mother as well as Mercy In Action's biggest fan?

As my mother, she probably would have supported any cause I was involved in, but she did especially love Mercy In Action and all it stood for, and loved to talk about our mission to all her friends and people at church. She called it her "favorite charity", and supported us with her time as well as her own monthly donations. Several years ago, she and my father, Ray Allen, bought an ambulance for Mercy In Action when we started our Olongapo center.

So on behalf of the non-profit organization I founded, and in recognition of all she meant to many, I salute a faithful supporter and friend in Mike Allen. Our family, and our mission, is richer because of her life and what she gave to us all.
http://www.legacy.com/obituaries/sanluisobispo/obituary.aspx?pid=176126872
---
To give a tax-deductable donation to Mercy In Action:
---
Merry Christmas and
God's richest blessings to you
in the coming New Year !


The staff of Mercy In Action
---
email:
info@mercyinaction.com
website:
www.mercyinaction.com
You can go online to donate to Mercy In Action
to give a one time gift or an ongoing donation.
You can send a check to:
Mercy In Action
3018 W. Overland Road,
Boise, Idaho 83705 USA