2014 Maine Literary Awards

WINNERS!
Have you been wondering what you might read next? Boy, have we got some amazing options for you!

Last night in front of a standing-room only crowd at USM's Glickman Library, the MWPA announced the winners of the 2014 Maine Literary Awards. In addition to the seventeen book awards, short works awards, and youth awards, the evening also included two additional very special awards:


DISTINGUISHED ACHIEVEMENT AWARD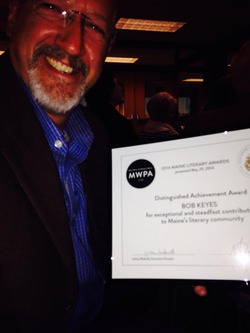 It was a great privilege to surprise Bob Keyes with the MWPA's annual Distinguished Achievement Award for "exceptional and steadfast contributions to Maine's literary community." Mr. Keyes's colleague Aimsel Ponti gave a wonderfully warm introduction and summed up how we all feel:
Maine is damn lucky to have Bob Keyes!
The proud
Portland Press Herald
has already posted a story about the evening: "
Press Herald reporter recognized for coverage of literary arts
"
PHOTO After hiding in a side room for nearly an hour before surprising Bob Keyes, Aimsel Ponti captured this image of the grinning writer.


SPECIAL "TRIFECTA" CITATION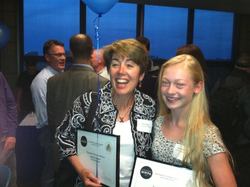 For the past three consecutive years, Elysia Roorbach of Farmington (right) has been a finalist in the youth fiction category of the Maine Literary Awards. To keep yourself parked at your writing desk, to keep honing your craft, to persevere, these are all incredibly admirable traits in a young writer. Last night, the MWPA honored Ms. Roorbach with a special "Trifecta" citation.

PHOTO After receiving her citation, Ms. Roorbach stayed on stage to announce that Maria Padian (left) was the winner of Young Adult Award for Out of Nowhere.

---
2014 Maine Literary Awards

FICTION
Roxana Robinson
Sparta
CRIME FICTION
Al Lamanda
Sunrise
SPECULATIVE FICTION
Mark D. Diehl
Seventeen: Book One
NONFICTION
Lincoln Paine
The Sea and Civilization
MEMOIR
Peter Korn
Why We Make Things and Why It Matters
POETRY
Christian Barter
In Someone Else's House
CHILDREN'S
Lynn Plourde
You're Wearing THAT to School?!
YOUNG ADULTS
Maria Padian
Out of Nowhere
ANTHOLOGY
Martha White
E.B. White on Dogs
JOHN N. COLE AWARD FOR MAINE-THEMED NONFICTION
Reeser Manley & Marjorie Peronto
New England Gardener's Year
EXCELLENCE IN PUBLISHING
Elizabeth W. Garber & Michael Weymouth
Maine (Island Time)
SHORT WORKS FICTION
Deborah H. Gould
SHORT WORKS NONFICTION
Mira Ptacin
SHORT WORKS POETRY
Christopher Robley
YOUTH FICTION
Grace Whited
YOUTH NONFICTION
Toby Choyt
YOUTH POETRY
Tessa Holbrook
---
2014 Maine Literary Awards
Finalists


In a year with a record-breaking number of submissions, the 2014 finalists deserve extra-special recognition for being one of the top three books or manuscripts in their category!
FICTION
Ron Currie Jr.
Flimsy Little Plastic Miracles
Christina Baker Kline
Orphan Train
CRIME FICTION
Paul Doiron
Massacre Pond
Barbara Ross
Clammed Up
SPECULATIVE FICTION
Steven Konkoly
The Perseid Collapse
Sharon Lee & Steve Miller
Necessity's Child
NONFICTION
Mark Gabrielson
Deer Isle's Undefeated America's Cup Crews
Marilyn Moss
Bill Moss: Fabric Artist & Designer
MEMOIR
Linda Greenlaw
Lifesaving Lessons: Notes from an Accidental Mother
Mark Hathaway
World Locked In: Six Weeks in Coma and Beyond
POETRY
Kimberly Cloutier Green
The Next Hunger
Lee Sharkey
Calendars of Fire
CHILDREN'S
Kelly Ellerbrook
The Perfect Christmas Egg
Kim Ridley
The Secret Pool
YOUNG ADULTS
Maria Padian
Out of Nowhere
ANTHOLOGY
Marcia F. Brown
Port City Poems
Dawn Potter
A Poet's Sourcebook
JOHN N. COLE AWARD FOR MAINE-THEMED NONFICTION
John Ford Sr.
This Cider Still Tastes Funny!
David Little
Art of Katahdin
EXCELLENCE IN PUBLISHING
Jennifer O'Connell
The Eye of the Whale
SHORT WORKS FICTION
CB Anderson
Nathaniel Minton
SHORT WORKS NONFICTION
Amy Chapman
Sandell Morse
SHORT WORKS POETRY
Rachel Contreni Flynn
Bruce Spang
YOUTH FICTION
Joseph Han
Elysia Roorbach
YOUTH NONFICTION
Richard Akera
Michee Runyambo
YOUTH POETRY
Caroline Dyhrberg
Mary McColley
---
2014 Maine Literary Awards: The Stats
Nearly one hundred and twenty-five books were entered across the genres.
More than seventy manuscripts were submitted into the award's Short Works Competition in the categories of fiction, nonfiction, and poetry.
Nearly seventy Maine students submitted work in the same categories in the award's Youth Competition.
Sponsors

Sherman's Books

—booksellers since 1886 with locations in Bar Harbor, Boothbay Harbor, Camden, Freeport, and Portland—is this year's platinum sponsor.

Portland's fiercely independent

Longfellow Books

is our gold sponsor.

Damariscotta's

Maine Coast Bookshop

is our host sponsor.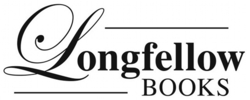 ---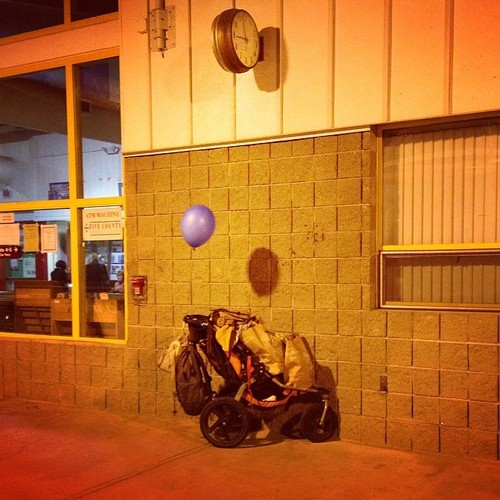 Each winner at the Maine Literary Awards leaves the stage with a decidedly joyous blue balloon. Above, Short Works Nonfiction winner Mira Ptacin's blue balloon is seen proudly tied to her son Theo's stroller as it awaits the ferry home to Peak's Island. #blueballoon!