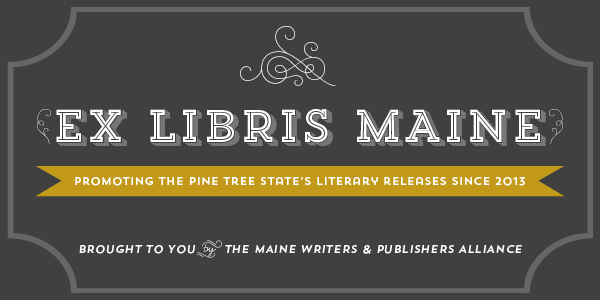 Greetings, October 2018
Welcome to the
October 2018
edition of the MWPA's
Ex Libris Maine
.
This month's edition offers new books by Maine authors in the categories of
Fiction, Crime Fiction, Nonfiction, Memoir, Poetry, Young Adult/Young Reader's,
and
Children's.

For more information on any title below, simply click on the book's cover.

Alice Bingham Gorman

She Writes Press

Valeria Vose: A Novel traces the life of a southern woman in the 1970s from a closed society with traditions that have blinded her from her own potential and her desire to be an artist. Raised to be a wife and mother and just as she is turning forty, she discovers that her eighteen-year marriage is shattered by her husband's infidelity and his lover's attempted suicide. Searching for direction, she turns to an Episcopal priest who eventually crosses all the boundaries of counseling. Despite her disillusionment and pain as a result of the relationship, she embarks on a course that leads to a new and fulfilling personal and creative identity. The story is relentlessly honest in its internal observations, rich in detail of time and place. It is validation that it is triumph of the spirit that wins in the end.
Brian Daniels
Islandport Press
Average Joe Wright is back! Joe, an average middle-aged, thick-around-the-middle man living in Smalltown, USA is still hopelessly clinging to the twentieth century. Confused and frustrated by the modern world, Joe offers
hilarious takes and wry observations on just what is wrong with it all. In this second book, Joe, the alter ego of author Brian Daniels, offers more thoughts about the many issues that interest, confuse, or irritate him, including: winter driving, festival season, and complicated gadgets. Maybe you'll agree with some of his thoughts. If not, he'll be quick to tell you, well... you are just wrong!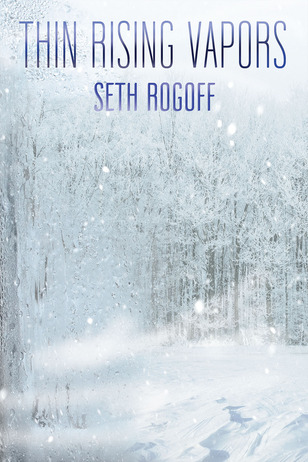 Thin Rising Vapors
Seth Rogoff
Sagging Meniscus Press
Thin Rising Vapors is a richly psychological novel about an enduring yet fragile friendship and the allure of his friend quit a career in New York to live alone in the Maine woods. In late November, Ezra receives a letter from a lawyer telling him that Abel has died and that he has inherited the deceased's property in the town of Casco. That evening, Ezra leaves the city for Abel's house. Over the next seven days, Ezra searches to understand his friend's reclusive life and mysterious death by poring over Abel's posthumous papers. As Ezra becomes immersed in Abel's writings, the coherence of the story of Abel's life builds and disintegrates in successive swells. Ezra discovers in the center of what had been familiar something irremediably alien, and in the heart of that total otherness, the unbearably intimate.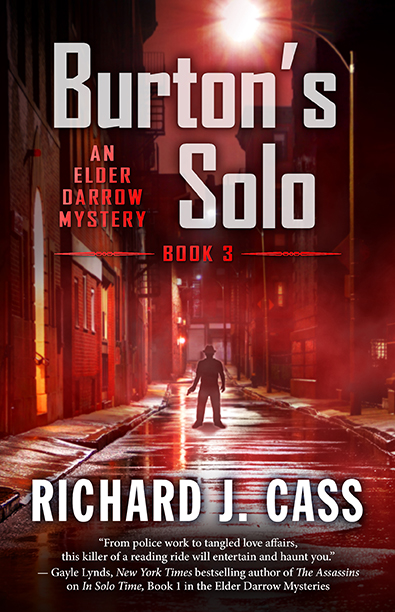 Burton's Solo
Richard Cass
Encircle Publications
In this third installment of the Elder Darrow mystery series, Dan Burton, Elder Darrow's homicide detective friend, beats up Antoine Bousquet, the clothing designer suspect in the murder of two Chinese seamstresses, jeopardizing his job and his life. Bousquet is released without bail because of Burton's mistake. When Bousquet turns up dead, beaten and tortured, Burton becomes the prime suspect. The department's Internal Affairs inspectors, Bousquet's live-in lover, several Russian gangsters, and the kingpin of the Boston underworld are all looking for Burton. But Elder Darrow, his best friend and proprietor of the Esposito bar, hides Burton, helps save his position on the Boston Police Department and rescue him from death. In the process, they expose an evil scheme by which illegal immigrants were effectively enslaved to work in Antoine Bousquet's sweat shops.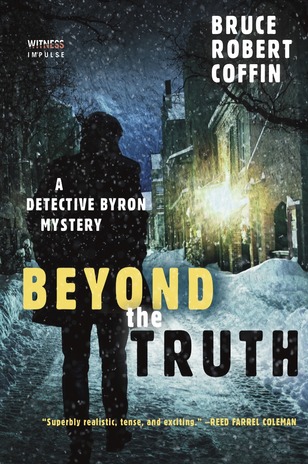 Beyond the Truth
Bruce Robert Coffin
Harper Collins/Witness Impulse
In this latest enthralling mystery from #1 bestselling author Bruce Robert Coffin, Detective Sergeant John Byron faces the greatest challenge of his career. When a popular high school senior is shot by police following a late night robbery, chaos ensues. The actions of the officer are immediately called into question. Amid community protests, political grandstanding, department leaks, and reluctant witnesses, Byron and his team must work quickly to find the missing pieces. And when an attempt is made on the officer's life, Byron shifts into overdrive, putting everything on the line. Was the attack merely retribution or something more sinister? The search for the truth may come at a price not even Byron can afford.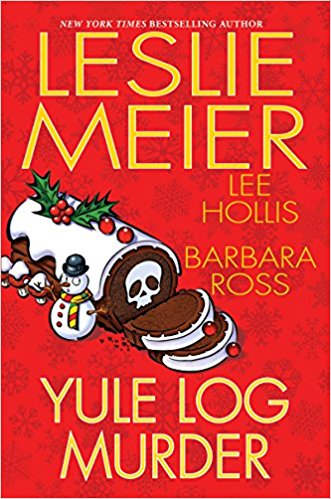 Yule Log Murder
Leslie Meier, Lee Hollis and Barbara Ross
Kensington
Fresh-baked cookies, pies, and cakes can warm even the frostiest Christmases in coastal Maine. But there's little room for holiday cheer when murder is the new seasonal tradition. Kick back with something sweet and indulge in three bite-sized yuletide tales too good to resist!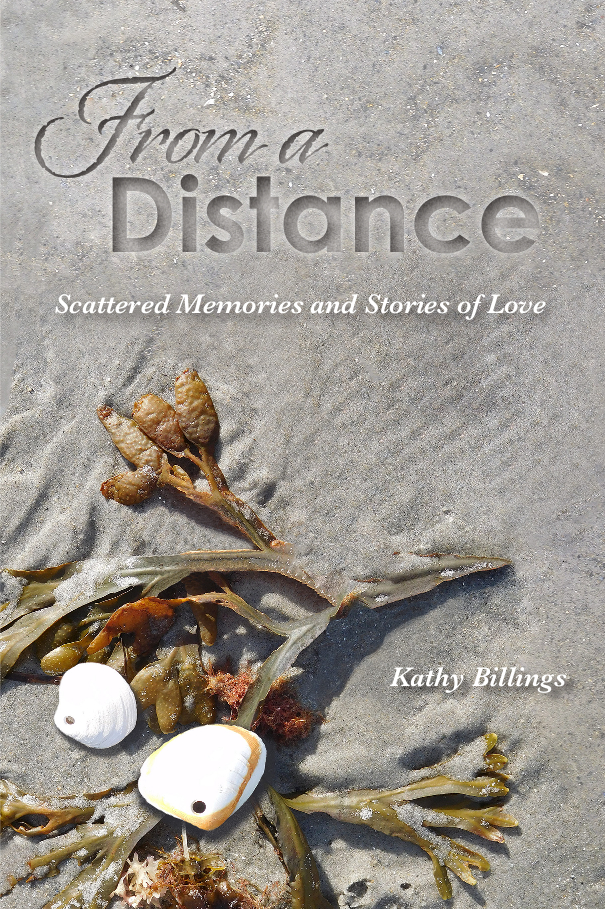 From a Distance:
Scattered Memories and Stories of Love
Maine Authors Publishing
Higgins Beach, Maine. A place, a community, a natural wonder, and the source of memories and strength for a daughter as she experiences the unexpected realities of the end of life
—
not hers, but her mother's. Seeking solace, her mind wanders to a time long ago
—
1932
—
and images of her mother, age seven, living the life she herself once lived as a young, free spirit absorbing the beauty and excitement of summer at the beach. Laced with bits of local and family history, human values and intimate relationships, From A Distance playfully creates and recounts two simple tales, past and present, imagined and true, allowing the reader to reflect on the world of dementia and the role that humanity and compassion play in our lives.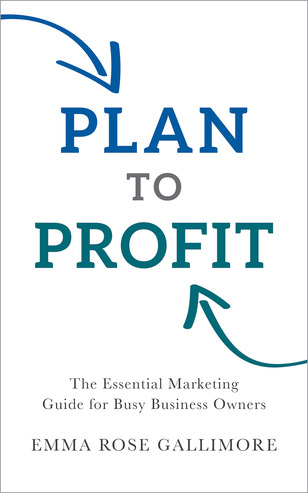 Plan to Profit:
The Essential Marketing Guide for Busy Business Owners
Emma Rose Gallimore
Kindle Direct Publishing
You want to market your business successfully without wasting time. You're overwhelmed with options and don't know where to start. You have limited time (and money) so you have to make each marketing effort count. You're not alone. Many business owners struggle to choose the right marketing strategy. Plan to Profit will help you focus on marketing essentials for your business without getting distracted by the latest shiny new marketing tactic. In it, Emma Rose Gallimore identifies the essential strategies that will give you the greatest return with the smallest investment of time and money. It's a lot easier than you think.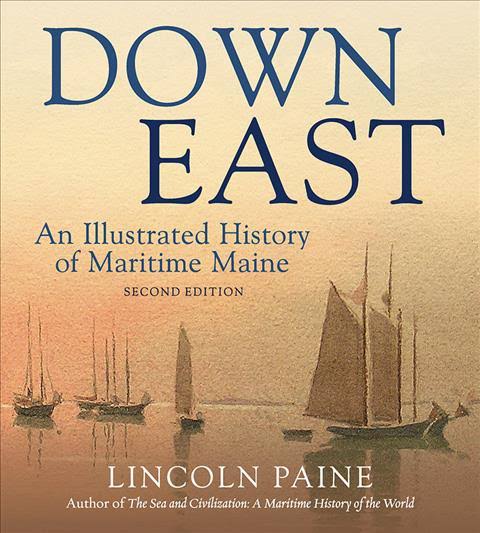 Down East:
An Illustrated History of Maritime Maine
Lincoln Paine
Tilbury House
The term Down East refers to the bold, serpentine coast reached by sailing downwind and east from Boston on the prevailing southwest wind. In other words, Down East is the coast of Maine. Paine's overview of Maine's maritime history ranges from the prestigious fishing for swordfish by the Red Paint People four thousand years ago, to pre-Plymouth European settlements, wars, international trade, shipbuilding, boom-and-bust fisheries, immigrant quarrymen, quicklime production, yachting, and modern port facilities, all unfolding against one of the most dramatic seascapes on the planet. Originally written and published in conjunction with OpSail Maine 2000, this expanded second edition's wide-ranging and meticulously captioned photos, paintings, maps, and illustrations complement the incisive text to provide a truly visual journey along a storied coast and through its rich history. Down East can be read in an evening but will be referred to again and again.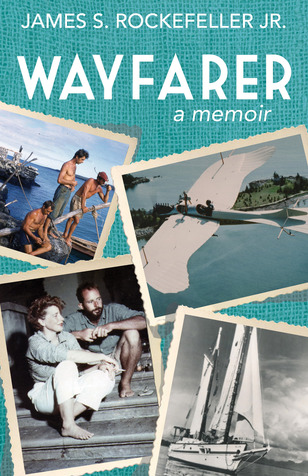 Wayfarer:
A Memoir
James S. Rockefeller Jr.
Islandport Press
In this vividly wrought memoir, author James S. Rockefeller Jr. recalls the moments and milestones in his long, adventurous life. From his childhood—filled with characters and wildlife—as a grandson of William G. Rockefeller and Sarah "Elsie" Stillman, to expeditions as a young man on his Indian motorcycle and his sailboat, Mandalay, to the fateful evening on Cumberland Island, Georgia, when his heart was stolen by the luminous author Margaret Wise Brown, Rockefeller recounts his youth with wit and clarity. As he matures, his adventurous spirit takes him from Maine to Tahiti to Norway and back again. Throughout his travels, he embraces deep loss and wondrous turns of fortune, including danger, love, death, marriage, and fatherhood. A brilliant storyteller, Rockefeller writes the remembrance of a time gone by with the perspective of a 20th-century wayfarer; a voyager on the seas of time.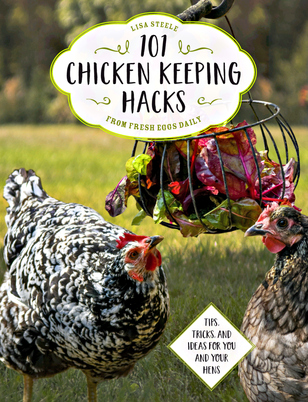 101 Chicken Keeping Hacks from Fresh Eggs Daily
Lisa Steele
Voyageur Press
Join Lisa Steele, chicken-keeper extraordinaire and founder of Fresh Eggs Daily, on a behind-the-coop tour like you've never seen. Lisa has spent years figuring out the best ways to keep chickens healthy, the natural way, and she's collected more than just your average tips.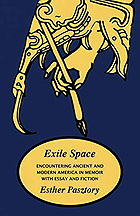 Exile Space
Encountering Ancient and Modern America in Memoir, Essay, and Fiction
Professor Esther Pasztory
Polar Bear and Company
"This three-part memoir allows us to peek into the personal life experiences of a remarkable thinker and writer, and everyone who reads it will ultimately benefit in one way or another. The benefits, moreover, will be positive and uplifting, for the book is not only downright funny in places, but Esther makes it clear that she has no regrets about the rupture that changed her life forever. Her curiosity about the world, her sense of adventure, her ease at entering into someone else's world combine to edify and enchant the reader."— Cecelia F. Klein, PhD, UCLA. Pasztory is an art historian, specializing in Teotihuacan, Aztec, and Art Theory who has made groundbreaking discoveries in her field. This is her 14th book. It's divided into three parts: Multiple Horizons: Tales From the Life of a Refugee, Stone Age Civilization in the New World, and The Maya Vase. Exile Space has been submitted for consideration for a Pulitzer.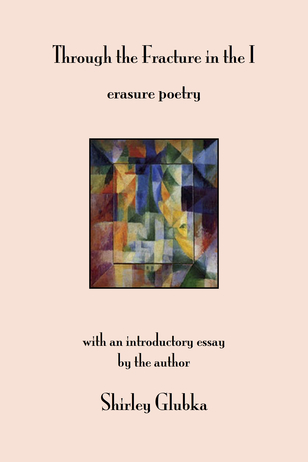 Through the Fracture in the I
erasure poetry
Shirley Glubka
Blade of Grass Press
In 27 meditative, philosophical, and lyrical poems, Shirley Glubka works and plays with the language, images, and thought of Virginia Woolf, Joseph Nicolar, Jorge Luis Borges, James Baldwin, Eudora Welty, Lucretius, Gilles Deleuze, and others. Each "erasure" becomes a unique amalgam of her voice and that of the source writer. Shirley's introduction is a window into her creative process: an explanation, a meditation, and a celebration of this late-life adventure with a new poetry form.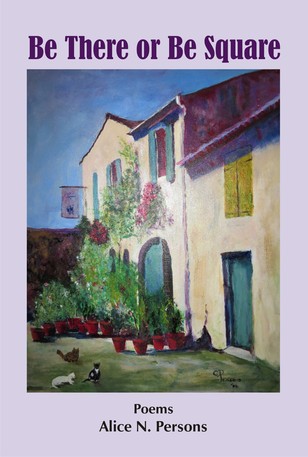 Be There Or Be Square
Alice N. Persons
Moon Pie Press
A 24-page collection of poetry by Westbrook, Maine resident Alice N. Persons. "Her references range from tribal customs to the World's Biggest Ball Of String, and her poems provide the kind of map that she knows exactly how to fold to take us there." —Jenny Doughty, president, Maine Poets Society.

The Story of Elizabeth Schuyler Hamilton
Margaret McNamara
Schwartz & Wade/Random House Children's
For fans of the musical
Hamilton
, this is a picture book biography about Elizabeth Schuyler Hamilton: activist, historian, patriot. Alexander Hamilton's story is well-known
—
but how much do we know about his workmate and inspiration, Elizabeth Schuyler Hamilton? Margaret McNamara employs the letter-writing style of the period to tell the story of Eliza Hamilton, who was her husband's stabilizing force throughout his tumultuous life. After Hamilton's death, Eliza single-handedly collected his papers and preserved them for historians (and musical-theater writers) of the future. Eliza outlived Hamilton by fifty years; during that time she founded the first orphanage in New York State, raised funds for the Washington Monument, and kept the flame of her husband's memory and achievements alive. Featuring Esme Shapiro's exquisite, thoroughly researched art, which mirrors paintings from 18th-century America, this is a beautiful and informative biography with extensive back matter.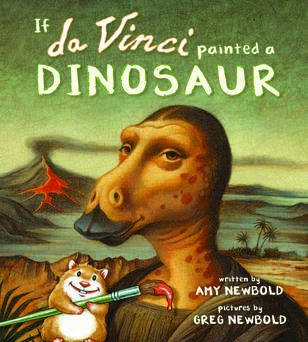 If DaVinci Painted a Dinosaur
Amy Newbold
In this sequel to the tour de force children's art-history picture book If Picasso Painted a Snowman, Amy Newbold conveys nineteen artists' styles in a few deft words, while Greg Newbold's chameleon-like artistry shows us Edgar Degas' dinosaur ballerinas, Cassius Coolidge's dinosaurs playing Go Fish, Hokusai's dinosaurs surfing a giant wave, and dinosaurs smelling flowers in Mary Cassatt's garden; grazing in Grandma Moses' green valley; peeking around Diego Rivera's orchids in Frida Kahlo's portrait; tiptoeing through Baishi's inky bamboo; and cavorting, stampeding, or hiding in canvases by Henri Matisse, Andy Warhol, Frida Kahlo, Franz Marc, Harrison Begay, Alma Thomas, Aaron Douglas, Mark Rothko, Lois Mailou Jones, Marguerite Zorach, and Edvard Munch. And, of course, striking a Mona Lisa pose for Leonardo da Vinci. Our guide for this tour is an engaging beret-topped hamster who is joined in the final pages by a tiny dino artist.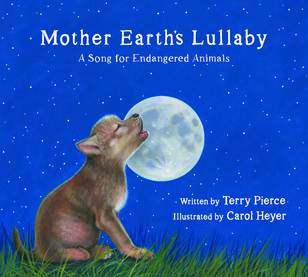 Mother Earth's Lullaby
A Song for Endangered Animals
When Mother Earth bids goodnight,
the world is bathed in silver light.
She says, "Goodnight, my precious ones."
Nature's song has just begun.
Mother Earth's Lullaby is a gentle bedtime story featuring some of the world's endangered animals. Rhythm, rhyme, and repetition create a quiet moment for children burrowing down in their beds for the night, imparting a sense that all living things feel safe at this peaceful time of day. In successive spreads, a baby giant panda, yellow-footed rock wallaby, California condor, Ariel toucan, American red wolf, Sumatran tiger, polar bear, Javan rhinoceros, Vaquita dolphin, Northern spotted owl, Hawaiian goose, and Key deer are snuggled to sleep by attentive parents in their dens and nests under the moon and stars. Brief descriptions of each animal appear in the back of the book, together with hopeful notes about formerly endangered animals that have recovered.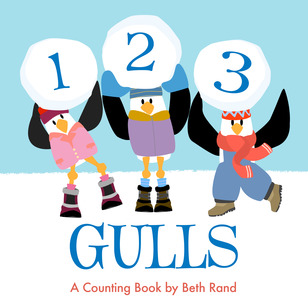 123 Gulls
Beth Rand
Islandport Press
123 Gulls offers a fresh take on a counting book, as a trio of intrepid seagulls makes its way through an island winter wonderland. They skate, ski, and collect items, counting down from ten mittens to one snowy surprise. The gulls also experience 50 and 100, until one moon puts them to sleep in the end. Little ones can start by learning numbers while early counters will have fun finding all the items. Parents and caregivers will appreciate the playful rhyming text as they show children that enjoying winter is as easy as 1, 2, 3!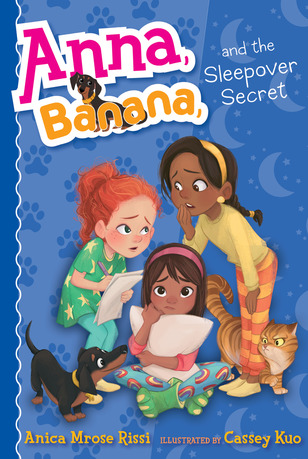 Anna, Banana, and the Sleepover Secret
Anica Mrose Rissi
Simon & Schuster Books for Young Readers
Anna wrestles with a big secret at a friend's sleepover in the seventh book of this charming illustrated chapter-book series about the joys and challenges of elementary school friendships. Anna and her friends love sleepovers…and sharing secrets! So when Anna and Sadie get invited to spend the night at Isabel's house for the first time, they know it's going to be amazing. Make your own pizzas, super-sparkly nail polish, and a secret surprise from Sadie are sure to make this the most fun sleepover yet. The only way it would be better is if Anna's dog, Banana, could come! But sometimes secrets can go from so fun to no fun. And when Isabel's sisters join their game of Truth or Dare, Anna's dare goes horribly wrong. Suddenly the girls are stuck with a huge secret they wish they didn't have to keep.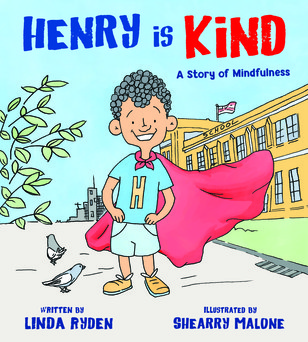 Henry is Kind
Linda Ryden
Tilbury House
A classroom-tested resource for social and emotional learning Ms. Snowden and her class practice sending kind thoughts to the people they love, and they launch a class Kindness Project. There is only one problem: Henry can't think of one kind thing he has done. Declaring that kindness is stupid, he stomps to the classroom door on the verge of tears, but his classmates save the day by reminding him of the kind things he has done for each of them. Henry's discovery of the many ways he can be kind will inspire young readers to use the simple mindfulness practices taught in this book to develop their own capacities for kindness.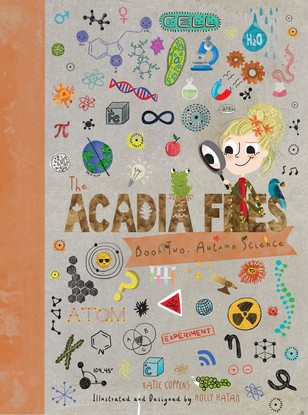 Acadia Files Book Two
Autumn Science
Katie Coppens
Tilbury House
Acadia Greene wants answers. What happened to the frogs she used to see at her favorite local pond? Why do leaves change color in the fall, and why don't evergreen needles do the same? What is the water cycle, and what is transpiration? How do time zones work, and why does the sun set at different times in different places within a single zone? How do germs infect us? Acadia doesn't mean to do science, but she has questions and her parents refuse to simply give her the answers. "Conduct an experiment," they tell her. "Use the scientific method." So Acadia makes hypotheses, designs experiments, analyzes data, and draws conclusions. Acadia does science. The Acadia Files is a fun introduction to the wonders of science, using real-world scenarios to make scientific inquiry relatable and understandable.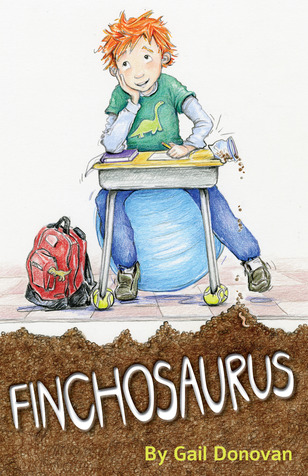 Finchosaurus
Gail Donovan
Islandport Press
Finch has trouble paying attention in school. He's just too busy dreaming about uncovering a dinosaur fossil and naming a new species after himself—until he digs up a note in the fifth-grade class garden with the word HELP on it. He is determined to come to the aid of the mystery note-writer. But when the quest turns out to be harder than expected, Finch risks losing two things that he really wants—his best friend Noah, and a field trip to Dinosaur State Park. Acclaimed author Gail Donovan gets inside the hearts and minds of fifth graders on this journey told with unexpected humor and impressive insight.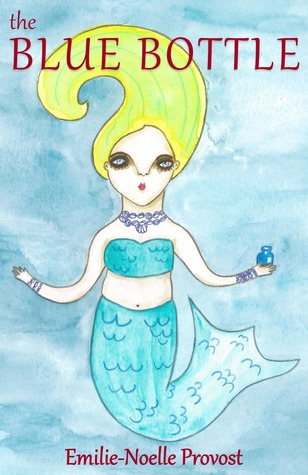 The Blue Bottle
Emilie-Noelle Provost
North Country Press
Set in Rocky Harbor, a fictional fishing village on Massachusetts' Cape Ann, The Blue Bottle tells the story of 13-year-old Charlotte Hale, the granddaughter of an aging lobsterman, who has been sent to stay for the summer with her grandparents after a less-than-successful school year. On the bus ride there, Charlotte meets an eccentric retired teacher who tells her the story of the blue bottle, a local legend that leads her on a high-stakes quest for an ancient glass bottle, reputed to hold within it all the power of the oceans.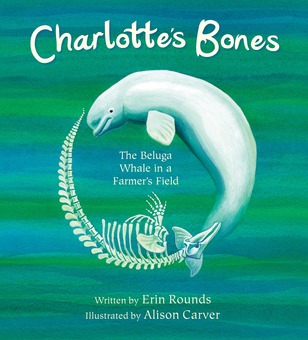 Charlotte's Bones
The Beluga Whale in a Farmer's Field
Erin Rounds
Tilbury House
In 1849, a crew building a railroad through Charlotte, Vermont, dug up strange and beautiful bones in a farmer's field. A local naturalist asked Louis Agassiz to help identify them, and the famous scientist concluded that the bones belonged to a beluga whale. But how could a whale's skeleton have been buried so far from the ocean? The answer—that Lake Champlain had once been an arm of the sea—encouraged radical new thinking about geological time scales and animal evolution. Charlotte's Bones is a haunting, science-based reconstruction of how Charlotte died 11,000 years ago in a tidal marsh, how the marsh became a field, how Charlotte found a second life as the Vermont state fossil, and what messages her bones whisper to us now about the fragility of life and our changing Earth.
Cinnamon Birds
Jeniferlee Pace Tucker
North Country Press
It's summer on Seskip Island. While staying at her aunt and uncle's cottage, Selby Watts escapes her hometown and her worries about entering sixth grade at the large middle school. One blustery morning on the lake, she stumbles upon a seemingly abandoned camp and hears the swirling, spiraling song of a mysterious bird. Selby's friendship is hard-won by Cole, an island neighbor. They don't seem to have much in common. During an unexpected sail however, Cole and Selby open up to each other. Friendship grows as Selby tries to protect the endangered veery birds on the island and a stray dog begins to mend the heart of Cole's family. A violent storm destroys the Thompson's camp and the site of the veery nest, but all is not lost and unlikely heroes are revealed, so it is that Selby's "cinnamon birds" change how she sees the world, herself and others.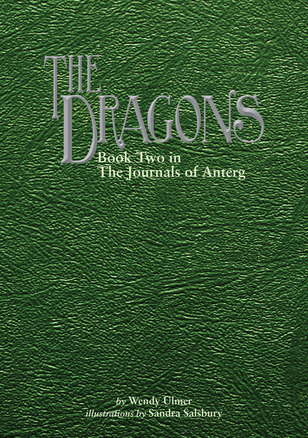 The Dragons
Wendy Ulmer
Wooly Moon Books
Book Two in The Journals of Anterg continues the adventures of Modo and his dragon, Eboo. But Eboo has flown to the home of the dragons and Modo feels lost without him. While anxiously awaiting the dragon's return, Modo is further distressed by the arrival of his cousin, Paige, whose parents are missing. Modo is worried he will be expected to protect the village, but he needs Eboo and the dragons to do it.

The following Maine booksellers support the Maine Writers & Publishers Alliance via our members-only Independent Bookseller Program, so let's support them:
SUBMISSIONSIf you are a current Maine Writers & Publishers Alliance member, and you would like to announce your new book in Ex Libris Maine, click HERE. If you are not a member, click HERE to learn more about our member benefits.

---