President's Message
Steve Permison

Chanukah is upon us with its colorful lights, chocolate gelt and community gatherings. The lights spark feelings of pride in our Jewish heritage and urge us to celebrate – to continue to burn brightly our menorahs even in the face of world turmoil. Let's allow a little bit of Chanukah joy to permeate our daily routines and uplift us with its happy, courageous and multi-generational theme. Let's spend time with children, parents and grandparents and share stories and games and enjoy holiday foods. Let's embrace together our growing Hevrat Shalom community and make this 5776 Chanukah season the best ever.

Growth provides a greater milieu of venues and opportunities to make and embrace friends while sharing moments built on our common heritage. In this holiday spirit it is a great pleasure to extend a warm and hearty welcome to the following recent new members: Jerome and Rosalind Feit, from King Farm, Jamie & Kim Glassman from Gaithersburg, Harvey & Martha Goldstein, from King Farm, Jonathan & Nancy Kaplan, from Darnestown, Adele Lehrman, from Ingleside, Ruth Petkovsky, from Ingleside, Leann Sherman, from Upper Rock, (Rockville), Alan Udler, from Ingleside and Steve & Deborah Wischmann, from Olney.

To encourage continuing growth we now have a "Welcome New Member" package which will initially be sent to all members and subsequently to new members as they join our synagogue. This welcoming initiative supports our two-year membership drive. We are reaching out to surrounding neighborhoods to strengthen our congregation both numerically and geographically, hopefully reinforcing our objective to become a more multigenerational congregation.
Rabbi Saltzman, our Principal Rabbi, also serves as our Educational Director. Seeking to expand our student population, he is developing a new curriculum adapted to our "in-home" religious school program. To date four new member families have enrolled children in our school. As a result, we now have a new part-time faculty member, Darryl Sherman, who will provide in-home religious training together with Rabbi Saltzman.

Jamie Glassman, a new member with business development and social media skills, is assisting our student and membership drive by using his skills to expand community awareness of our synagogue and of our personalized education program. We want our religious school to be less of the "best-kept secret" that it presently represents. Our goal is to have more Bar and Bat Mitzvah candidates, and both young and old reading Torah at Sabbath Services.

In this holiday season, both Hevrat Shalom and Ingleside are in the midst of major changes. New accommodations and new members hopefully spell a happy and robust new year.

Happy New Year,

Steve
---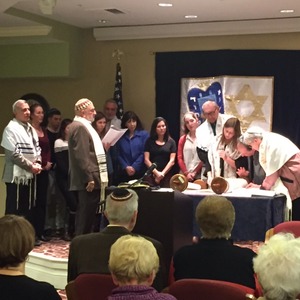 A 'Hevrat Shalom' family, called up for a group aliyah at the Torah, as they sponsored the oneg shabbat honoring the memory of a beloved wife, mother and grandmother, Sonja Dunie.
---
A Stand Up Chanukah
Senior Cantorial Soloist Caron Dale

When the story of Chanukah commences, Antiochus IV controls a huge region in what is now part of the Middle East. It is the same territory ruled by Alexander the Great 100 years prior. Now Alexander was a benevolent ruler and the Jews lived well in this environment. However, Antiochus wanted to rule through terror and acts of evil. He had his troops massacre Jews. He severely oppressed the Jews. He prohibited practices associated with the Jewish religion. He defiled the ancient, holy Temple just because he could.

Two groups opposed Antiochus; a nationalistic one lead by Mattathias and his son Judah, aka the Maccabees, and a religious one known as the Chasidim though not the same Chasidim we find in the 18th century. They joined forces and this small group led a revolt standing up against terror, inequality and lack of religious freedom.

While this story took place 2,300 years ago, it could just as easily have happened yesterday. In fact it did – all around the globe. Change the names of the countries, the rulers and the oppressed – the story remains the same.

And where there is tyranny, there are large numbers of refugees, an experience Jews have known over centuries and as recently as decades ago. Ports and other doors were closed to us. Overcrowded, dirty and unsanitary detention/refugee camps were our homes. Fear often our closest companion.

Today we have the opportunity to make a difference for another people. We can support their revolts and be sure our doors remain open to them, while being vigilant that the terrorists don't sneak in.

As we kindle our Chanukah lights, let's remember our refugee ancestors. Let's remember those who didn't live to become refugees. Let's remember those who fought back. Let's remember those who hid Jews at the risk of their lives and those of their family. Let's remember the non-Jews who wore the yellow Star of David because they felt so strongly it was the right things to do. This season, let's choose to stand up.

The Talmud says, "For this reason man was created alone, to teach you that whoever destroys a single soul, he is guilty as though he had destroyed a complete world; and whoever preserves a single soul, it is as though he had preserved a whole world."

From our home to yours, let there be light, let there be love, let their be compassion.
---
Chanukah Video of Clergy Leading Our Service in Song.

Click here to view the Chanukah Service Video with Senior Cantorial Soloist Caron Dale and Principal Rabbi Arnold Saltzman on piano, together with Associate Rabbi Devorah Lynn and Gabbai Gene Silverman.
---
White House Evening Hanukkah Reception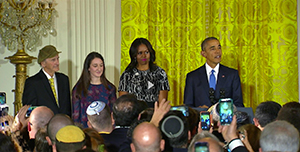 Dr. and Mrs. Steve Permison shared a special Chanukah Sabbath dinner with long-time friends, Manny and Annabelle Lindenbaum, to celebrate Manny's lighting of the Chanukah candles at the White House on Wednesday, December 9th. Manny is pictured above with President Obama and the First Lady standing to the left of the President.

Manny is haimish and informal and almost never wears a tie. His friends were concerned that he would go to the White House in his typical attire which includes his hat, jeans and tennis shoes. His wife told him he must wear a tie and choose between tennis shoes and the hat. His choice is obvious. The video of Manny lighting the candles can be seen here.
---
Hevrat Shalom Welcomes:
Thank you for joining Hevrat Shalom Congregation. With open hearts and minds we invite you to share with us our common heritage and traditions. We look forward to your company as we gather together for Jewish study, fellowship and worship.


Jerome Feit
Jamie Glassman and Family
Martha and Harvey Goldstein
Jonathan Kaplan and Family
Andrew Westhmann and Familly
Daren Rubenstein & Family
Ruth Petrofsky
Alan Udler
Leanne Sherman
---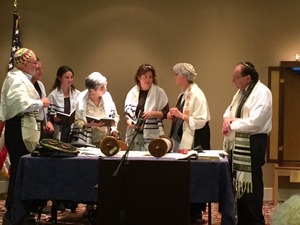 Three generations of Moses Elaine Moses celebrates a special birthday at the Torah with her daughter and granddaughter, while sponsoring the Oneg Shabbat for the congregation in honor of the special occasion.
---
Don't You Just Love a Good Party
Senior Cantorial Soloist Caron Dale

While we don't always need a reason to celebrate, it is nice to have one and Simchat Torah is a great reason. This is when we celebrate the annual cycle of the reading of the Torah. We read the very end of Deuteronomy and start all over again with Genesis. And with this auspicious occasion comes wonderful traditions including dancing with the Torah around the sanctuary with great joy.

But why do we celebrate the Torah on Simchat Torah? We received it on Shavuot which commemorates the Revelation at Mount Sinai. (Shavuot occurs in the Spring.) Wouldn't it make more sense to celebrate the Torah then?

You may remember that when we lost the Torah we received on Shavuot, Moses climbed Mount Sinai and remained there for 40 days as God taught him the Torah he was to teach the nation of Israel. When he descended the mountain, he found some of that nation dancing around a Golden Calf, with most of the people indifferent to the tragic affair. So Moses smashed the Tablets thereby losing the Torah we had only so recently acquired. We'd already failed to live up to its tenets.

So Moses spent the next 40 days pleading with God not to wipe out the nation. He then spent another 40 days on Mount Sinai receiving the Second Tablets. He returned at last on Yom Kippur when God forgave the nation entirely. This is the Torah we celebrate on Simchat Torah. This is indeed a GREAT reason to celebrate!

Hevrat Shalom's celebration will be Friday evening October 2nd. Come join us as we party hearty with dance, music, story, food and more!

---
Comments by Our Gabbai
Gene Silverman

Thank you, Rabbi Saltzman, for your beautiful introduction to our Shabbat service.

This evening I'm going to overstep my bounds. I don't want to step on the toes of Rabbi Saltzman or Rabbi Lynn. If I do, I apologize in advance. But I have a few things that, I believe, must be said.

It seems that at almost at every Shabbat service we must take note of tragedies occurring in Israel and other parts of the world. It is heart breaking. It is the world we live in.

Last week's tragedy in Paris, and again in Mali marks another awful moment in our lifetime. People whose only objective is to slaughter others and create terror in the name of a twisted ideology took the lives of almost two hundred innocent souls. It is almost beyond comprehension. While we try to analyze and understand what happened and respond to it in the best way we can I feel compelled to point out a few things.

There are a large number of fear-mongering xenophobic politicians screaming that we should not permit any Syrian refugees to be given safe haven in the United States. It occurs to me that these politicians are themselves the children of refugees who came to the United States to escape the very same oppression the Syrian refugees face.

I, as many of you, are also the children of refugees. We are here today because the United States gave our parents and siblings safe haven, escaping the Nazis. As Jews in the nineteen-thirties and forties, a miniscule minority in this nation, we could have been, and in some cases were, viewed as a danger to the culture of this nation. But we are the United States. We could handle it. Although we were slow to respond to the plight of Jews, respond we did. Our contributions to this nation are huge. We have done well and the US has done well for us.

I condemn the politicians of all stripes who, for political gain, decry our desire to offer refugees safe haven in our country. They are cowardly, xenophobic and reflect terribly on our nation. Those politician who, today, say we should close mosques, register Muslims and do all sorts of terrible acts of hate forget these are the same actions done by the Nazis to us and, sadly, by our own government, when it came to Japanese Americans during the Second World War.

As we say our prayers for Israel and our Nation in our services, to keep in mind the people of France, Mali and other nations who are victimized by acts of terror. Pray for them as we will pray for ourselves for we were all victims.

Shabbat Shalom
---
Not Just Another Request for Contributions During the Holiday Season
J. Myers, Treasurer
It's that time of year when you hear from everyone you have ever associated with for a Holiday donation request. A few years ago I saved up every request I received for a contribution or a donation from November 1 to the Middle of December. My small cubby hole above my desk was bulging—the mailman—the garbage man—the newspaper boy-every school I ever attended--every aid group I had ever given too from UNICEF to Wounded Warriors to JDL to every medical condition we one day hope to prevent. Wait—I forgot—every Environmental group that are definitely going to save the planet and every candidate for President you have heard from! My goal was to donate to the most needy with the funds I had earmarked for giving at the end of the year. I could not make a good decision because they were all so compelling. I finally decided to give to the five that I had not given to last year.

One group that has never requested finds at this time of year was our synagogue—Hevrat Shalom. Why not Hevrat Shalom—who provides us with the Spiritual side of our busy lives and does a great job of it. So I ask at this time of year when everyone is asking for Contributions—why not Hevrat Shalom who gives us so much. We currently are in need of funds for Our Jewish Film festival, our Distinguished Speaker Series, our young and adult learning programs and a new series to be launched this spring relating Torah and Talmud to current day events. And please do not forget any donation is Tax deductible and we will fill up your donation cubby hole!!! You can mail your check to Hevrat Shalom Congregation, P.O. Box 3616, Gaithersburg, MD 20878 or bring it to Friday night services.
---
Good Neighbor Committee
by Elise Ward

Hevrat Shalom's Good Neighbor Committee is available to assist sick or healing congregation members. Committee volunteers may help with an errand, prepare a meal, check-in with a phone call or visit members who request congregational support during a difficult time.
If you would like assistance from the Committee, please contact the Committee Chairperson, Elise Ward, at 301-294-2493. You may also contact Rabbi Saltzman at 202-244-6871 and a Committee member will contact you to see how we may be of assistance.
If you would like to become a Committee member, please contact Elise Ward. Everyone is welcome. Your help will strengthen and support our Hevrat Shalom community.

Hanukkah 2015/ 5776
By Rabbi Arnold Saltzman

Hanukkah begins Sunday Evening, December 6, 2015 with the lighting of the first candle and ends on Monday, December 14, with the full menorah lit on the eve of December 13, 2015.

On Friday December 4th we will celebrate Hanukkah with Caron Dale, Rabbi Devorah Lynn and I in a musical script of Hanukkah in story and music. This is an opportunity to bring a friend or grandchild for an enjoyable evening service with special holiday refreshments at the Oneg Shabbat/Kiddush.

Hanukkah celebrates the miracle of the rebirth of the Jewish People after a long war for their religious freedom. This resonates with us today as we see a new burst of energy in Israel and the United States. It is the victory of the few over the many, and a victory for freedom of religion. Hanukkah means rededication.

In the current state of world affairs, the idea of rededicating ourselves to Freedom, freedom of religion, freedom from tyranny, freedom from terror and freedom from bigotry are all the more significant.

In this season of Hanukkah the light of God requires that we remember others outside our family and friends. This is a season of giving and performing mitzvot.

A visit, a card, a donation, these are all wonderful ways to bring the light of Hanukkah to others. In honor of the season and Hanukkah we should designate funds for Tzedakah.

Everyone should find a way to give something - We may not be able to finish the work, yet neither are we free from trying (Pirkei Avot).

Last year on the seventh night of Hanukkah we lit a candle for Alan Gross who spent five years in prison in Cuba. This year we can light the full Menorah for him as he has been free for a year.

We wish all of you a Hanukkah Sam'e'ach, a Happy Hanukkah to you and your loved ones!
Rabbi Arnold Saltzman
Rabbi, Hevrat Shalom, Maryland

Before kindling the Chanukah lights on the first night of Chanukah, (or if you're kindling the Chanukah lights for the first time this year) recite all three blessings. On every subsequent night only the first two are recited. Recited only on the first night (or the first time lighting this Chanukah:

1. Ba-ruch A-tah Ado-nai E-lo-he-nu Me-lech ha-olam a-sher ki-de-sha-nu be-mitz-vo-tav ve-tzi-va-nu le-had-lik ner Cha-nu-kah.
2. Ba-ruch A-tah Ado-nai E-lo-he-nu Me-lech Ha-olam she-a-sa ni-sim la-avo-te-nu ba-ya-mim ha-hem bi-zman ha-zeh.
3. Ba-ruch A-tah Ado-nai E-lo-he-nu Me-lech Ha-olam she-heche-ya-nu ve-ki-yi-ma-nu ve-higi-a-nu liz-man ha-zeh.
​1.
Blessed are You, Lord our G-d, King of the universe, who has sanctified us with His commandments, and commanded us to kindle the Chanukah light.
2. Blessed are You, Lord our G-d, King of the universe, who performed miracles for our forefathers in those days, at this time.
3. Blessed are You, Lord our G-d, King of the universe, who has granted us life, sustained us, and enabled us to reach this occasion.
---
Mazel Tov!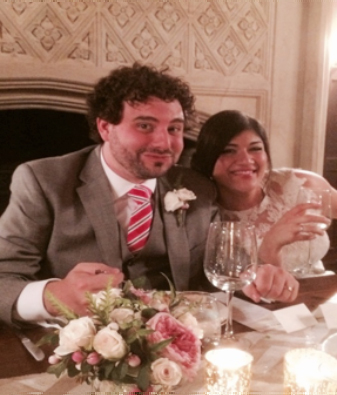 Hevrat Shalom congratulates Rabbi Arnold Saltzman and his wife, Carol Nissenson on the marriage of their son, Michael to Kaitlin, the daughter of Peter and Rachel Walsh Of New Canaan, Connecticut. Michael and Kaitlin Saltzman both are involved in TV, film, acting and production and live in Los Angeles, California. They were introduced by a mutual friend, Daniel Krauthammer.

The wedding took place on September 26, 2015; Rabbi Saltzman had the honor of officiating for Michael and Kaitlin's wedding. Rabbi Saltzman added that "it was one of the best days of our lives!"

Hevrat Shalom Congregation extends best wishes to the bride, groom and their families and wish Michael and Kaitlin a long life together filled with health, happiness, success and peace.
---
Shabbat for One - Shabbat for All
Associate Rabbi Devorah Lynn

There is no denying it; we are living in stressful times. We feel the effects of stress on ourselves and on our family, friends, and neighbors. When times were good, there was the stress of commuting, health challenges, where the kids would go to school. Now we can add the stress of: "How will I pay for medical care?" "What will climate change bring?" "Will my family be safe?"
We have tried psychotherapy, shopping therapy, and gym therapy. How many of
us, though, have tried Shabbat therapy? We have a big turnout on Friday night, a Reform tradition. But what about the rest of Shabbat? What do your next 20 hours look like? Do you fall immediately back into the same old grind of working, shopping, computing? I know we never have enough time for the demands of modern life, but if Gd could create the whole universe in six days and rest on the seventh, why not us? Are we really that important? What is stopping us from devoting 25 hours to Something-Larger-Than-Ourselves; surrendering to the sublime, re-charging our batteries to maintain our mental, physical, and spiritual health?
As an Elderhostel Coordinator in Bermuda, I would take my students out on field trips around the Island. We would use an old Maine lobster boat, named the BBSII. "Bomber," the Captain, was a Seventh Day Adventist and he knew that I was the Lay-Leader of the Jewish Community of Bermuda. Bomber always made sure our field trips returned before sunset on Friday, and he never worked on Saturday field trips, as I did. Every time he caught me on a Friday afternoon, knowing I would work the whole night and the next day, he would say, "Devorah! Why are you working on the Sabbath?"
Finally, his admonition got to me. I hired someone to work Friday night. This let me make a Shabbat dinner every week and invite friends. Then I hired someone to run the Saturday morning program, and I walked my kids to soccer or baseball, or stayed at home and studied Torah until noon. But at least I had started something.

Our late Friday night services at Hevrat Shalom are "traditional" for Reform Judaism. But if it is just another night out, it misses the point. We know there is deep wisdom in celebrating a perfect rest from the business of the world. But we do not know how to get there.

This New Year, I invite you to extend your Shabbat a few hours. Make Saturday morning special, different from the rest of the week. Sleep late if you like and keep errands and tasks off the calendar. Be spontaneous. Make a leisurely phone call. Skip the news and indulge in some literature or music or art that elevates. Have a family lunch, an afternoon tea, a pleasant walk or bike, a much-needed nap. Set a goal of not driving or spending money or turning off your computers. And end this special day, Hamavdeel, distinguishing this day, that is a portent of the bliss of Paradise, from the mundane of the work-week. Jewish law has a laundry list of Shabbat don'ts that has separated us moderns from the positives of this special "palace in time" as Abraham Joshua Heschel called it. As liberal Jews, I want to find a celebration of Shabbat "do's" that make sense. A visit to Israel will show you that Shabbat is observed from one extreme to the other, from pre-torn pieces of toilet paper to Frisbee on a Tel Aviv beach. But its presence, insistence, and regularity are undeniable.

I invite you to challenge yourself to a new appreciation of Shabbat. This 25 hours can be a time where we deeply rest our souls; a place of profound quiet, contemplative peace, simple joy. Don't we deserve that? Begin by adding a few hours beyond Friday night and see how much it can enhance the other 144 hours of the week.
---
Speaker for Martin Luther King Service
by Rabbi Arnold Saltzman

Hevrat Shalom Congregation is pleased to announce that Dr. Elizabeth Rappaport will be our guest speaker for the Rev. Dr. Martin Luther King, Jr. service on January 15, 2016.

Dr. Rappaport was a participant in the 'March on Selma' in 1965, having travelled with her Temple Youth Group from Highland Park, Illinois. This year she returned for the 50th anniversary of this historic time, when those who marched were recognized by President Barak Obama, and legislation was signed giving the Gold 'Medal of Freedom' to those who marched that day to end Jim Crow segregation in the southern states.

Dr. Rappaport will be speaking about the 'March on Selma' as well as the reunion this year. This presentation is part of a year when new and troubling events have once again brought into focus the difficult legacy of racial prejudice. This is about the idea that we have shared dreams of equality, just as Dr. King spoke of in his unforgettable 'I Have a Dream' vision of a future America.

Dr. Rappaport at that time (1965) was a high school student at Highland Park High School in Highland Park, Illinois and a member of Congregation Solel (Rabbi Arnold Jacob Wolf). She and Carol Nissenson (Carol Saltzman) have been life long best friends, and were members the Temple Youth Group. Dr. Rappaport, a graduate of Harvard Medical School, is on the faculty of Thomas Jefferson University Medical College in Philadelphia. She has numerous published medical articles. She is married to Dr. Daniel Fife. Both Liz and Dan will be joining us for a congregational dinner and service. We invite you to join us for a memorable evening at Hevrat Shalom.

Rabbi Arnold Saltzman
---
Sponsor an ONEG
by Elise Ward

Onegs are an integral and very pleasant part of our Friday night Shabbat Services. The Onegs provide an opportunity for congregants to celebrate Shabbat with wine and challah as well as spend time conversing with one another. Onegs are also a wonderful opportunity to acknowledge a birthday, anniversary, graduation or other special lifecycle event. If you would like to sponsor an Oneg by ordering a cake or other special treat, please contact Bess Shay at 301.977.2822 or Sue Tubbs at suetubbs@verizon.net to make arrangements.
Elaine Moses sponsored an Oneg on November 6th to celebrate her birthday with the congregation and her family. Maurice Dunie sponsored an Oneg on November 20th to honor the memory of his wife Sonya, his family was also there.
---
December and January Yahzreits

Norton Ansher, Father of Irwin Ansher
Jacob Bahr, Father of Ted Bahr
James Dunie, Father of Maurice Dunie
Anna Levine Bahr, Grandmother of Ted Bahr
Helen Berger, Mother of Elaine Moses
Earle Gerson, Husband of Leita Gerson
Abram Blum, Father of Carol Witt
Rose Dicter, Mother of Irene Shapiro
Samuel Ginsberg, Father of Miriam Rothchild
Benjamin Dickter, Father of Irene Shapiro
Anna Fox, Mother of Florence Lang
Fred Goldman, Husband of Ruth Goldman, Father of Jack Goldman, Sonya Dunie, Wife of Maurice Dunie
Morris Hein, Father of Joe Hein
Irving Karabell, Stepfather of Maurice Dunie
Bobbie Hein, Mother of Joe Hein
Shirley Levine, Wife of Rabbi Levine
Florence Margolis
Samuel Lehman, Father of Leonard Lehman
Marilyn Zutz
Abe Parsont, Father in Law of Mina Parsont
Elizabeth Skolnick, Mother of Estelle Hein
Leon Samuel Pocinki, Husband of Dorothy Pocinki
Abraham Sawelson, Father of Beth Zimet
David Schwartz, Husband of Lillian Schwartz
Isadore Skolnick, Father of Estelle Hein
Rebecca Temin, Mother of Adele Lehrman
Janet Verner, Wife of Sid Verner
Max Wolk, Father in Law of Sandra Wolk
---
Donations
Sue Tubbs, Bookkeeper, Secretary
Your generous donations supplement synagogue dues and help meet our annual budget needs. Hevrat Shalom Congregation gratefully acknowledges the following donations:
Dr. and Mrs. Harold Wittman: High Holy Day Flowers
Johathan and Nancy Kaplan: Daughter Hanne's Bat Mitzvah
Daren and Jennifer Rubenstein: Son Marshal'sl Bar Mitzvah
Elaine Rosenblum: Rabbi's Fimd
Bess Shay: Beth and Elihu Zimet for hosting Picnic
Maurice Dunie: Memory of his wife Sonya
Jack Damsky: Marriage of Mike and Melissa
Josha Miller: Baby naming for "Charlotte"
Catherine Malone
Tillie Tobin
Lynda Mulhouser
Elaine Moses
Beth and Elihu Zimet
---
The Jewish Miracle
Rabbi Sid Schwarz
Adat Shalom Reconstructionist Congregation, Bethesda, MD

Kol Nidre, 2015

A friend of mine used to start off his presentations on Jewish life by saying that he gets depressed reading so many Jewish periodicals, each bringing more warnings of how the Jewish community and Israel are on the verge of collapse or self-destruction. His best antidote was to pick up an anti-semitic newspaper or journal where he would read about how powerful Jews are and how we are taking over the world.

There is certainly a lot of evidence that the forms of Jewish identification that have long characterized engaged, committed Jews are on the decline. Fewer Jews belong to synagogues than 25 years ago. Fewer Jews make annual contributions to the Jewish Federation, the umbrella fundraising and planning agency of the Jewish community. Fewer Jews marry other Jews and establish homes that follow the rhythms practices of Jewish life.

Studies of American Jewish life, such as the widely reported "Portrait of Jewish Americans" put out by the Pew Center two years ago, document the decline. The study found that 22% of American Jews checked the box that said: "Jewish, of no religion". But among Millenials (born after 1980), that number was 32%. On every variable of Jewish identification, those who identified themselves as "Jewish, of no religion" were less engaged in Jewish practice and Jewish life. Two-thirds of Jews of no religion say that they are not raising their children as Jews in any way.

Read More
---
Hevrat Shalom Board of Directors:

President:
Steve Permison
Vice President:
Bonnie Dutcher
Treasurer:
Jay Myers
Ingleside Liaison:
Carol Bahr
Publications Editor:
Sid Verner
Members at Large:
Jamie Glassman
Joseph Hein
John Lass
Gene Silverman
Sid Verner
Sandra Wolk

Committee Chairs:
Education: Rabbi Arnold Saltzman
Funeral Practices: Jack Goldman
Good Neighbor: Elise Ward
Ingleside Advisory: Carolyn Bahr
Jewish Film Festival: David Elkaim
Membership: Carolyn Bahr & Bonnie Dutcher
Oneg: Bess Shay
Public Relations: Gene Silverman & Sandra Wolk
Ritual: Board of Directors