Winter Is Ending, and There Is Much
To Look Forward To!
By Jack Goldman
With March half-way over, it may finally be safe to say that winter is over; and all that remains is for the vernal equinox to arrive to seal its fate. The winter has certainly been a challenge, with colder-than-normal temperatures and more snow than usual. We can now look forward to warmer temperatures, the greening of our surroundings, and the stirrings of our local wildlife. Yes, it is a time for optimism!

Our congregation has much planned for the next few months to help feed your optimism. First of all, Passover is around the corner. As is our tradition, Hevrat Shalom will host its annual – and very successful – second night seder at Ingelside in King Farm. The seder will be led by Rabbi Arnold Saltzman and Senior Cantorial Soloist Caron Dale. It will start at 7:30 pm on Saturday evening, March 4th. More details (including the menu) can be seen on our website at www.hevratshalom.org. Tickets are $27 for adults and $10 for children through age 12. If you are interested in attending, please contact Sue Tubbs by March 31st at (301) 299-2592. Seating is limited, so please don't wait to buy a ticket!

Hevrat Shalom will also continue to host its Jewish Film Festival. We have had a series of acclaimed films with a Jewish theme, sometimes with a speaker following the presentation. The films are usually presented on Saturday evenings at Ingelside in King Farm. Please watch our future newsletters and your e-mail inbox for announcement of offerings this spring.

Hevrat Shalom will also be hosting its Distinguished Speaker Series this spring. Following many of our Shabbat services on Friday night, we invite a speaker to discuss topics of interest – again, usually with a Jewish theme. So not only can you have a spiritual experience, but you can follow it with an intellectual experience. Again, specific speakers will be announced in conjunction with our schedule of services.

Finally, we will be continuing our twice-monthly Bible Studies with Rabbi Saltzman. These classes are held at Ingelside at 2pm: on the 1st and 3rd Wednesdays of the month. These sessions are very popular and you have the opportunity to get the rabbi's interesting insights on the Bible.

So, with the warmer weather and feeling of renewal that comes with spring, take advantage of what Hevrat Shalom has to offer!
---
The Good Life in King Farm
When my late husband Herman and I retired in 2005, we moved to a townhouse in King Farm. This turned out to be a wonderful decision. The location is perfect. It is a wonderful place to live, work, play and shop. I volunteer at the Holocaust Museum and having a shuttle available to take me to the Metro is great. I especially enjoy the parks we have. You will find me walking daily in the Mattie Stepanek Park. During the summer, life begins for me at the pool. It has provided me with an awesome chance to meet many new friends, read and relax.

King Farm's location is so convenient, that I quite literally never have to actually get in my car. Grocery shopping at the Safeway, a multitude of restaurants, the shuttle that takes you to the Metro, Services at Ingleside, Doctors, Lawyers and CPAs…all within walking distance!

I have become active in committees at King Farm, and each month there is an exciting and diverse calendar of events for both adults, and families with children. From movies on the lawn to concerts, happy hours and festivals ranging from Mardigras to Octoberfest, there's always something going on!

One of the first things I did when I moved to King Farm was to register for Lifelong Learning classes at John Hopkins held at the Universities of Shady Grove. I really look forward to these classes, they have been a Godsend for me - the stimulation of the classes, and the interaction with both new and old friends is something that I look forward to. After my beloved husband died, I was able to attend services at Hevrat Shalom. This has truly been a blessing for me, to be a part of this wonderful congregation.

As you can see, living in King Farm is great!
---
Congressional Gold Medal Ceremony

On February 3rd, 2015, Mina Parsont, a member of Hevrat Shalom, had the distinction and the privilege of attending the Congressional Gold Medal Ceremony in honor of the First Special Service Force.
The First Special Service Force is the 1,800 member unit which included 900 Americans and an equal number of Canadians who specialized in hand-to-hand combat and mountain warfare. These warriors were nicknamed the "Devil's Brigade" for their fierce tactics. By the time World War II ended, the Brigade had captured more than 30,000 prisoners and played a key role in the 1944 liberation of Rome from German forces.
Mina attended this prestigious Ceremony at the request of a close friend and highly decorated French WWII veteran.

Members of Congress were present to honor Brigade members. House Speaker John Boehner said "these men saved the free world". House Minority Leader Nancy Pelosi called the Brigade members "heroes who helped free the world of tyranny".

Mina met with Senator Barbara Mikulski prior to the Ceremony who thanked the Brigade members for their valor during the War.
---
Activities around Passover
at Ingleside King Farm

There will be several activities at Ingleside during the Passover season sponsored by a group of Ingleside residents.
On April 6 at 2 p.m. Dr. Scott Miller, a Director of the Holocaust Museum will speak on his book "Refuge Denied." This is the story of the ship, "The St. Louis," that tried to save victims of the Holocaust but was denied entry into many countries including the US.
Also, in late April Ari Roth, former Director of Theater J will talk about Freedom of Speech.
And, we hope to have a Gospel Choir sing Songs of Freedom sometime in April.
Thanks to Alice Haber who informed me of this and ask that the invitation be extended to Hevrat Shalom members and family & friends.
---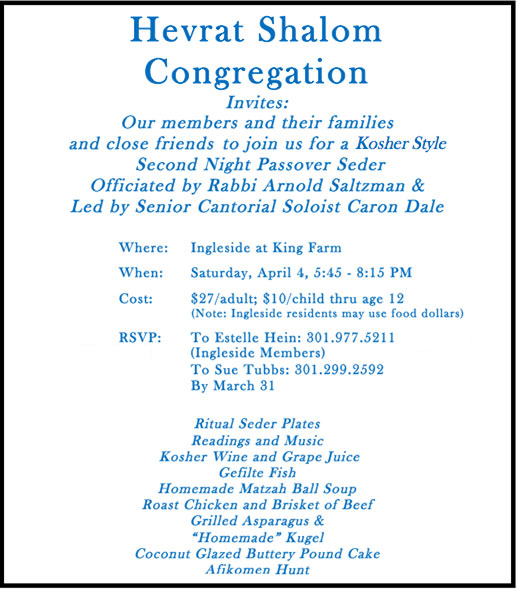 Come and let us celebrate the Passover...The Festival of Freedom
by Rabbi Arnold Saltzman
As I write this the election results in this year's Israeli election show a race too close to call. The candidates Netanyahu and Herzog, both are claiming victory. In the next days the votes of those serving in Israel Defense Forces (IDF) will be counted and these can shift the results as there are 250,000 additional votes to be counted. Whatever the outcome, it will take several weeks to know who can piece together a voting coalition if it is possible.

One of the most unusual results of this election include the fact that four small Israeli- Arab parties joined together and formed one party. Israeli Arabs make up one fifth of the population, and usually they stay away believing that there is little to gain in voting. This time they won 13 seats out of 120 in the Knesset, Israel's Parliament. They have also indicated that they would use their votes if given a chance to block Netanyahu from returning as Prime Minister, and to do this they would support Herzog, the Labor candidate.

This turned into an exciting election, where Israeli's began to express their concerns about social issues such as housing and the growing inequality in income in Israel, while the Likud emphasized defense, and external threats such as Iran and Hamas. Surprisingly, Netanyahu without apology said he was opposed to a Palestinian State in order to get more 'settler' votes. He has not presented an alternative except the status- quo, and that is problematic. Whatever the answer for the future it is not the status-quo.
To read more click on the link...
---
The Power of Storytelling
By Senior Cantorial Soloist Caron Dale

Great storytelling evokes powerful images and feelings. Stories can help us make sense of an often confusing and overwhelming world. They can be the lens through which life becomes a bit clearer. Stories can dig past the barriers we all too often build, and strike emotional chords that have been left alone far too long. Stories are a great way to learn from one another. They can help us shape or reshape our ideas, concepts, even misconceptions, and give us the opportunity to discover new things each time we hear the story.

Memory and story are central to Jewish life. We just finished the holiday of Purim with its powerful images and storytelling. That begins to prepare us for the amazing story of Passover – a story of oppression, exile, survival, hope, freedom and redemption. Through the Hagaddah, we re-tell the story year after year to teach our children about the liberation from bondage in Egypt and the journey to freedom. It also gives us the opportunity to explore our connections with the past and how we can use them in the present.

And like a good musical, we break into song at poignant moments to reinforce important messages and share them in fun and heartfelt ways.

I look forward to sharing story and song at Hevrat Shalom's 2nd seder with members and their families and friends. Wishing you a spiritual, uplifting and revealing Pesach.

From our home to yours,
Cantor Caron, Steve, Ari, Jonah and Nikki the dog
---
Friendship Place and DC's
Homeless Community
by Beth Rubens, Cantorial Soloist
Each Fall the Sixth Grade class of Temple Micah in Washington, DC organizes an underwear drive to benefit the homeless community served by Friendship Place in Northwest DC. Friendship Place provides transitional housing, counseling, job training, medical services, veteran services, and so much more to the thousands who need help in our metropolitan area. Many years ago a congregation member at Temple Micah began the underwear drive to collect new, clean underwear, socks, bras, and t-shirts from congregants during the High Holidays.

Each year the drive has grown, and this year my husband and I helped to organize the 6th grade families to complete our most successful drive ever. We collected, counted and delivered over 11,000 pieces of underwear to donate to Friendship Place. We were told that this number would help the Friendship Place reach its goal of distributing enough new underwear to those who need it throughout the year.

This Spring I will have another opportunity to serve Friendship Place and DC's homeless community. On May 17th, at 3pm I will be performing, along with some very talented musicians, in a benefit concert at the French Embassy of Washington, DC. It will be a rich program of chamber music with some of my colleagues from the National Symphony Orchestra. I will be singing works by Schubert and Mozart, accompanied by piano, violin and clarinet. There will also be non-vocal chamber works on the program.

As the event draws closer I will notify the HS congregation of the details and how to purchase tickets. If you are interested in contributing to this very worthy organization, while enjoying an afternoon of wonderful music at the French Embassy, please save the date: Sunday, May 17th at 3pm in Washington.

Thank you,
Beth Rubens
Cantorial Soloist
---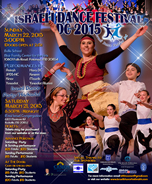 ---
April Yahzreits

Seymour Baden, Board member
Morris Bierman, Son of Irma Bierman
Victor Falchick, Father of Dorothy Gordon
Herman Kravetz, Husband of Mimi Goldstein
Leroy Moses, Husband of Elaine Moses
Ruth Myers, Mother of Joseph Myers
Joseph Perlman, Father of Diane Marcus
Ruth Sawelson, Mother of Beth Zimet
Manhein Shapiro, Father of Hyman Shapiro
Louis Shapiro, Brother of Hyman Shapiro
Josephine Simmons, Irma Bierman

Donations:
Alan Udler, Oneg
Bonnie Dutcher, Oneg
Mina Parsant, Oneg
Mimi Goldstein, Yahzreit
---