Happy New Year
Steve Permison, President

As Jews we get to celebrate a "New Year" twice yearly, e.g. the Jewish and the secular "New Year." This is good. Having two "New Years" doesn't make us age any faster, yet both provide opportunities to make New Year resolutions and to celebrate.

Let's combine Jewish and secular resolutions into a call for the celebration of life – our lives within our Hevrat Shalom community. Let's resolve to continue all that is right with Hevrat Shalom including our Sabbath and holiday services, our guest speakers, our adult education programs, our popular Jewish Film Festival, our High Holy Day Services, our musical Sukkot program, our Purim Spiel, our Second Nite Seder, our yearly picnic, etc.

Let's begin again to share Sabbath dinners together, alternating "dining out" as we have done with several of our distinguished speakers with "dining in" at small Sabbath Dinners in member's homes. Let's meet again around a member's dining room table to study Torah with our rabbis.

Let's resolve to make 2015 a year that we all share in the celebration and building of our Hevrat Shalom community by getting to know each other a little better. Please plan to share a few Sabbath dinners together and resolve to spend a few extra moments after services chatting and getting to know one another a little better over an Oneg.
Together let's toast 5775 and 2015 as a year of community building and celebration.

L'Chiam,
Steve
---
Hevrat Shalom Congregation
Adult Learning Opportunities
2014-2015 / 5775
Greetings! We are excited to share with you our current learning opportunities and some from this past year. We are interested in your input for new opportunities in this coming year as we are creating additional classes and offerings. If we teach, you learn. If you are involved, we will all be transformed. We continue to offer our Jewish Bible Class which meets on the third Wednesday of every month from 2-3 PM. The class examines and discusses the weekly Torah reading (Sidra). Knowledge of Hebrew is not required, yet we do take advantage and make use of Hebrew readers, including their important insight into the text from a linguistic point of view. We compare texts and commentary exploring the meaning in tradition and in our day.
Instructor: Rabbi Arnold Saltzman

---


Distinguished Speaker Series and scholar dinner.
Our Adult Education program includes a distinguished speaker series on Friday evenings. This remarkable program has presented authors, musicians, scholars, and government officials. February 6, 2015 we will enjoy the presentation of a member of the first national touring company of ʻFiddler on the Roof' (with Jan Peerce).
Distinguished Guest Speaker: Carol Nissenson
Actor/Director/Author
ʻMy Life In the (Jewish) Theater'
Carol Nissenson is a professional actor, director and author. Her career spans more decades than she cares to admit and includes opera, musical theatre, film and commercials. She manages, directs and performs with music and comedy improv troupe, NOW THIS!

---
Hevrat Shalom - Jewish Film Festival
The Film Festival was originally the idea of and produced by Irwin Schaeffer, a member of Hevrat Shalom. Irv has done a fantastic job of making this an interesting highlight to our congregational year. He indicated that he would not be able to continue this year, so we are in the process of reorganizing and should be up and running soon. We are grateful for all Irv has done for this important program.
More on Adult Education:
An additional Day Class is being proposed for the first Wednesday of the month at
Ingleside, time 2 PM. We look forward to resuming our film festival, part of our educational and cultural series, as well as a wonderful congregational social evening together with family and friends.

Winter Mini-Semester
This past year we offered a mini-semester during the winter months when it is a little less busy for most. This class was hosted by Irwin Ansher and Aurora Reyes at their home in North Potomac on an evening so people who have day obligations could take advantage of a class after work. We studied Megillat Esther and Ruth, Pirkei Avot as well as the Psalms.
Instructors: Rabbi Saltzman and Rabbi Kuperman
We are planning a mini-semester beginning mid January and would like to know your interest and availability. This would help us to determine if we have enough people for a class and a place to meet.
My e-mail is Rebsaltzman@aol.com check for more detail on our website Outreach page for Educational offerings
---
Hevrat Shalom Fundraising for
American Friends of Magen David Adom
Did you know that Magen David Adom is Israel's disaster response, ambulance, and blood services agency which supports 8 million Israelis?

Did you know that although mandated by the Israeli government, Magen David Adom receives NO Israeli government funding?

Did you know that Magen David Adom is responsible for collecting, testing, and safeguarding Israel's blood supply?

Did you know that Magen David Adom provides emergency services to anyone in need including world-wide support?

Did you know Magen David Adom needs our support to purchase emergency medical and communication supplies to restock their ambulances?

Did you know Magen David Adom has 13,000 volunteers that need to be trained with the most current emergency procedures so lives can be saved as quickly as possible?

Now you know.

Magen David Adom was designated the recipient of our congregation's Tzedakah project at the October Board of Directors meeting. Let us demonstrate our support of Israel by providing support to Magen David Adom and the people they serve 24 hours a day, seven days a week.

If you agree this is important, please write a check to Hevrat Shalom and indicate MDA in the memo line. Ingleside residents may give their checks to Carol Bahr; non-Ingleside residents should mail their checks to:

Hevrat Shalom
P.O. Box 3606
Gaithersburg, MD 20878

Hevrat Shalom will write one check to the American Friends of Magen David Adom and mail it to their national headquarters in New York. It is our goal to mail this check during Hanukkah.

Hanukkah begins December 16 - let us keep the lights burning with our support to Israel and the emergency services of Magen David Adom.
If you have any questions, please contact Elise Ward at 301-294-2493.

Thank you.

---
Ma-oz Tzur – Rock of Ages
by Senior Cantorial Soloist Caron Dale

Everybody getting ready for latkes with applesauce and sour cream, sufganiyot (jelly donuts) and other fried foods for the holiday about oil, the dreidle game, lighting the menorah (chanukiah), singing songs, and celebrating with family and friends? While Chanukah is not a major Jewish holiday, it certainly is high profile one filled with traditions and history.

Ma-oz Tzur has become the holiday's unofficial anthem. It is a poem traditionally sung after lighting the candles on this Festival of Lights. Many believe it was written in the 13th century during the Crusades. It has 6 verses though most often only the first one is sung. The first letter of each verse form an acrostic of the composer's name, Mordechai. It is thought he could be Mordechai ben Isaac ha-Levi who wrote the Shabbat hymn Mah Yafit. Looking at the appeal in the final verse, the writer may have been the Mordechai whose father-in-law was martyred at Mayence, now Germany, in 1096. Or it could have been someone else.

Retelling stories is intrinsic to the Jewish experience and this hymn is no different. It retells Jewish history and celebrates the deliverance from four ancient enemies: Pharoah (Passover), Nebuchadnezzar (destruction of the Holy Temple), Haman (Purim) and Antiochus (Chanukah). A second acrostic is found in the first letters of the beginning words of the last verse and contains the word hazak meaning "be strong".

As we prepare to light the Chanukah candles, may we be strengthened by the sacrifices of our ancestors and carry forth their love and celebration of our Jewish traditions.
---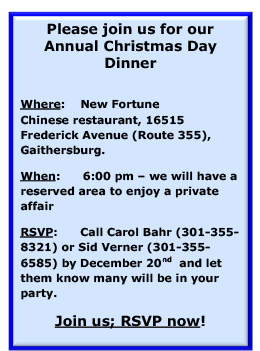 ---
Should We Build A Third Temple?
A Sermon by Rabbi Arnold Saltzman
Recently we observed the 19th anniversary of the assassination of Prime Minister of Israel, Yizhak Rabin. In addition, recently a right wing Rabbi in Israel was the victim of an attempted assassination from which he is still struggling for his life at Shaare Zedek Hospital in Jerusalem.
Rabin was killed by a right wing fanatic who said that his rabbi had taught 'anyone who gives up land in the land of Israel, even for peace, that it was permissible to kill them'. We have to ask ourselves 'how is that different from an Imam who issues the same type of rulings against non-believers?'
Why was Rabbi Yehuda Glick targeted by radical Palestinians? Yehuda Glick leads a group calling for opening up the Temple Mount to Jewish worship as a precursor to rebuilding a Third Temple. On line we can read:
"
Glick advocates opening the Temple Mount on an equal footing to prayer by Muslims, Jews, Christians and others. He has been called "a symbol of the struggle for Jewish prayer on the Temple Mount." He has been described as representing the recent shift in the demand for Jewish prayer to be permitted on the Temple Mount on an equal footing with Muslim prayer from the fringe to the mainstream of Israeli society. Glick has spoken about his vision of a Utopian Temple Mount. It would include a "House of prayer for all Nations," with the

Dome of the Rock

standing alongside a rebuilt Jewish sacrificial altar."
This group is using crowd-sourcing to raise funds for their projects, and the government of Israel has been cautious about confronting them, since they are a part of the religious base which keeps Likud in power.
For me this is a red line, just as much as a military threat, perhaps even more so. I do not believe in the rebuilding of a third Temple. I am against it, and will speak out against it.
As an Orthodox youth and even as a Conservative Cantor, I always looked forward to the prayer - Sheyiboneh Beys Hamikdosh - May it be Your Will that we will rebuild the Great Temple! As a child I sang with the Kusevitzky brothers, cantors from Poland who popularized this cantorial recitative of great beauty and heart.
In a post Holocaust world, and even as we commemorate Kristallnacht, the 'Night of the Broken Glass', a night of terrible and catastrophic destruction in modern Germany and Austria, we note that following WWII there was a strong hope for a homeland, and a rebirth of the Jewish People. It happened. Along with this, inspired music set to the words of rebuilding the Temple, became a metaphor for rebuilding an annihilated European Jewry, Sephardic and Mizrachi Jewry, an ingathering for a new future.
The melody and interpretation of both Moshe and David Kusevitzky were inspiring and mystical. Pleading in the soulful manner, with coloratura runs, breathtaking and as fast as the wind - hurry - bimheira beyameinu - speedily in our time. Now, I never believed in that literally, nevertheless I understood the power of these words following the Holocaust.
The music still stands, yet the words - what do they mean?
For most Orthodox Jews, only when the Messiah (Moshiach) comes could a third Temple be built, and not, when due to the fact that money was raised through the Internet. Yet, in Israel today, in religious schools, the study of Temple sacrifices, and the Temple cult is the norm in religious education. In my own Rabbinic School as we studied this, I commented that this was a primitive form of Judaism, and other members of the class commented 'How Could I Say That?' How could I be against animal sacrifice in the 21st century? Well, I am against it.
Furthermore, the destruction of the Second Temple by the Romans in 70 CE left the Temple Mount in ruins and then they built a Temple to Jupiter. Eventually the area was in shambles. For almost 600 years it remained desolate until the Muslim Conquests, when they sought to find the sight of Solomon's Temple and build a new edifice over it. This happened, and that is how we have the Dome of the Rock, one of the most magnificent buildings and places of religious worship in the world.
Traditional Rabbi's have always forbidden Jews from going to this area, since in ancient time, only the High Priest could enter this area, once a year to utter God's name. So if these groups are so religious how will they explain away worshipping on the Temple Mount, no less building somewhere on the Temple Mount?
I am also appalled that President Abbas of the Palestinian Authority, said that the closure of the Temple Mount recently was a declaration of war. His words are irresponsible. When people are being attacked by stones, knives, guns and home made bombs, and being murdered it is necessary to regain some peace before normal days return. Nevertheless, the status quo which was hammered out decades ago with Jerusalem Mayor Teddy Kolleck should be adhered to.
Jews have a right to pray or visit, just as Christians and Muslims do in Jerusalem albeit in different locations.
I ask you, which Israel IDF soldier, young man or woman, is going to die for these fanatical pursuits? Which stone is worth your son or daughter, father or mother, husband or wife, brother or sister?
The push by the 'religious right' should be a matter of concern for the Reform Movement and for all of us. On the sight of now calamitous destructions of the the ancient Jewish People and many wars, we have a balance of Jews worshipping, Muslims worshipping, and Christians worshipping in another area of old Jerusalem. When Ariel Sharon came to power he opened the underground areas, to much noise and anger from the Arab population. I think ultimately that was a good decision.
Building the Third Temple in Jerusalem is not a unifying Jewish value. The Reform Movement intentionally abandoned calling its houses of worship synagogues, and instead called them Temples. Why? To indicate that we can worship in a Temple without a cult of sacrifice, and without perpetual war over a rock. Visiting the Temple Mount should be enough, Praying at the Kotel, the Western Wall should be enough. Praying at Robinson's Arch should be enough. Praying in Maryland does not take a detour through Jerusalem, even though Jerusalem is in our hearts.
The suspect in the shooting of Rabbi Glick has been killed by the Shin Bet in the neighborhood of Abu Tor. Anger is spilling over in the worst possible way. The Right Wing members of the Knesset say they are speaking out for their right to worship wherever they want in Jerusalem. Yet, I think that 'they' are also responsible for the increasing anger and fear among the residents of Jerusalem.
Mark Regev, the spokesman for the Netanyahu Government commented:
A failure to struggle for the right of Jews to live in peace in Jerusalem will result in murderous Palestinian terror across Israel," To me this is dangerous double speak. Infringing on the rights of Israeli Arab citizens to worship, and if they resist they too will be labeled 'terrorist.' We can do better.
What are we building? What are we destroying?
When the first Chief Rabbi of Israel, Rav. Kook, spoke of rebuilding the Temple, he wrote:
And the truth of the light of the world will be built from various dimensions, from various approaches, for these and those are the words of the living God...
Just as "the building" requires many different parts, truth does, too.
I am opposed to the idea of rebuilding the Temple physically. While at the same time I seek to build a Jewish Community dedicated to good principles for all human beings. We should accept that others worship differently, and that we live in a pluralistic world. We do not have to support insanity, even if we condemn those who assassinate, murder and terrorize while they are celebrated for doing so in Gaza.
Clal Yisrael means we build across denominations in Judaism. The Reform Movement does not believe in the rebuilding of the Temple. The Conservative Movement says it does, yet without sacrifices. I believe that many Orthodox Jews would agree that rebuilding the Temple is not what we should be about.
Israeli Prime Minister Yizhak Rabin was assassinated 19 years ago. It is difficult to believe that the fanatic who felt he had the right to do this changed the course of history for the worse for all of us.
This should be instructive that in pursuing peace as a goal, we must not give in to fanaticism. Israel is the refuge of the Jewish people, and home to two million Christians and Muslims who enjoy its democracy, even though it is imperfect. The 'hope' and the 'dream' was never to resurrect ancient Israel, rather it was and it is to have a modern state, capable of defense and economic health as well as intellectual inspiration. Israel is all of these. Yet today, extreme views may pull Israel further from the goal of peace.
Yizhak Rabin was a brilliant military strategist and courageous man, the epitome of how we view Israel, strong and determined, yet compassionate and patient. Rabin was beloved in the American community where he spoke on many occasions and where listening to him one could begin to understand and fathom that he had a great analytical mind. He understood that strengthening moderate forms of Judaism and points of view could strengthen Israel, and that perhaps the greatest threat to the future was an irresponsible yearning for the religious past of the ancient world, something which has been altered even by rabbinic interpretation and making it impossible to return to.
We were shocked, and are still shocked by the pain of that day. The evil perpetrated was felt around the world. In his memorial service I will never forget that leaders of Egypt and Jordan flew to Jerusalem for his funeral. This was a sign that there might be hope for the future. Unlike today, on that day the leaders of the world stood with Israel. How can we recapture that? That is the Temple we should rebuild.
No one can ever claim that Rabin was a 'peacenik,' rather he was a realist and a great General and leader who had a vision of a better future, which an assassin robbed from us. At some point the voices which have been drowned out in the recent past, will rise again and speak out for Shalom Al Yisrael.
Lea Rabin answered a letter I sent immediately after the assassination writing back to me and giving me permission to create a scholarship in memory of this great leader and hero. She said that strengthening those more moderate forms of Judaism was the best way to counter the fanatic who killed her husband.
As we commemorate Kristallnacht, the destruction, and remember Rabin, may we commit ourselves to speak out against Jewish Fundamentalism, and those who would build a Temple while tearing down the fabric of the Jewish people.
---
Happy 2015
Carol Bahr, Ingleside Liaison and Membership Chair
for Hevrat Shalom Congregation at King Farm

As the Ingleside Liaison and Membership Chair for Hevrat Shalom at King Farm I wish you a Healthy, Happy, Fun New Year. Thank you to all members of Hevrat Shalom for enriching my life by your friendship, love and caring concerns for me and each other.

The Ingleside membership has doubled in the past two years. This has given us many connections with so many wonderful people who have become a community inside the Ingleside Community. My job is made easier by all those who are on the look out for others who might benefit by knowing about Hevrat Shalom and the community that exist around it. Our communication with each other has increased, our knowledge of each others needs and our concerns for those who need extra help and attention is an asset to us all. Thank you again to everyone who helps in so many different ways to make this happen.
---
If you would like to sponsor an Oneg to honor a loved one, share an anniversary, celebrate a birthday or just feel good about doing a mitzvah, please contact Elise Ward at 301-294-2493 or

eahward@gmail.com

Onegs may be enhanced with a cake or other special treat. You may also wish to sponsor the standard Oneg at its current cost. When you sponsor, you support Hevrat Shalom and our congregation.