Message from Jack Goldman, Vice President & Treasurer

Hevrat Shalom Congregation has had an active fall so far. On Tuesday, October 15th, a selection from Rabbi Saltzman's Danish Symphony was performed at Washington Hebrew Congregation. The symphony was composed to honor the heroism of the Danish people in protecting Jews during World War II. Hevrat Shalom was also at the King Farm Fall Festival on October 6th, with a booth to "get the word out" about King Farm's local congregation. That same weekend, Elise and Woody Ward collected items for a yard sale in their community and generously donated all proceeds to the congregation.

Plans are also being completed for the second season of Hevrat Shalom's Jewish Film Festival: the films will be shown at Ingleside and admission is free. Finally, the congregation's well-received speaker series will continue with the next Shabbat service, on Friday, November 1st. Information on the film festival and speaker series will be sent out shortly.

Hevrat Shalom depends on you – both your financial support and volunteerism. Please contact me or Steve Permison, our president, if you can give some of your time to our community. With your help, the congregation can do even more to make your Jewish experience even richer.

---

Jan Hamer, the composer of a new opera, The Lost Childhood, will speak about her work at Hevrat Shalom, Friday Nov. 1, 20013.
Services begin at 7:45 PM.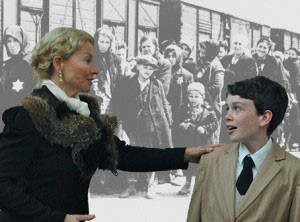 November 9th is the 75th anniversary of Kristallnacht, the "night of broken glass" that signalled the beginning of the Holocaust. This date will also mark a performance at Strathmore of a new full-length opera, Lost Childhood, based on a Holocaust memoir by a "hidden child survivor," composed by a daughter of two of our members: Janice Hamer, daughter of Joe and Mickey Hamer. In a simply-staged concert performance of the work, the National Philharmonic, directed by Maestro Piotr Gajewski, will be joined by twelve professional soloists and chorus.

Jan, who joins in our Shabbat davenning when she's in town, has spent 15 years composing this work, based on the Holocaust memoir The Lost Childhood, by Yehuda Nir. With librettist Mary Azrael, Jan has added a gripping modern-day plot, a psychological drama between Judah, the adult version of the child survivor, and Manfred, a German born after the war to an unspecified Nazi-sympathizing family.

Jan will speak to us at services on Nov. 1st for ten minutes about the work. Tickets for the performance on Nov 9th should be purchased soon, as they are selling quickly. (http://www.nationalphilharmonic.org or 301-581-5100) The performance at Strathmore is at 8 PM, preceded by a free pre-concert talk at 6:45 by the assistant conductor, Victoria Gau. An exhibit of nine monoprints by local artist Miriam Mörsel Nathan, whom Jan commissioned to create art works based on the opera, will take place in the corridor of Strathmore
---
Second Movement of "Rescue in Denmark Symphony" by Rabbi Saltzman was part of "A Celebration of Humanity"

Hevrat Shalom's principal rabbi, Rabbi Arnold Saltzman, participated in "A Celebration of Humanity", an event commemorating the October 1943 rescue of the Danish Jews from the Nazis. On October 15, 2013 Washington Hebrew Congregation and The Royal Danish Embassy held a program of speakers and music commemorating the 70th Anniversary of The Rescue of the Danish Jews. A buffet cocktail reception and exhibit of Judy Ellis Glickman's photographs depicting "Resistance and Rescue in Denmark" preceded the formal program.

Washington Hebrew Congregation's senior rabbi, Rabbi Bruce Lustig, was the Master of Ceremonies. Ambassador Peter Taksoe-Jensen, Royal Embassy of Denmark; Ambassador Stuart Eizenstat; and other distinguished people spoke or sang. The concluding portion of the program was the second movement of Rabbi Arnold Saltzman's "Rescue in Denmark Symphony".

Rabbi Saltzman spent over two years composing this symphony as an expression of gratitude to the Danes for helping more than 7000 Danish Jews escape to Sweden. The four movement symphony premiered thirteen years ago at Adas Israel Congregation in Washington DC. The Washington Post called the work "powerful".

Rabbi Saltzman organized a symphony orchestra with 21 accomplished professional concert musicians (this includes the conductor) for this concert. Conductor Dr. Joel Lazar and these musicians gave an outstanding performance of this wonderful composition which musically conveys images of Nazi terror during World War II. What an honor for Rabbi Saltzman to be invited to participate in this event which was attended by more than 700 people.

For me, the highlight of the program was the music of Rabbi Saltzman. What a talented man our Rabbi Saltzman is!!!! Hevrat Shalom is honored to have him as our Rabbi.

Diane Marcus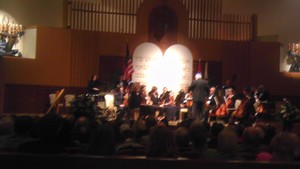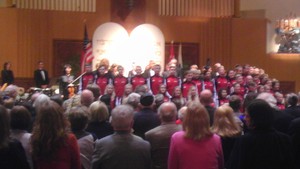 ---


Hevrat Shalom Yard Sale a Success

Hevrat Shalom's first fundraising yard sale netted a cool, crisp $126.00 for the congregation. Although not technically a "yard sale" as it rained all morning, the "garage sale" was comprised of books, toys, childrens' and womens' clothes, jewelry, linens, a sewing machine, art, and lots of other desirable objects. Elise and Woody Ward and Carol Bahr hosted the sale with major donations from the Bahr and Permison families. Items that did not sell were taken to Salvation Army and Wagging Tales, the Montgomery County Humane Society Thrift Store

$126 ( 7 x $18/chai) is the Hevrat Shalom yard sale baseline; next year's challenge is to reach $180.00 (10 x $18/chai). Remember, it's not too early, to start saving for next year's sale.

Elise Alexandra Heller Ward

---
Donation Funds

Hevrat Shalom is a small and growing congregation with two outstanding Rabbis and two fantastic Cantorial soloists. Dues cover many of our basic expenses but not everything. We are very fortunate to have members and friends who have generously donated to our various funds.

These donations have allowed us to present many additional services to the congregation and surrounding community such as Chanukah celebrations, Passover Seders, special musical presentations, Bible study, and the Jewish Film Festival.
If you would like to honor or remember a person or event, please consider donating to one of the funds listed below. If appropriate please give the name and address of the person or family member we should notify of your gift.
mail a check to:
Hevrat Shalom
P.O. Box 3606
Gaithersburg, MD 20878
GENERAL FUND

RABBI'S DISCRETIONARY FUND

JEWISH FILM FESTIVAL FUND

PRAYER BOOK FUND
In each newsletter we will mention the most current donations unless otherwise instructed.
---
The Adult Hebrew Class has two levels and meets on - Tuesday evenings
With Hevrat Shalom member and Ingleside resident who is an expert Hebrew Instructor, Inabelle Levin, with Degrees from Baltimore Hebrew College.
In addition we expect these classes to continue next season.
The classes are open to Hevrat Shalom members and residents of Ingleside.

---
Bible Study Class
Bible Class continues through the summer.
The Jewish Bible Class meets once a month usually on the third Wednesday @2 PM unless there is a conflict such as a Jewish holiday.

The class continues in the summer and through out the year

Rabbi Arnold Saltzman is the instructor and no knowledge of Hebrew is required in Order to take the class.

You will need a Jewish Bible Hebrew/English

---
Oneg Seeks Wine Companions

Do you enjoy Hevrat Shalom services and Onegs? Do you often wish you could do more to help with the preparation of the Oneg? Would you feel happy about contributing to the larger good of the Hevrat Shalom Congregation?

If you answered "yes" to any of these questions, you would be a perfect match for our Oneg in search of wine volunteers.. Pouring the wine is a mitzvah that contributes to the joy of our Onegs and helps ensure that our Onegs continue to be delicious and engaging.

Currently, our supply of wine pourers is limited and our Hevrat Shalom Oneg is seeking new companions who can commit to pour the wine before services twice a month - the first and third Friday services are held. If you would like to volunteer, and reap the personal satisfaction of contributing to a lovely tradition, please contact Elise Ward at (301)294-2493 or eahward@gmail.com.

No experience is necessary. Personal and congregational satisfaction is guaranteed.

Elise Alexandra Heller Ward

---
Check out the dates for Religious Services
The Web page now has the service Calendar up through July 2014.
Check it out
Click here
---

Congratulations to Fred Lass, son of Charlotte and John Lass, who has been selected for promotion to the rank of Lt. Colonel in the US Army Reserve.

---
High Holiday photos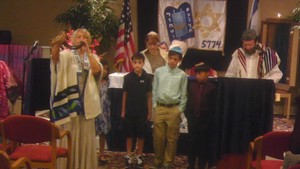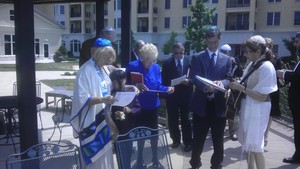 A Sermon From Rabbi Saltzman
undelivered 10-18-2013
due to time constraints

Abraham and Sarah: Creating the Model for Rabbinic Judaism
Rabbi Arnold Saltzman

In this weeks Torah reading, VaYerah, we find a number of celebrated and disturbing stories about the founders of Judaism.

First of all, we have God's appearance and promise to make Abraham and Sarah's descendants as numerous as the stars and the sand. This includes the descendants of Hagar and Ishmael as part of the Abrahamic heritage. (Jews, Christians, and Muslims are spiritual descendants of Abraham.)

Then we are given several story puzzles and encounters that are deeply troubling. One we are familiar with from our Rosh Hashanah torah reading of Hagar and Ishmael being cast out, left to die in the wilderness, while God hears their cry and saves them.

Abraham and Sarah are presented as human beings with great merits and flaws. Their signature is hospitality to the stranger, and gratitude to God. These traits and actions in deeds and words, characterize Judaism right up to the present. Our service is a service of thanks, our Kiddush and Motzee a sanctification of the Sabbath through gratitude, blessings, and hospitality. What would our service be without challah, wine, water, cookies, something to offer our worshippers and guests?

This mirrors what we have learned from Abraham and Sarah. Abraham thanks God through sacrifice and making a sacred space, the setting up of stones and anointing them with oil, so that a place is sacred. We do that by setting up a bimah, an Ark, having a Torah and reading it, blessing it and the custom of 'going up' spiritually to read the Torah.

What is troubling? Plenty - we are told that God remembers Sarah, yet in fact it seems that God forgot Sarah who painfully went through life without the hope of a child, certainly that hope disappeared once she was beyond the years of childbearing. Now in her old age, God remembers her and teaches us that God can do anything - a foundation of all religious belief.

We have the story of the destruction of Sodom and Gomorra. This is a violent story based on behavior opposite of Abraham and Sarah. The people of these two towns abuse strangers, even raping them. It is for this reason that God says I will destroy them.

The beginning of Rabbinic Judaism starts with Abraham arguing with God. Will you destroy the good with the evil? From that we have a man, Abraham who will not let go until God relents and agrees to save the cities if there are ten good men. It is not to be.

Even before this one can see that Sarah's laughter expresses both her disbelief and her joy at the news that she would give birth. She is adjusting to this promise, and while I am sure she was grateful, she wondered 'Why now when I have so little to offer a baby?'

Abraham has this plan to pass Sarah off as his sister to Abimelech, a King. This too puts Abraham in a negative light as he risks the safety of Sarah in order to save them both. He succeeds in what he does, yet the rabbis are critical of Abraham for what he did. However he gets points for the success of his strategy.

Another disturbing idea that gives us pleasure and has caused us pain is God's promise to Abraham "through you the nations of the earth shall be blessed." This idea of being chosen is one in need of reevaluation. What does that mean? We are chosen to receive the Torah and Tanakh, yet, we have been singled out for hatred, torture, expulsion, subhuman treatment, and a constant target for bigots and demagoguery throughout the world. Anti-Semitism is on the rise, and we are amazed that this can be happening after the world knows the consequences.
Tevye, the milkman said, "Lord, just once, could you chose someone else."

The story of Isaac is also a troubling story. Abraham made a feast for Isaac's weaning ceremony, and again the rabbis criticized him because he did not thank God. Also, Abraham was troubled by the casting out of Hagar because he loved Ishmael. There is a dispute between Abimelech and Abraham over a well and again we see Abraham's skill as a negotiator for peace and a man of courage, an evolving Abraham.

Lastly is the story of the sacrifice of Isaac. The poet Wilfred Owens said this story is a metaphor for war. God does not want us to sacrifice our children to the senseless and endless wars such as WWI in which Owens was killed.

This story is a quintessential story of faith that Abraham would do what God asked him to do without challenge. Yet, in changing the course of history and the way people functioned, we have to remember that sacrificing humans was the norm in the surrounding countries, in the Pacific Islands, in Central and South America. Here we have a man of faith who obeys God, takes his son, without telling Sarah why, and readies him for the horrible deed - yet at the last moment his hand is stopped by the angel and he looks and sees the Ram caught in the thickets, and substitutes the Ram. This is Rabbinic thinking. How do we overcome what God asks people of faith to do in impossible situations and find the statement and action which is acceptable?

We sound the Shofar on the Holydays to remind us of this moment. This is a reminder and statement that God does not wish us to do what is wrong, and that we must find another route, a proper way of living - an angel will show us the way.

This story is a transformational event in Judaism. God wants us to choose life. This is the foundation of our system of belief: choose Life so that we can celebrate, welcome the stranger, and thank God. The complexity of these stories and the responses to them continue to be an engine of discussion for Rabbis and the descendants of Abraham, Sarah, and Hagar.

Rabbi Arnold Saltzman
To read more sermons from Rabbi Saltzman click here
---
Excerpts from Marvin Glassman's article on Melissa Manchester published in February of this year in the SunSentinel. Prepared by Senior Cantorial Soloist Caron Dale

Melissa Manchester's Music Inspired by Judaism
Jewish singer/songwriter Melissa Manchester has a 40 year career in show business that few could match — writing and performing hit songs for herself and other artists, winning a Grammy Award, writing and acting for the stage, film and television and now teaching a course on songwriting at the University of Southern California.

Manchester's hit songs "Don't Cry Out Loud," "Midnight Blue," "Come In From The Rain" and her Grammy award-winning "You Should Hear How She Talks About You" have become standards on adult contemporary radio for the past four decades. Less well-known is the influence Judaism has played in defining her life and career.

Manchester's musical journey began as a child in Manhattan listening to her cantor at B'nai Jeshurun Congregation, located next door to the Manchester home, chant the Shabbat prayers and sharing the blessings with her mother and sister at holiday meals and simchas. Ironically, her father, David Manchester, a bassoonist with the Metropolitan Opera, was a confirmed atheist, but never stopped Melissa's mother, who is Orthodox, and children from participating in their synagogue. "…My cantor inspired me to what would become my calling in music. I view Judaism as a gift, and very much needed to connect with my soul," recalled the 62-year-old Manchester. Judaism is about knowing there is more to life than existing, but to connect with others in a meaningful and creative journey," she added.

"When I took some time off in the 1990s to raise my children, I felt a spiritual longing to do my bat mitzvah as my children had done when they were 13. I feel a closeness now to Judaism that is stronger that I had as a child." She celebrated her Bat Mitzvah in 2005

Manchester honed her skills with many Jewish mentors in her life. Beginning her career as a paid songwriter at age 15, she took a songwriting course at NYU given by singer/songwriter Paul Simon. Her big break came in 1971 when she caught the eye of Barry Manilow, then musical director for Bette Midler, who hired Manchester to sing backup with her. Within six months, Manchester had a recording contract, having a hit song with "Midnight Blue" and went on to headline shows on her own tour.

Other Jewish mentors included songwriter Carole Bayer Sager and Marvin Hamlisch, who teamed with Manchester to write "Through The Eyes Of Love." "Maybe it is not a coincidence that so many of the great composers are Jewish and from New York. We came from parents that encouraged us to go far with our dreams and there is no city that is as alive and exciting as New York," said Manchester.

Caron

Caron Dale
ChordsofCourage.org, Founder & CEO
Performer & Cantorial Troubadour
LoxVodka.com
DaleEntertainment.com
202-966-7270
---
Good Neighbor Committee
Hevrat Shalom's Good Neighbor Committee is available to assist sick or healing congregation members. Committee volunteers may help with an errand, prepare a meal, check-in with a phone call or visit members who request congregational support during a difficult time.

If you would like assistance from the Committee, please contact the Committee Chairperson, Elise Ward, at 301-294-2493. You may also contact Rabbi Saltzman at 202-244-6871 and a Committee member will contact you to see how we may be of assistance.

If you would like to become a Committee member, please contact Elise Ward - all are welcome to strengthen and support Hevrat Shalom.
---

GREAT SUCCESS
Hervat Shalom Booth at King Farm Day
Our presence at King Farm Day was really recognized by a surprising
number of visitors. We gave out flyers, answered questions and had
the opportunity to talk to people who expressed interest in our
Temple. Many were surprise that there is a Temple at King Farm.

Several people gave us e-mail addresses which have already been
sent a copy of the October newsletter. These people will be on the
regular monthly mailing list. Questions were asked about when we meet,
what form of service we hold, membership and dues, religious school,
other activities and who are the Rabbis and Cantors. Most were pleased that
we have two of each.

For me one of the most rewarding contacts was a small boy, perhaps
6 years old. He stopped by, looked at the banner and obviously was reading
what it said with a quizzical look on his face. Then with a smile, he turned
to us and said "Shalom". Our banner Read Temple Hervat Shalom at King
Farm.

During the afternoon, these Temple Members stopped by or worked at the booth:
Steve & Kay Permison, Carol Bahr, Elise & Woody Ward, Bonnie Dutcher,
Jack Goldman.

Carol

Carol Bahr, Special Liaison from the Board to Ingleside