From The President
Spring has been good for Hevrat Shalom. With the showing of The Life and Times of Hank Greenberg we conclude a very successful series of four films for our 5774/2014 Jewish Film Festival. Our distinguished guest speaker was Aviva Kempner, scriptwriter, director and producer of this multiple award winning film. A special thank-you go to Irwin Ansher and Aurora Reyes for sponsoring this last film. I would particularly like to thank Irv Schaeffer for organizing the film festival and, together with Rabbi Saltzman, for previewing and choosing the films. Yet another thank you goes out to Carol Bahr for making all the arrangements with Ingleside. We are very blessed to have these talented and invaluable participants in our midst. It's a real pleasure to say that our 5774/2014 Jewish Film Festival rocks!

June is a transition month for the congregation as July begins our new fiscal year. You may already have received, or you will shortly receive, your 5775/2015 pledge/dues statements from our Secretary/Bookkeeper Sue Tubbs. Please return your statements with your pledges as soon as possible.

In the past we have had only one Sabbath Service during July and August. In response to your inquiries and requests, this year we will maintain our normal, bi-monthly Sabbath Service schedule throughout the summer except on the 4th of July.

I look forward to meeting and schmoozing with everyone at our annual picnic on the deck at the home of Beth and Elihu Zimet in Darnestown on Sunday, June 15th, from 4:30 – 7:30 PM for our annual picnic.

Shalom,

Steve

---
From Rabbi Kuperman

On Becoming a Bar Mitzvah

Yesterday, on Shabbat, I had the great privilege and pleasure of leading a service at which thirteen-year-old Noah, a boy of lively intellect and a good heart, became a bar mitzvah – that is, a service during which he demonstrated his Jewish learning as well as his acknowledgment that he understands and embraces what it means to be a responsible Jewish adult.
And then, this morning, I watched, on-line, a snippet of a conversation between the actress Lisa Kudrow and the late-night talk host Conan about her son's becoming a bar mitzvah:
KUDROW: It was a drive-by bar mitzvah. CONAN: That makes it sound like you guys were innocently walking down the street and a gang drove by and bar mitzvahed your son out the window. … KUDROW: That's kind of how it went. I wasn't with him. He was alone at a mall. CONAN: What? KUDROW: Yes. And some nice men, you know, from – I don't know, a Chabad house maybe? CONAN: A Jewish organization. KUDROW: Yes, very nice. It was sort of like, hey, kid, come over here. Are you Jewish? He said, well, half. And they said which half? My mother. That's good, come here. Have you been bar mitzvahed? No. Do you want to? Yeah. So they wrapped tefillin around his arm, put a kippah on his head, had him recite a prayer and then great, you're bar mitzvahed, let's take a picture for your mom. CONAN: That's the craziest thing I've ever heard of. There are people roaming malls, bar mitzvahing? … KUDROW: He came home, told me about a video game he bought and then said, oh, I was bar mitzvahed. What? What do you mean? He said, yeah, here's the picture. … It was funny, because my family, they were like, oh, OK. And they wrote checks, you know, like for a bar mitzvah present.
So is Lisa Kudrow's son as much a bar mitzvah as Noah? Of course! But not because of what happened at the mall. As I explained to Noah the first time I met him, when a Jewish boy attains the age of 13 he becomes a bar mitzvah, a son of the commandments, automatically, just as a girl automatically becomes a bat mitzvah, a daughter of the commandments, at the age of 12.
Still, the difference between the two boys is crucial. Becoming a bar mitzvah entails a commitment to lead an ethical life informed by Jewish values and, ultimately, to partner with the Jewish people (and with God, I believe) in pursuing justice and acting with compassion while seeking to repair what is wrong with the world. And that commitment has to be grounded in the knowledge that comes from studying, from thinking, and from following good role models.
The story is told in the Talmud of a Roman who came to Rabbi Shammai and offered to "convert to Judaism, on condition that you teach me the whole Torah while I stand on one foot." Shammai chased him away with the builder's tool that was in his hand. He came before Rabbi Hillel and made the same offer, saying "Convert me." Hillel said to him, "What is hateful to you, do not to your neighbor: that is the whole Torah; the rest is commentary; go and learn it."
"Go and learn it." That's what makes the difference – being able to make informed decisions. It doesn't matter what age you are; so long as you men are at least 13 and you women are at least 12, you are every one of you a bar or bat mitzvah. Knowledge and understanding are what make those designations meaningful. And none of us is too young, or too old, to study and learn.
---
Songs of Yom Ha'Atzmaut, Israeli Independence Day
Caron Dale, Senior Cantorial Soloist

We celebrated Israeli Independence Day at Hevrat Shalom during Shabbat services on May 16th. Through story and song, Rabbi Saltzman and I shared a brief history of Israel as congregants enthusiastically sang along encouraged by song sheets. What struck me as I reviewed the many songs that were applicable to this holiday is the central theme that runs through them all – the longing, the hope for a Jewish homeland in peace; a land where Jews can raise a family and live a normal life. It takes great hope, determination and love of land and people to write such beautiful, vivid and heartfelt words under such constant threat of war and terrorism. Here are a few examples:
In the national anthem HaTikvah, written in 1878 by Naphtali Herz Imber, the words evoke the longing by the collective Jewish soul to be a free people in the land if Israel.
Eretz Zavat Chalav U'dvash, a land flowing with milk and honey, comes from the biblical verse. The song came out in the early '60s.
Eretz Eretz Eretz talks about the land that we were born in, in which we live and will continue to live no matter what happens, a land we love - written by Shaike Paikov in 1974.
During the wave of repatriation from the Soviet Union during 1969 to 1971, a majority of the veterans and leaders of the Zionist movement left the USSR. In Minsk the struggle for emigration to Israel included three war heroes who were retired colonels. Israel Rashal, also from Minsk, composed the song "Kakhol v'lavan," which became a kind of hymn of Soviet Zionists.
Nolad'ti L'ashalom, I was born to peace, is a classic Israeli song about the desire for peace, written in 1978 by Uzi Chitman.

And then there is the work of the late great Naomi Shemer, known as the first lady of Israeli song and poetry. Here are three examples:
Her song, Jerusalem of Gold, written in 1967 became the second national anthem after Isarel won the Sic-Day War and Jerusalem was reunited.

Od Lo Ahavti Dai, I Haven't Loved Enough, written in 1977. A wonderful song about an incomplete love that can be interpreted both as love of a person and love of the land.

In 1985, Naomi Shemer wrote Al Kol Eleh asking – Let our dearest wish be granted: Bring us peace

From the prayer for the State of Israel, "Establish peace in the land, and everlasting joy for its inhabitants … Remove from their midst hatred and enmity, jealousy and wickedness. Plant in their hearts love and kinship, peace and friendship. And soon fulfill the vision of your profit, "Nation shall not lift up sword against nation. Let them learn no longer the ways of war. And let us say, Amen."
---
Hevrat Shalom Board of Directors:
President: Stephen Permison
Vice President: Jack Goldman
Treasurer: Jack Goldman
Secretary/Bookkeeper: Sue Tubbs
Ingleside Liaison: Carol Bahr
Publisher: Irwin Schaeffer
Publications Editor: Sid Verner
Members at Large: Bonnie Dutcher
Joseph Hein
John Lass
Diane Marcus
Irwin Schaeffer
Sid Verner
Elise Ward

---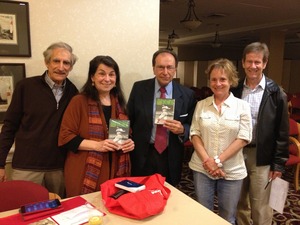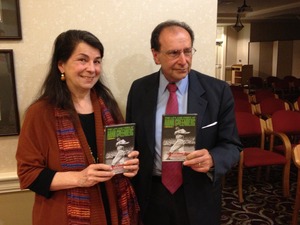 From Rabbi Saltzman

Death Thou Shalt Die by Rabbi Arnold Saltzman

'Death Be Not Proud' by the poet and minister, Jonne Donne is a non- accepting triumphant take on the death of death. What a subject -

During Passover we begin a journey towards Sinai and receiving the Torah, yet it begins with the last plague on the Egyptian households - the slaying of the first born, a punishment for Pharaoh and his ruthless beating and destroying of the slaves, and the killing of infants without mercy.

Four Days after Passover ends, we begin the official Holocaust Remembrance Day known as Yom Shoah V'Hagevurah. What is the Hagevurah part of the name? We know about the destruction, yet the rest of the name is about bravery, resistance, rescue, escape, fighting back, perhaps cheating death, or fighting the final solution which fooled people into thinking that they were just being detained for while.

In these days of spring, in beautiful forests and fields, we remember those people lost in the holocaust, who watered the earth with their blood, who were swept away by hatred and madness.

Recently I read an obituary of a man who, as a boy, worked on a transatlantic ship that was attacked by Nazi ships which killed over one hundred men, women and children - lost at sea while their families screamed in anguish. This young man, decided to become a pilot and fight the German 'Death Machine'. He was one of the Ace Pilots of WWII with 15 planes shot down and another 16 strafed on the ground. He was captured.

In what was the oddity of those Wars, German pilots were brought to meet the pilots who were shot down, so they could see their enemy. Before he was about to be executed, a Nazi officer with a pistol ready to fire asked the pilot if there was anything he would like. He looked around and saw a box of cigars and asked for one. He proceeded to blow circles in the air with the smoke fascinating the officer, who asked him to teach him how to do that. The officer saved his life and sent him to a POW camp instead.

Sholom was asked during a death march to dig his own grave before his execution. He asked the Nazi officer if he could chant the prayer for the dead, for himself. The officer was so moved by the beauty of his voice that he helped him to avoid being shot, saying that a voice like yours must be heard by the world. That is the story of Cantor Sholom Katz who was from Bessarabia, but I am never sure exactly where that is.

Mina and Nelee were sent away by their parents on a dangerous journey to be hidden in Southern France. Pretending they were Christians, they were sheltered, cared for, yet filled with anxiety that they would never see their family again. They were protected by Christians, and we know of their story as Mina Parsont is an articulate spokesperson for survivors and rescuers.

Sunday, May 4th, at B'nai Israel there was a community-wide commemoration of Holocaust Remembrance. I saw Mina there when the survivors stood up, and I stood together with her, not to take away from her, but because I was saying 'we stand together', you are not alone. There were not that many survivors at the service although there were about 800 people in attendance. Then children of survivors stood, and then grandchildren. They took a pledge never to forget - Zachor, for in forgetting and not remembering we give a kind of victory to the hatred of the past. In remembering we hold accountable those responsible, even if it is in the words written and spoken about these terrible events.

I have read that 50,000 people participated in rescuing Jews - where was everyone else? We know that Denmark did this as a nation. Where were the other nations?

Nesse Godin, whom I've known for many years, as her children and grandchildren attended services every week at Adas Israel, was the guest speaker. She was not emotional yet she was very powerful in remembering that day when they were forced by the Gestapo to leave the Ghetto and their lives descended into chaos. She was told to go to school that day, and when she returned the world had changed: 1000 children of all ages had been rounded up to be shipped to extermination camps. Babies, young children, teenagers, the entire ghetto was filled with the screams of parents who had their children torn from them. Her father had been killed just because he looked strong. The Nazis killed him and others who looked like they could resist.

When we know these events and hear personal testimonies, is it any wonder that we rejoice in modern Israel, or wish for a strong United States? Elie Wiesel warned us long ago that the Jews of Russia were in danger. Being a Holocaust survivor he recognized the signs were there and that Russian Jews were suffering persecution. One million Russian Jews were able to emigrate as a result of the work of many. Now, there are signs that Jews may be in danger in Ukraine and Russia as pawns in a dangerous stealth war and political game, designed to cover up the failure of the Russian dream. Russia has a declining population and no one is moving there voluntarily.

In Israel the sirens sound for two minutes, everyone stops, freezes to remember. This is followed by Yom Hazikaron - the remembrance of the fallen who defended Israel in its wars, and followed again by Yom HaAtzmaut - Israeli Independence Day. Israel is modern miracle which has given shelter and a future to the Jews from around the globe with the hope that they can do what is necessary to protect and defend while moving towards prosperity and inventiveness that characterizes the modern state of Israel.

That we are here is the victory over Nazism. Just being here is our cigar smoking circles in the air, our song of life, and our prayer of gratitude that we have been guarded.

BY JOHN DONNE 16-17th Century
Death, be not proud, though some have called thee
Mighty and dreadful, for thou art not so;
...
One short sleep past, we wake eternally
And death shall be no more; Death, thou shalt die.

V'Hakodosh, Boruch Hu, Shochat L'Malach Hamavet - and the Holy One, blessed be he slew the Angle of Death - concludes the Had Gadya. The Holocaust would not have the final word, it ended, and we are here. Israel is reborn. The Jewish people lives.
---
GUEST SPEAKER JUNE 6TH
We are delighted to announce that the guest speaker for next Service is our own Senior Cantorial Soloist Caron Dale. She will be speaking about her new organization Chords of Courage. Come join us for an evening of music, video and conversation.

Changing the conversation in our country and around the globe from the demoralizing and cynical to the hopeful and inspirational by featuring people of great courage is the goal of Chords of Courage. With music as the universal language, we are doing this one song at a time. Combining music with powerful visual images and insightful Discussion Guides, we can inspire children and adults to feel they too have the power to make a difference.
---
Hevrat Shalom Members Picnic
Dear Members,

Please join us June 15, 2014 from 4:30 - 7:30 PM on the spacious deck of Beth and Elihu Zimet's beautiful home in Darnestown for our Annual Members Picnic.

If you are a synagogue member you should already have received an Evite for the picnic.
Please RSVP using the Evite and letting our Ingleside Liason and Membership Chair, Carol Bahr
know as well if you reside at Ingleside.

Beth and Elihu are always perfect hosts and the food and drink that they provide are always delicious. If you wish you may bring an additional salad or dessert. Carol Bahr has arranged for a bus to the picnic for Ingleside residents.

On behalf of Hevrat Shalom we very much hope to see you "On the Deck" on June 15th at the Zimets.

Shalom,
Steve
---
Donation Funds

Hevrat Shalom is a small and growing congregation with two outstanding Rabbis and two fantastic Cantorial soloists. Dues cover many of our basic expenses but not everything. We are very fortunate to have members and friends who have generously donated to our various funds.

These donations have allowed us to present many additional services to the congregation and surrounding community such as Chanukah celebrations, Passover Seders, special musical presentations, Bible study, and the Jewish Film Festival.
If you would like to honor or remember a person or event, please consider donating to one of the funds listed below. If appropriate please give the name and address of the person or family member we should notify of your gift.
mail a check to:
Hevrat Shalom
P.O. Box 3606
Gaithersburg, MD 20878
GENERAL FUND

RABBI'S DISCRETIONARY FUND

JEWISH FILM FESTIVAL FUND

PRAYER BOOK FUND
In each newsletter we will mention the most current donations unless otherwise instructed.
---
---