Incredible
Steve Permison, President

One of my favorite comparative analogies for our small congregation, over the past 14 years, has been to the children's book, The Little Engine that Could. Once again we are proving just how well we can.

For the past five years, Alan Gross was a prisoner in Cuba. For the past four years, our rabbi, Rabbi Saltzman, has been leading a weekly vigil in front of the 'Cuban Interest Section' on 16th Street, which serves as the Cuban diplomatic mission. Rabbi and company were marching with signs and placards demonstrating to free Alan Gross. Last year, Gwen Zuares, the sister of Alan's wife and Vice President of the American Sephardi Federation, spoke to us about the trial and tribulations of Alan's imprisonment when our congregation honored Rabbi Saltzman for the Doctorate he received from The Jewish Theological Seminary. Yes, our voices matter. Yes, our voices can be forceful. Yes, Alan is now free.

Over the years, many other well-known individuals have spoken at our Sabbath Services as part of our Distinguished Speakers Series, arranged by Rabbi Saltzman. Speakers include Miriam Daniel and Larry Wolf of Beit Daniel in Tel Aviv, Laura Cohen Apelbaum, Director of the Jewish Historical Society, Mina Parsont, a long-standing member of our congregation, who presented and commented on the documentary film of their family's rescue in France during the Holocaust and Jacqueline Serwer, Curator of Paintings for The National Museum of African American History in Washington, D.C. This past month, Rabbi Saltzman has been interviewed by radio and TV stations and many publications concerning the vigils for Alan Gross. This past month, our Senior Cantorial Soloist, Caron Dale performed with her group, Lox and Vodka at the Kennedy Center and early next month will perform again in D.C. with her non-profit group, Chords of Courage.

Our little synagogue is in fact a Jewish community-building engine that certainly - and incredibly for our size - really can and does significantly impact our community.
Incredible.

Steve Permison
President

---
An Enhancement of Our Services
By Jack Goldman, Vice President & Treasurer

Hevrat Shalom will be adding an enhancement to our services, starting with our Chanukkah Service in mid-December. We will be handing out an order of service, or program, for the second Shabbat service each month. The program will contain a lot of useful information:

Congregation members called up for an Aliyah, or blessing over the Torah;
The name of the Gabbi, who assists the Rabbi during the Torah portion of the service;
The name of the person serving as host, including for the Oneg;
The sponsor of the Oneg;
The Yahrzeits occurring that month;
Some information on the Rabbi's sermon; and
The guest speaker or musician.

We hope that this makes the service more personal because we are a community; as a community, we want to share in each other's worship, joys, and life passages.

Please contact us if you would like to become more active in our services.

---

Making a Difference Through Music
- Chords of Courage
By Senior Cantorial Soloist Caron Dale
Don't you get sick and tired of all the negative news spinning around the internet and media outlets? I wanted to do something and since music is my form of communication, I founded Chords of Courage, a nonprofit organization dedicated to changing the conversation in this country and around the globe from the demoralizing and cynical to the hopeful and inspirational ONE SONG AT A TIME by sharing stories of people of great courage.

In the 1960's we had a social revolution in this country with music at its core. And with music as our universal language, I believe from my heart and soul that these incredible stories about the courageous among us will go a long way toward changing the conversation for kids and adults alike that will champion strength, compassion and engagement.

It was an idea, a dream. And now it's an exciting reality. We are reaching out to middle and high schools to work with teachers, youth leaders and students on how to use our songs and videos to kick off discussions on history, social studies, social justice, geography and more.

• Imagine young people excited to listen to songs and watch videos that tell stories about people of courage, people of great inspiration.

• Imagine these students using one of the songs to launch an in depth study to learn more about this incredible person through a Chords of Courage curriculum.

• Now imagine the class, the group identifying a related situation in their own community and performing acts of kindness to make a difference

By tapping our creativity to celebrate the courageous among us, we can inspire our children and ourselves. Together we can change the conversation one song at a time!

Chords of Courage's Inaugural Concert Is January 10, 2015 with a line up of incredible musicians and songwriters. It promises to be a really fun evening. Tickets are only $15 in advance $18 at the door and can be purchased here. I hope you will join us for an evening of great music and fun while supporting an important cause.

Best wishes for a happy, healthy and harmonious new year to you and to all whom you hold dear from me and my family.

---
Does Your Mind Have a Mind of Its Own?
A Sermon by Associate Rabbi David Kuperman
A few days ago the nurse at my daughter's school called me – Hannah been practicing a dance with another student who had moved prematurely so that Hannah had fallen and hit her head. I brought her to a nearby clinic that specializes in head injuries, where Hannah was diagnosed with what has commonly been called a concussion but is now known as a mild traumatic brain injury. The scariness of the new term reflects the seriousness with which doctors, athletic trainers, and schools now pay attention to blows to the head.

After a battery of tests and then a return visit and another battery of tests, Hannah was instructed to follow, for three days, a regime of brain rest: "rest at home in a quiet dark room and take only acetaminophen for pain. No physical exercise, television, phone, texting, computer use, video games, reading, conversation, homework, parties, or visiting the mall." The first phase of the healing process, in other words, was 72 hours trying not to think.

You try it. You'll discover, I imagine, that the mind seems to have a mind of its own.
We live our waking moments (and our sleeping moments too, I suppose) in a state of what the Eastern traditions call "monkey mind." Thoughts seem to intrude into our minds, even though they originate in our minds. They jump from branch to branch, seemingly beyond our control, and clamber for our attention. Sometimes these thoughts seem completely arbitrary, and sometimes they reflect compulsive fear, anxiety, or desire. Sometimes it's difficult to know if these unbidden thoughts drive us or if we drive our thoughts, as expressed in this brief Hasidic vignette:
A student asked Rabbi Pinhas, "What am I to do? I am pursued by evil temptations." Rabbi Pinhas replied by asking, "Are you sure? Are you sure it's not the other way around?"

The chatter of our monkey mind is always with us. The Baal Shem Tov recognized this when he spoke to his disciples of the impossibility of keeping "unholy thoughts from disturbing them in their prayers or studies," asserting that it is "the service of men in the world, to the very hour of their death, to struggle time after time with the extraneous, to uplift and fit it into the nature of the Divine Name." (Martin Buber, Tales of the Hasidim) And what of the Divine Word? In the Bible, in Kings I, verse 12, we learn that God spoke to the prophet Elijah not out of the great and mighty wind, nor out of the earthquake, nor out of the fire, but in a still, small voice to which Elijah was exquisitely attuned.

If God spoke to us in a still, small voice, would we be able to hear that voice above the incessant chatter of monkey mind?

While most of us are conscious of the need to train our muscles so that they can continue to serve us as best they can, few of us ever consider the possibility that we might also train our minds. But there are people who have done just that, among them my friend Bhante P, a Buddhist monk from Sri Lanka. Bhante may not have entirely defeated and banished the monkeys from his mind but he has learned, through years of training, to subdue and control them so that they do not subdue and control him.

Meditation is perhaps the primary tool for mastering monkey mind. Though mastering monkey mind is not the goal of meditation, such mastery, even to the smallest extent, may well enable us to hear that still, small voice when it addresses us. And we don't need to spend time in an ashram in the mountains of India or in a temple in Bhutan or in a retreat center in the jungles of Sri Lanka to learn to meditate.

You might want to start with something simple and closer to home. Yod Hey meditation draws its power from integrating into your mind and body memory one of the many names of God. The Hebrew letters yod and hey spell Yah, as in halleluyah – let us praise God. It is the name that comports most closely with the sound of our own breathing. Yod is the tenth letter of the Hebrew alphabet and so has a value of ten; hey is the fifth letter and so has a value of five.

Stand or sit comfortably. Empty your lungs. Then inhale slowly and deeply through your nose to the count of ten, following your breath as if it enters you from the soles of your feet and rises to the crown of your head. Then exhale thoroughly through your mouth to the count of five, in half the time it took you to inhale. Repeat, repeat, repeat, repeat; inspiration and expiration. When you first start this practice you'll need to count – ten, five, ten, five. Just try to focus on your breathing. Ultimately your body will learn the timing of the count and you'll be able to focus on breathing in yod, exhaling hey, recycling Yah over and over. When extraneous thoughts show up, as they will, especially in the early stages of this and any meditative practice, acknowledge them and let them go. Focus on, but don't think about, being a conduit for the name of God.
And then listen.
---
Donations
Joav Steinbach, General Fund
Carol and Ted Bahr, Speaker Sharon Wilkes
Carol and Ted Bahr, Rabbi Fund
Elaine Moses, Rabbi Fund
Bess Shay, Rabbi Fund Alan Gross
Irwin Ansher
Aurora Reyes, Rabbi Fund
Gerry & Florence Lang, Honor Sid Vrner
Gerry & Florence Lang, Honor Norma Herman
Gerry & Florence Lang, Honor Maurice Dunie
Catherine Malone & Tim Perlow, Tzedakah
Keith & Susan Singer, Remembrance
Daniel Dornblaser, Baby Liam naming
Oneg of November 11, 2014 sponsored by Maurice Dunie
Oneg of January 2, 2015 sponsored by Joav Steinbach
Donations for Magen David Adom
Maurice Dunie
Flora Feld
Sheila Garfinkel
Joav Steinbach
Shirley Pollack
Caron Dale
Alan Gross Is a Free Man
by Rabbi Arnold Saltzman

Alan Gross returned to the United States last Wednesday morning, December 17, 2014. He landed at at Andrews Airforce Base accompaniedby members of Congress who had worked for his freedom for a numberof years.

This is important for many reasons. As Americans we like to know thatour government values its citizens, and that in freeing one man in adifficult and grueling negotiation, President Obama reassured us thatAmerican citizens are the most valuable and precious asset of the UnitedStates.

The saving of one person who was held unjustly in a Cuban prison isimportant to us and in doing this the government has changed course, begun a new day, and turned to a new page in Cuban and Americanrelations.

Alan Gross is a Jewish American who was being treated unfairly, and thatwas particularly painful to me and to our community. We are all toofamiliar with the story of Jews who have been taken hostage ormistreated throughout the ages. In traditional prayer books, this isreflected in the fact that the daily prayers and even Sabbath prayersinclude prayers for the release of captives.

Can anyone fathom the pain and suffering endured by the family of AlanGross during these five years? As a rabbi and as a human being I couldnot utter the words ëthere is nothing to be done about this.í I believedthat demonstrating, our democratic right, could make a difference in this situation. I was able to demonstrate, help organize and wrote statementsread at the weekly Vigil which helped to explain and energize those whoattended.

After three years of demonstrating in a peaceful manner, with the supportand protection of the Secret Service and State Department, we created alifeline of encouragement for a man in prison until the day of hisfreedom. Alan Gross called me from prison to thank me and those whodemonstrated.

In doing this we fulfilled the mitzvah of Pidyon Shvuyim, rescuing thecaptive, and we helped to save a life. We exercised our democratic rightto speak up, which is a fulfillment of our constitutional guarantee offreedom of speech and assembly, and we drew attention to the plight ofAlan Gross so that this would not be forgotten. Most importantly we gaveAlan Gross hope that we would not stop demonstrating until this wasresolved.

The gift of one manís freedom is a gift of freedom for all of us.

As we have celebrated Hanukkah - the lights of the season have beenespecially bright. In Alan Grossí words: Chag Samíeíach!

Wishing you and your loved ones a Happy New Year!

Rabbi Arnold Saltzman led the Vigil to Free Alan Gross for three years and wasgiven a special award by the Jewish Community Relations Council in 2014 forhis efforts to free Alan Gross, a prisoner in Cuba.
---
Save the Date - January 10, 2015
$15 in advance --- $18 at the door
Purchase tickets here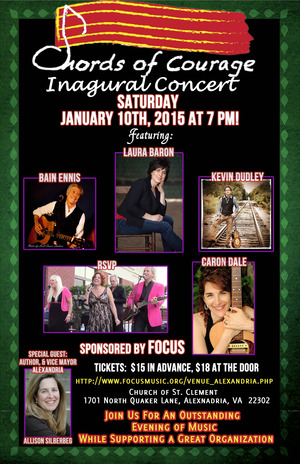 ---
Caron Dale, Lox & Vodka
at the Kennedy Center
A Review by Rabbi Arnold Saltzman

Last night I attended the Kennedy Center where our very own seniorcantorial soloist, Caron Dale, presented a program for the Festival ofHanukkah with her instrumental group .Lox & Vodka' on the Millennium Stage as part of the Kennedy Center Hanukkah Celebration.

Caron Dale led her ensemble in a variety of traditional songs whichincluded contemporary song writer, Leonard Cohen's .Halleluia'. She sangwith great energy, and conveyed both a jazzy and entertaining presentation. Tom Puwalski astounded everyone with his virtuoso clarinet playing, evoking the best in Klezmer al la Benny Goodman, and other jazz
greats.

A huge crowd turned out for this event, always a favorite. .Bei Mir Bi du Sheyn' was part of the program which I was delighted about since I had justgiven a sermon about the Barry Sisters and their singing this song prior toits hitting the charts with the recording of the Andrews Sisters in 1937 where it became numero uno!

The back up band was excellent with guitar, bass, piano and drums in addition to the clarinet. The jazz format greatly increased the interest in the music allowing for variation and fine solos. The lighting and the addition ofthe overhead large screens enabled everyone to see and made theproduction and presentation totally enjoyable. A hora stretching half the length of the great hall at the Kennedy Center was a marvelous way toinvolve the audience, many of whom were not Jewish, in the joy of theHanukkah celebration! Thank you Caron Dale and thank you Lox & Vodka!

Pass the cream cheese!
---
A New Acquisition and
the Vigil for Alan Gross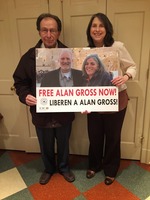 Alan Gross's recent release from capitivity in Cuba marks a moment of celebration and reflection for the washington-area Jewish community. Among the many activists celebrating is Rabbi Arnold Saltzman, a leader of a weekly vigil for three years in front of the Ciban embassy.

Please read more of this article here.
---


Liat Segal: Scattered Light
Opening Event: January 28, 2015

Israeli artist Liat Segal makes her US debut at the Museum with an innovative work of new media art. The piece weaves together key phrases from George Washington's 1790 letter to the Hebrew Congregation of Newport, Rhode Island affirming his commitment to religious liberty (on view at the Museum) with the reflections of Museum visitors collected from our It's Your Story recording booths. Both Washington's words and the contemporary commentary speak to the significance of religious freedom and to the continuing role we all play in its preservation.

Scattered Light pairs the old with the new through the use of a wand embedded with LED lights that move over a photosensitive surface, "printing" Washington's words along with those of Museum visitors. The texts fade away over time, allowing new content to appear, creating an ever-evolving dialogue between history and the present.

Segal, who recently exhibited at the Venice Biennale, drew from her multidisciplinary background, including her past work as a researcher at Microsoft Innovation Labs and as a teacher at Bezalel Academy of Arts and Design, to create this installation.

FREE, registration required. Reserve your spot

here

.
Liat Segal and her Confession Machine, photo by Arnon Fisher.

Generous support provided by:
Shirley and Albert H. Small

Consulate General of Israel to the Mid-Atlantic Region

Jane and Stuart Weitzman
---
Carol Nissenson: Hevrat Shalom's Distinguished Speaker
Sabbath Service Friday, February 6th, 7:45 PM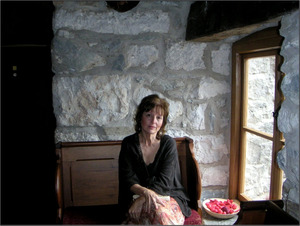 My Life in the (Jewish) Theatre

Carol Nissenson is a professional actor, director and author. Her career spans more decades than she cares to admit and includes opera, musical theatre, film and commercials. She manages, directs and performs with the music and comedy improv troupe, NOW THIS!

Our Distinguished Guest Speaker performed in national companies of Fiddler on the Roof, The Rothschilds, and has appeared in dozens of films and commercials. Please join us in welcoming Carol as our next Distinguished Guest Speaker.

---
Yahzreits for January
James J. Dunie,
Father of Maurice Dunie
Stanley Frank,
Father of Harry Frank
Earle Gerson,
Husband of Lieta Gerson
Samuel B. Ginsberg,
Father of Miriam Rothchild
Fred Goldman,
Husband of Ruth Goldman, Father of Jack
Goldman, Father in law of Susan Drubin
Irving Karabell,
Stepfather of Maurice Dunie
Yetta Levitus,
Mother of Sydney Levitus
Alexander Ellis Permison,
Father of Steve Permison
Ruth B. Robinson,
Mother of Adele Robinson
Elizabeth Skolnick,
Mother of Estelle Hein
---