From The Vice President
Some thoughts . . . .

1. Spring is always a time of optimism, with temperatures rising (eventually!), flowers blooming, and trees beginning to leaf out. It's also a time of optimism for Hevrat Shalom. We are seeing marked increases in attendance at our events. Two clear examples come to mind. Our Jewish Film Festival has had increasing attendance with each new film offering. The films are outstanding, which, of course, also helps. Our Second Night Passover Seder was capped last year at 60 people at the Sheraton Hotel in King Farm; this year, we moved the event to Ingleside and had to cap the event at 125 people.

Such success underscores Hevrat Shalom's need for more help from our members to continue and expand on this promising trend. Currently, your board of directors does virtually all of the work to make our popular events a success. We need your help. If you have some available time, please give serious thought to volunteering. With your help, we can do more for our congregants and the community; the payoff is immediate satisfaction. Please contact us at (240) 767-6518 or by e-mail at hevrat.shalom@yahoo.com , and we will respond promptly and find something that suits your interests and will do the most good for our congregation..

2. We continue to be very fortunate to be served by the members of our clergy. Principal Rabbi Arnold Saltzman and Associate Rabbi David Kuperman are true spiritual leaders of our community, and make our services both inspirational and thought-provoking. And importantly, they are very accessible to our congregants, both after services and at any time in the case of guidance for life events. Music provides the "Technicolor" to our liturgy, and our services are beautifully augmented by Caron Dale, our Senior Cantorial Soloist, and Beth Rubens, our Cantorial Soloist. If you would like more information on our clergy, please go to http://www.hevratshalom.org/Hevrat-Shalom-Congregation-Leadership.php on our website. If you would like to speak with any of them, please call, follow the prompts, and leave a message.
Jack Goldman, Vice President
---
The Power of Making A Difference
Caron Dale, Senior Cantorial Soloist

What makes a song iconic? "We Shall Overcome" was thought to be a gospel song written in the early 1930's by an African American Baptist choir director, Louise Shropshire. She was a close friend, civil rights ally and spiritual confidant to Dr. Martin Luther King, Jr. The song is filled with a promise that we shall overcome someday. Its simple and powerful lyrics and moving melody became the song that defined the civil rights movement. Since then it has been sung all around the world by people who struggle for freedom. This electrifying song expressed what the people were thinking and feeling.

On the other hand is the song "Dancing in the Street," a song I've included in the Purim Shpiel I wrote and presented at Hevrat Shalom. It comes out of Berry Gordie's Motown, "a record label that made the conscious decision to remain apolitical with its music, which consisted mostly of bouncy love songs by an all-black stable of artists. According to Martha Reeves and the Motown staffers who wrote "Dancing in the Street," the song was little more than a party anthem, a nice ditty about celebrating whatever one feels. To others, however, "Dancing in the Street" was understood to be a protest song about airing one's grievances in the middle of America's large and unequal metropolises: "Philadelphia / Baltimore and D.C now / Can't forget the Motor City ..." (Cord Jefferson)

Sometimes it's the unplanned, unintended thing that makes the biggest difference. It could be words spoken, the smile from a stranger at just the right moment, witnessing an act of selflessness. Perhaps you are the recipient. Perhaps you are the giver. Either way, when an unintended difference is made in someone's life, it is very powerful – just like an amazing song. If we can approach each day with an openness to that amazing possibility, our lives will be greatly enriched. Wishing you many unintended acts of profound impact.

---
Fourteenth Second Nite Seder Fabulous Success
Steve Permison, MD
President

A picture tells a thousand words. The accompanying pictures provide beautiful reflections of our 5774 Second Nite Seder attended by more than 125 guests. Our history of sold out Seders continues: two years ago at the Flaming Pit, last year at the Sheraton King Farm Hotel and this year at Ingleside. Each of the past three years in succession we have doubled the number of members in attendance. Hevrat Shaloms' Fourteenth Second Nite Passover Seder Dinner was a delight in both its size and its message.

Behind every success are those responsible for the success. Please give a virtual round of applause to Carol Bahr, Estelle and Joe Hein and those who worked with them to organize this exceptional evening. Also, let's raise our voices in thanks to our Senior Cantorial Soloist, Caron Dale and our Principle Rabbi, Arnold Saltzman. Thank you both for a warm, wonderful and meaningful Seder. Hevrat Shalom is also very grateful and wishes to thank all of the Ingleside staff who worked in many different ways to organize, advertise, set-up, cook and serve the Seder Dinner. Everything was done to perfection.

Thank you.
---
Jewish Film Festival
Life and Times of Hank Greenberg
Sunday May 18th
7 PM at Ingleside
Free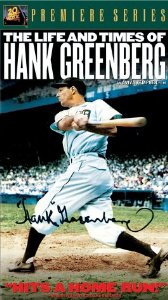 A well produced documentary about one of baseball's greats. He overcame bigotry and paved the way for the great Black ball players who succeeded him. Perhaps it was size or perhaps his demeanor which he used to overcome rampant anti-semitism of the time, but he wanted one thing...to be a great baseball player and make in the majors, or the "show" as it was called then.
As the film portrays, he was a great individual, and certainly a patriot, given that he gave up his career early to enlist in the WW2 war effort.
The great mystery left unsettled was did anti semitism play a part in coming so close to Babe Ruth's 60 home run record (59 home runs) that the opposing teams wouldn't pitch to him when he was within striking distance with a few games yet to play.
Guest Speaker Aviva Kempner
Ms. Kempner is the scriptwriter, director and producer of the 1999 film, The Life and Times of Hank Greenberg. The Life and Times of Hank Greenberg won the Audience Award at the Hamptons International Film Festival and the Spirit Award for Best Sports Documentary at the International Sports Video and Film Awards. The film also received the Audience Award (Documentary) at the Washington Jewish Film Festival and the CINE Golden Eagle award. The film is the New York Film Critics choice for Best Non-Fiction Film, 2000 and was voted Best Documentary, 2000 by the National Board of Review of Motion Pictures.

Irwin Ansher and Aurora Reyes are sponsoring this film and speaker in memory of Norton Ansher (Irwin's father).
---
Hevrat Shalom Board of Directors:

President: Stephen Permison
Vice President: Jack Goldman
Treasurer: Jack Goldman
Secretary/Bookkeeper: Sue Tubbs
Ingleside Liaison: Carol Bahr
Publisher: Irwin Schaeffer
Publications Editor: Sid Verner
Members at Large: Bonnie Dutcher
Joseph Hein
John Lass
Diane Marcus
Irwin Schaeffer
Sid Verner
Elise Ward

---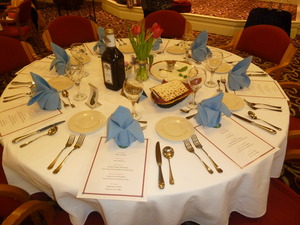 From The Rabbi

The Ambassador of Israel &
Passover - The Festival of Freedom
Sermon by Rabbi Arnold Saltzman
April 2014

During the Passover Seder, the Leyl Shimurim or night of watching, and the Festival of Freedom, we gather in our homes and Temples to celebrate and contemplate what this festival means to us, to our past and our future, at the same time enjoying with the gathering of friends and families.

That a story, an event, could be so powerful and even dangerous is instructive. This story inspires us today to recognize the recent past, the Holocaust and how we have triumphed, Phoenix-like, rising from the ashes. The story of Passover is the inspiration for the origin of the Land of Israel. This story of freedom instructs us to celebrate our history, our narrative, and to ring the bell of freedom over and over again, just as our families did in the past, just as our ancestors did in the Torah, just as American slaves identified with this story which gave them hope, and just as civil rights leaders in America identified with the parting of the waters - Let Justice roll down like a mighty stream! Proclaim Liberty throughout the Land!

This is our eternal story of overthrowing the order that enslaved us, inspiring us to become a people, a nation, just as this story inspires an American identification with Biblical ideas. Freedom of Religion is a biblical precept and an American ideal. 'Let my people go that they may serve me.' Sh'lach Et Ami V'ya'avduni...

Recently, the Board of Directors of the Jewish Community Relations Council, where I am a Board Member, had lunch with the new Ambassador of Israel to the United States, Ambassador Gideon Meir. Ambassador Meir arrives at a time when Israel is being pressed by many to work out a peace agreement with the Palestinians. His message is that this is a joint venture of Israel and the American community. His observation that what happened in the past we would not allow to happen again is reassuring. He was reaching out to us to understand the importance of American Jews and Americans in speaking up for Israel.

The price Israel pays for a safe haven for the Jewish People is that everyone has to go into the army. Israeli's pay 3x the price for gas that we pay. Israel has welcomed people from all around the globe who were not welcome in their native lands, were threatened with loss of life, and in many cases lost their property and possessions.

We are reminded that Israel also has over one million Arab citizens and they have voting rights and representation in the Knesset. Ambassador Meir came to remind us that Israel needs an advocate in the United States.
When Gideon Meir came to the United States decades ago to work for the Embassy during the Sinai Peace Accords, he was invited by Rabbi Matt Simon of B'nai Israel to become a member and worship there. So he became a Conservative Jew. Most Israelis are not religious but the shul they say is theirs is Orthodox. When Gideon Meir went to his first Holyday services at the Conservative B;nai Israel, the sermon bothered him because Israelis were portrayed as poor and that was the reason people should help and buy Israel Bonds. He said that he felt insulted by this. The Israel-American agreement is always portrayed as Israelis give blood by going into the army, and Americans give money.

Now the relationship is different, and there is more substance to it. He is very proud to have worked on the changes to the Conversion Bill that allows Jews converted by Reform and Conservative Rabbis to be accepted by the Israel, even if the Orthodox Rabbinate does not. He worked with Rabbi Eric Joffe of the URJ and Ismar Schorsh of JTS to make this happen.

What is the future of Freedom and the Jewish people? Taglit birthright has brought tens of thousands of people to Israel to find some connection, and to create an understanding of the American Experience as well, which includes the Reform, Conservative, Orthodox, Reconstructionist, and non believing and practicing Jewish people as well.

In Israel there is a Jewish tent with gaps between Ashkenazim and Sephardim, Arabs and Jews, haves and have-nots, representing major gaps in Israeli society. The largest demonstrations in Israel in recent history were not about peace, but about adequate housing.

Ambassador. Meir 's grandfather came from Berlin in 1908 to Palestine then returned to fight for Germany in 1914. He returned after the war to Palestine where he founded one of the first Hebrew Bookstores. In 1933 he returned to Germany to find that his family had Juden Raus (Jews Get Out!) over their shop. And again he returned to Palestine where his books had been kept by a company in storage which eventually became Bank Leumi - The Bank of Israel. The bookstore opened again.

Gideon Meir said that Education outside of Israel needs to be a priority. There is an increasing divide with Jewish students verbally attacking Israel, something we've not seen before to this degree. He suggests coming to Israel to study. One thought I had was to create a kind of Seeds of Peace for Israelis and American Jews where they can talk to each other and begin to understand that the divide is not that great and that it is essential to support each other. All Israelis are responsible for each other so the saying from the Talmud that a Reform Rabbi interpreted as follows:

We are better equipped to serve the world as a whole if we can recognize and identify our individual place within the world community. Our particular identity as Jews, and our acceptance of our responsibility to our own people, informs our ability to work for the improvement of the entire world (Tikkun Olam). Rabbi Louis Rieser

The Ambassador also mentioned that in recent surveys the single most important factor to Jews was the Holocaust. Here Jewish Education is so important. Being Jewish is not only about the difficulties. The emphasis placed on Jewish learning, values, ethics, history, science , business, the arts, have produced countless gifts to mankind. An example of this is the idea put forth by President Park Guen-Hye of South Korea who indicated she would like to see all Koreans learn the Talmud so that they could emulate the great minds of the Jewish people.

We have a great story, our story, of remembering and teaching, using the music of our tradition and the aromas of our cuisine, reliving the story of affliction through the symbols, and sharing a festive table with joyous hymns of thanksgiving. Sitting around the table with candlelight reflected in the beauty of our loved ones. This is how we teach and tell the story that is after all in a book called the Haggadah, the telling of the story.

Wishing you and your loved ones a Chag Sam'e'ach - Happy Passover
...Thank you God...who has kept us in life, sustained us, and enabled us to reach this festive season.




---
Donation Funds

Hevrat Shalom is a small and growing congregation with two outstanding Rabbis and two fantastic Cantorial soloists. Dues cover many of our basic expenses but not everything. We are very fortunate to have members and friends who have generously donated to our various funds.

These donations have allowed us to present many additional services to the congregation and surrounding community such as Chanukah celebrations, Passover Seders, special musical presentations, Bible study, and the Jewish Film Festival.
If you would like to honor or remember a person or event, please consider donating to one of the funds listed below. If appropriate please give the name and address of the person or family member we should notify of your gift.
mail a check to:
Hevrat Shalom
P.O. Box 3606
Gaithersburg, MD 20878
GENERAL FUND

RABBI'S DISCRETIONARY FUND

JEWISH FILM FESTIVAL FUND

PRAYER BOOK FUND
In each newsletter we will mention the most current donations unless otherwise instructed.
---