Vayikra March 20, 2015
Rabbi Devorah Lynn

Tonight is a remarkably special night. Not only is it Shabbat but it is a triple special Shabbat. It is both Shabbat HaChodesh, the Shabbat before the beginning of the month of Nissan that is the month of Pesach, but it's also Rosh Hodesh, the beginning of the month of Nissan tomorrow. Which means if you are strictly reading all of the required Torah portions you need to balance three Torahs.

Astronomically it is also unique. It is the vernal or spring equinox, where the hours of light and dark are balanced equally. 12 of light, 12 of dark. In addition, there is a super-moon. The moon is as close as it gets to us but we can't see it, because it's snowing, and because it's a new moon. But it will be seen in Greenland and Iceland because the new moon is crossing the path of the sun and eclipsing it!

Shabbat, Hahodesh, Rosh Hodesh, Equinox, Super New Moon, Eclipse of the Sun! All on one day!

So if you have been feeling a bit out of balance you can blame it on the confluence of all these calendrical and cosmological occurrences. High tides and low energy and the thought of spring cleaning for Pesach pulling you in all directions.

The news of a world in distress doesn't help and Israel brings the news of an election that severely challenges the unity of our people worldwide. And what are we reading from Torah tonight? The first parashah in Leviticus, Vayikra, "and Gd, called." Take notice. Gd is calling us tonight.

Vayikra; the Book of the Torah the Reform movement has largely ignored because of the detailed yet cryptic descriptions of an antiquated and extinct culture that lasted for 1,500 years but has been gone for 2 millennia, detailing the role of the priesthood and the bloody slaughter of innumerable animals for sacrifice as atonement. Isn't it is ironic that we as modern, liberal Jews have grown rachok, distant from the Book of Leviticus, when the word for ritual sacrifice is korban from the verb l'karov, to draw near.

Just when you might want to turn and hide from a guilty conscience or a traumatic ordeal, Vayikra calls us to come close, confront our challenges, offer up what is precious to us, what is of value, and bring our life back into balance. This book shouldn't even be in here. It's an owner's manual for the priesthood. And yet in a revolutionary democratizing move Leviticus is in our Torah, interrupting the flow of the narrative, smack dab in the middle; offering us a transparency into the ruling leadership of the time, the Cohanim, the priests, and Levite assistants.

The first sacrifice that is mentioned in Vayikra is the olah offering. Olah comes from the verb la'a'lot, to go up, rise up, like aliyah when you come up to the Torah, or aliyah, when you move to Israel.

The olah sacrifice is of an animal that is completely burned up, entirely consumed, nothing is kept to feed the priests. It is entirely voluntary. It is for something the penitent has done that he feels is very regretful, dangerous, or frightful.

Think of a time in your life when you were in dire straits; a relationship gone very sour, a threat at your work, or a crisis in the family, even when you might have been in war. Sometimes a bed in the Emergency room is the altar of an olah sacrifice. Remember when you called out for help, Vayikra. You would give anything to pull out of that situation. Anything, maybe even your own life. You are completely consumed by your situation. You are all in, raised up to a higher calling, the outcome is now out of your hands. In these situations we throw ourselves on the mercy of the court, we jump in front of or out of danger, we slam on the brakes, we pray very, very hard, we give very, very generously. We sacrifice. We even use the same word, sacrifice, in order to raise up our pleading, make it sacred, give it more energy, get karov, close, to a higher something greater than ourselves. Hoping that the decree will change.

Are we really that much different than our ancestors offering up an olah sacrifice, something of high value, life itself, to change their fate? After the Destruction of the Temple, the Rabbis comforted our people by saying that prayer replaces sacrifices. The midrash says "Prayer is greater than all sacrifices a person can make." Prayer replaces sacrifices. Our teacher Abraham Joshua Heschel taught, "Prayer is not a substitute for sacrifice – it is sacrifice." Prayer is as if we are sacrificing.

There is a wonderful prayer we have, we don't use it often enough, called the gomel prayer, Birkat hagomel. It's specifically for surviving a long journey, an illness, being released from prison, a car accident, or childbirth. But it can be any incidence of escaping peril. It goes like this in a translation by Rabbi Jack Bloom.

My thanks to You, Bountiful One, Adonai our Gd, Ruler of the Universe, who in Your inscrutable, unknowable way watches over the worthy AND the wayward. My thanks for having graciously done me abundant kindness by shielding me from great harm. Amen.

There is a sense in the prayer that bad things happen to good and not so good people and that if our crisis has a good outcome a prayer of gratitude is in order. There is the element of throwing dice in there. It could go either way for us. Life is inscrutable, incomprehensible. But just as talk therapy is not always enough if you don't change your behavior, prayer may not always do the trick to bring us back into balance. Words must be energized with deeds.

We Jews tend to be very cerebral but those sacrifices were so physical, so gutsy, so visceral.

Shlepping a bull or wrestling with a ram, up the Temple steps, slaughtering it, stoking a fire, butchering it, cleaning up the whole ordeal… Feh! It's almost impossible to imagine the enormity of it. In the days immediately after the suspension of the sacrificial cult, in the wake of the destruction of the Second Temple, the students of Yochanan ben Zakkai grieved that they could no longer offer sacrifices, perform this intensely physical act. Rabbi Yochanan told his students "Do not grieve – we have a means of atonement that is equal to sacrifice: It is doing good deeds, for God teaches us (quoting Hosea 6:6), 'I desire mercy not sacrifices….'"

It is the revolution of the prophets that changed the sacrificial cult into doing justice. We read it all over the Tanach.

"To do justice and judgment is more acceptable to Adonai than sacrifice."- Proverbs 21

"The multitude of your sacrifices-- what are they to me?" says the LORD. "I have more than enough of burnt offerings, of rams and the fat of fattened animals; I have no pleasure in the blood of bulls and lambs and goats."- Isaiah 1:11

Even when the messiah comes you must finish what you are doing if it is righteous. Rabbi Yohanan ben Zakkai teaches: "If you have a sapling in your hand and you hear that Messiah has come, finish planting the tree, then go and inquire."

Sacrifices were a beginning; a way to convert conscience into action. And that is what perhaps we can learn from this enigmatic book, Vayikra. Gd is calling us to sacrifice. Prayer allows us to hear the voice of our heart. But prayer must move us to offer ourselves, to sacrifice, to act. Try as we might to diminish it, the lessons of the sacrificial system are still with us.

In two weeks we will sit around our dining room tables and celebrate our liberation from slavery, events that happened some 3500 years ago. Sometimes the table is our altar, a shank bone, the wine and matzah symbolic memories of the pascal sacrifice on our Seder plate. With much effort, time, and expense we lift up a meal offering, a minchah korban, to get close, karov and bond with our family and community.

We will say the timeless words used to present the first fruits on the Temple Mount. My father was a wandering Aramean. We went down to Egypt with few and became a great and powerful nation but then we were enslaved. We cried out and Gd brought us out with signs and miracles to the land of milk and honey and now I bring You a sacrifice of first fruits.
May you be present for the sacred moments that occur around that table altar and get close, karov to the ancient symbols, the cherished history, a sense of the sacred. Watch for the daily sacrifices that inspire us to holiness, bring us close to divinity, and back into balance with ourselves.

Thank you for studying Torah with me tonight.
---
Meet Our Congregant: Carol Bahr

Carol's love of gardening and all things green began as a young child growing up in a farmhouse in Pittsylvania, Virginia (central VA near the North Carolina border.) Carol's childhood and early teen years were spent on the farm which was purchased by her grandfather in 1910 and remains in her family today. It was also during this time Carol developed her love of reading and travel.

Carol moved to Chicago and worked for a finance company and then for American Airlines at Chicago's O'Hare Airport. When she relocated to Washington, Carol continued to work for American Airlines before beginning employment with the New York Port Authority where she attended legislative and policy meetings on Capitol Hill. During a mail carrier strike, Carol was asked to fly to New York to personally pick-up paychecks for Port Authority employees. Afterwards, she was given a private tour of New York by helicopter before returning to Washington. It was during her time with the New York Port Authority that the Twin Towers were built for which Carol has always felt a special affinity.

After marriage with Ted Bahr, Carol turned to a career in real estate which lasted 26 years. During her career as a real estate agent, Carol initiated a mentoring program for new agents to shadow their successful colleagues. At the time, this was a very new idea in the business. Carol was successful in training many new agents, one of which became her business partner for 15 years.

Carol has three children, three grandchildren and a fourth on the way. She was recently elected Ingleside's sixth floor representative to the Board, continues to read, garden with her daughter, grow herbs for the Ingleside kitchen, and travel including a recent family vacation in Jamaica.

Carol has been the Ingleside liaison for Hevrat Shalom and has increased membership through her ongoing dedicated efforts as a recruiter and the "go to" resident. For Carol, Hevrat Shalom represents her community within the community which encourages connections among members and residents.
---

Rabbi of Rome
Sermon by Rabbi Saltzman
May 2015

Rabbi Elio Toaff, Rabbi of Rome and spiritual leader of the Jews of Italy died recently at the age of 99 a few days short of his 100th birthday (April 30, 1915- April 19, 2015)

We should consider what he accomplished and who he was as rabbi and leader. His death was announced by the Prime Minister of Italy, Matteo Renzi who called him "a great Italian and a symbol of the Jewish community".

Rabbi Toaff's father, who was a rabbi, discouraged his son from becoming a rabbi. Elio studied law and theology and became a scholar. In Ancona he was part of the resistance during the second world war helping to hide Jews once the Germans began deportations. In a story similar to others I have heard he was forced to dig his own grave before a firing squad, yet he managed to escape. How this was accomplished I do not know, yet we are all the better for it.

The Jews of Italy date back to the Roman Empire even before the destruction of the Second Temple in 70 CE. The Arch of Titus is both a stark reminder and an ironic relic of the capture and enslavement of the people of Israel and Judea, brought as slaves to Rome, eventually populating the European continent with millions of descendants, and returning to Israel in modern times reborn while Rome is no longer an empire except in history.
---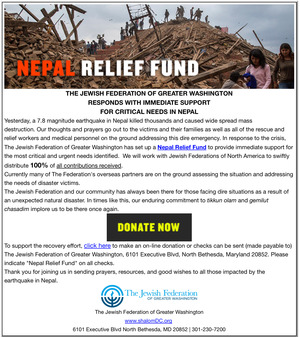 ---
Good Neighbor Committee
by Elise Ward
Hevrat Shalom's Good Neighbor Committee is available to assist sick or healing congregation members. Committee volunteers may help with an errand, prepare a meal, check-in with a phone call or visit members who request congregational support during a difficult time.

If you would like assistance from the Committee, please contact the Committee Chairperson, Elise Ward, at 301-294-2493. You may also contact Rabbi Saltzman at 202-244-6871 and a Committee member will contact you to see how we may be of assistance.

If you would like to become a Committee member, please contact Elise Ward. Everyone is welcome. Your help will strengthen and support our Hevrat Shalom community.

---
Sponsor an ONEG
by Elise Ward
Onegs are an integral and very pleasant part of our Friday night Shabbat Services. The Onegs provide an opportunity for congregants to celebrate Shabbat with wine and challah as well as spend time conversing with one another. Onegs are also a wonderful opportunity to acknowledge a birthday, anniversary, graduation or other special lifecycle event. If you would like to sponsor an Oneg by ordering a cake or other special treat, please contact Bess Shay at 301.977.2822 or Sue Tubbs at suetubbs@verizon.net to make arrangements.
---
A Season of Celebration
by Senior Cantorial Soloist Caron Dale
This is the season of graduations, of acknowledging life's milestones. We experience lots of logistics mixed with some anxiety along with a tremendous sense of pride and gratitude. There is little joy in life greater than seeing our children accomplish their dreams. With all the pain and violence in our community and around the globe, these moments are more precious than ever.

Milestones can take the form of a cap and gown, or talking again after a terrible accident. It could be receiving a medal for a sports accomplishment from the Maccabiah or the Special Olympics. It could be a science award for inventing something to improve society or the publishing of a first book.

I had the great honor and complete privilege to watch my youngest child graduate from college in the middle of May. Watching his broad smile and great joy as he made his way in line to receive his diploma made my heart skip happy beats. I was so busy watching him I had not noticed a student in line before him until the wheel chair lift raised him to the stage. This young man was a quadriplegic accepting his engineering degree. The entire audience of family and fellow students erupted in applause and tears. We celebrated his accomplishment while thanking God for the great fortune of having relatively healthy children.

All our children are challenged in one way or another. Watching them endeavor to step beyond that which is known and comfortable challenges us as parents, grandparents, teachers and mentors to provide support, be constant cheerleaders in their corner while not interrupting their process. It is with much faith in our children and ourselves along with appreciation for the great gifts God has given us that we can experience pride in the next generation.

Wishing you all many more milestones to celebrate with your loved ones.
---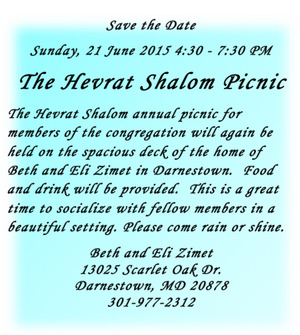 ---

June Yahzreits
Mildred Block, Mother of Lynn Perlroth
Isadore Danovitz, Father of Norma Dancis
Selma Danovitz, Step Mother of Norma Dancis
Naomi Danis, Mother of Elaine Garfinkel
Lawrence Green, Son of Ernest and Zena Green
Ella A. Karabell, Mother of Maurice Dunie
Anne Keller, Sister of Hyman Shapiro
Léon Rainès-Lambé, Father of Mina Parsont
Dora Lang, Mothrer of Gerald Lang
Kenneth Pickoff, Husband of Laura Pickoff (Kulik)
Ethyl Sandler, Mother of Judy Wittman
Jack Sandler, Father of Judy Wittman
Minnie Simons, Mother of Florence Margolis
Louis Wittman, Father of Harold Wittman
Dora Wittman, Mother of Harold Wittman
Pauline Wolf, Mother of Dorothy Kulik
Donations:
Elaine Rosenblum, Donation to the Rabbi's Discretionary Fund
Florence and Gerald Lang, Memory of Joe Belson
Mina Parson, Sponsor Oneg, celebrating her Birthday
Ssndy Wolk, Sponsor Oneg in Memory of her Husband

---
Hevrat Shalom Board of Directors:

President: Steve Permison
Vice President: Jack Goldman
Treasurer: Jack Goldman
Ingleside Liaison: Carol Bahr
Publications Editor: Sid Verner
Members at Large: Bonnie Dutcher, Joseph Hein, John Lass, Diane Marcus, Gene Silverman, Sid Verner,
Elise Ward, Sandra Wolk

Committee Chairs:
Education: Rabbi Arnold Saltzman
Funeral Practices: Jack Goldman
Garden of Remembrance Diane Marcus
Good Neighbor: Elise Ward
Ingleside Advisory: Carolyn Bahr
Jewish Film Festival David Elkaim
Membership: Carolyn Bahr & Bonnie Dutcher
Oneg: Bess Shay
Public Relations: Gene Silverman & Sandra Wolk
Ritual: Board of Directors