Busy as a Bee
Steve Permison, President
Spring finally appears to have arrived. Daffodils, hyacinths and tulips are popping up everywhere. Ornamental trees are blooming and hopefully we all feel a bit renewed. Renewal and change is also abundant at Hevrat Shalom. Upon the resignation of Rabbi David Kuperman, we have retained Rabbi Devorah Lynn. Our clergy now has additional support from our newly formed "Gabbi Corps." And, we have begun our Spring Distinguished Speaker Series.

Following Rabbi Kuperman's resignation, your Board of Directors, together with Rabbi Saltzman interviewed Rabbi Devorah Lynn and invited her to assist in our Sabbath Service on March 20th.

Congregational feedback of Rabbi Lynn's participation was very positive and highly complementary. Based on the interview, her resume of rabbinic leadership, and congregational responses, Rabbi Lynn was offered, and has accepted, a contract to assist Rabbi Saltzman at several Sabbath Services and during our 5776 High Holy Day Services. We welcome Rabbi Lynn to Hevrat Shalom as an Assistant Rabbi.

Gene Silverman has become our Principal Gabbi. Rabbi Saltzman and our clergy are working closely with Gene to develop this new position and in turn to build a new "Gabbi Corps." Our goal is to facilitate community participation in our Sabbath Services and assist our clergy whenever and however possible.

On another successful note, a Friend of Rabbi Saltzman presented a fascinating look into American history at Sabbath Services on April 17th. Author, and former White House speechwriter, Jonathan Horn initiated our Spring Distinguished Speaker series with a review of his extensively researched new book from Scribner ( a Washington Post Bestseller): The Man Who Would Not Be Washington: Robert E. Lee's Civil War and His Decision That Changed American History.

Yes, spring is definitely here, flowers and trees are blooming and Hevrat Shalom is "busy as a bee."
---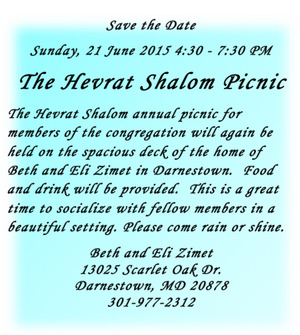 ---
Friendship Place Music Event
by Beth Rubens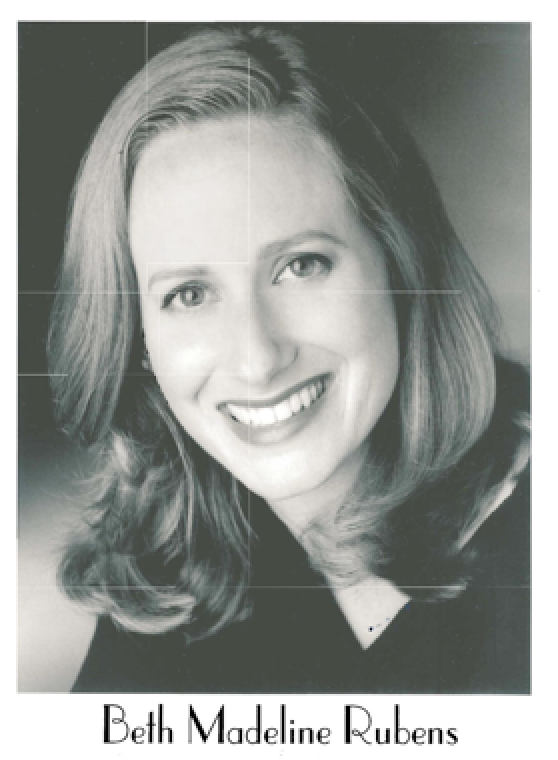 The Community Council for the Homeless at Friendship Place is an organization that serves the homeless population of Washington DC, provides transitional housing, counseling, job training, medical services, veteran services, food, clothing and so much more to the thousands who need help in our area.

On May 17th at 2pm I will have an opportunity to serve Friendship Place and DC's homeless community. I will be performing, along with some very talented musicians, in a benefit concert at the French Embassy of Washington, DC. It will be a rich program of chamber music with some of my colleagues from the National Symphony Orchestra. I will be singing works by Schubert and Mozart, accompanied by piano, violin and clarinet. There will also be non-vocal chamber works on the program.

Tickets can be purchased at friendshipplace/events/music-friends. Or by going to their website: friendshipplace.org and going to the calendar of events, then clicking on May 17th, "Concert for Friends". If you are interested in contributing to this very worthy organization, while enjoying an afternoon of wonderful music at the French Embassy, please save the date: Sunday, May 17th at 2pm in Washington, DC.

Thank you,
Beth Rubens
Cantorial Soloist
---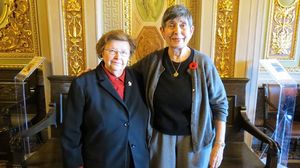 Minna Parsont with US Senator Barbara Mikulski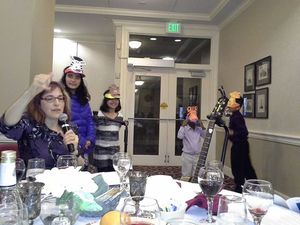 Hevrat Shalom's second night Seder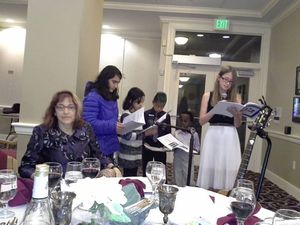 Hevrat Shalom's second night Seder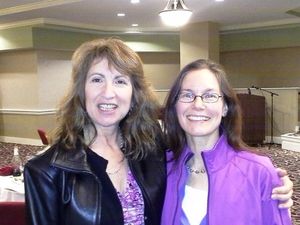 Hevrat Shalom's second night Seder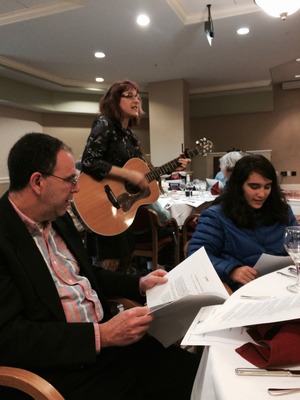 Hevrat Shalom's second night Sede
---
Corrections:
Last month's article, The Good life in King Farm, was printed without a byline for the author, Sandra Wolk.
---
How to respond to Graffiti on a Synagogue or Temple's Walls?
Sermon by Rabbi Saltzman
April 18, 2015
This past week, Sha'are Torah of Gaithersburg, Maryland had a terrible discovery. Overnight, men with masks on in order to hide their identity, painted hate messages and symbols in white paint on the exterior walls of Sha'are Torah synagogue.

I was saddened and angered by this news. We think that we are better off than most when it comes to such anti-semitic crimes, yet we are not immune. It saddened me to know that this was both during Passover, a time of Joy, and during the time when we observe Yom Hashoah, the Holocaust Remembrance Day. Our community observed this day at Har Shalom in Potomac, Maryland, and I will be there participating and representing our congregation listed as a sponsor of this program.
To read more click on the link...
---
Yom Hashoah and Shabbat
by Rabbi Arnold Saltzman

Rabbi of Hevrat Shalom Congregation, King Farm, Maryland. On behalf of Hevrat Shalom welcome.
We honor those of you with us who are survivors of the Holocaust and want you to know how we look to you for inspiration. Your families, children, grandchildren, your congregation and community, Americans, look to you as a living history and a reminder of focusing on life. We want you to know that we love you.
As we gather we recognize how important it is to remember so that we can say ʻ Never Again!'. As we gather we are reminded of why we exist, and how we have to behave towards our fellow human beings.
Good people, ordinary people were swept up in the insanity of hatred and bigotry during the years prior to WWII and during the war. When we look back, we are not able to comprehend these events which are overwhelming, yet we know they happened. We know because you are here to remind us, and our leaders made sure that no one in the future could deny these events. They did this through being witnesses, photographing, writing, interviewing and mourning.
Would someone other than a General Dwight D. Eisenhower have ordered the comprehensive documenting of the liberated camps and what occurred there so that future generations would know the truth?
Our religion teaches compassion, yet where was compassion, understanding and kindness to be found in the Holocaust? It was found in the human moments of sharing a morsel of food, or a sacrifice so that someone else might live, and in the rescuing of lives. Christian and Moslem rescuers hid children and adults even at risk to their own family. Most people did not do that. That is the horror. However we draw inspiration from those who were rescuers, from the country of Denmark, and from Jews who found ways to stay alive and sane in a world gone mad.
We gather in the United States at a time, it is difficult to believe, when Anti-Semitism has increased to a dangerous level especially in Europe and the Middle East. We don't have to imagine someone saying we will wipe Israel off the map, it is being said in Iran.
The hatred of racism challenges us and our faith. Can we be true to the goodness we have been taught, the love of man, while these dangers of hatred are real and deadly?
We should be gratified that we can ponder these questions in freedom with our neighbors, family and friends. We are fortunate that we have been blessed with a better heritage in the United States. Most survivors went to Israel, nevertheless after Israel many thousands also came to America.
Remembering reminds us of life, duty, and humanity. It reminds us to be builders in our tradition yet vigilant in confronting the worst in humanity, the hatreds which are irrational and contagious.
We thank and bless those who survived, those who were rescued, the armies and individuals that rescued them, while remembering the incomprehensible loss, the unspeakable.
We gather so that we are reminded why we exist, to bless one another and to make life better for each other.
Rabbi Arnold Saltzman
---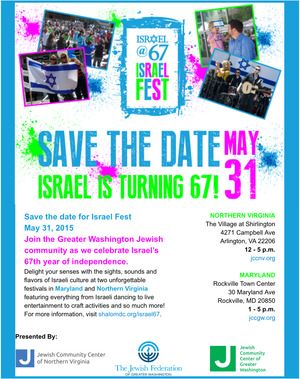 ---
Good Neighbor Committee
by Elise Ward
Hevrat Shalom's Good Neighbor Committee is available to assist sick or healing congregation members. Committee volunteers may help with an errand, prepare a meal, check-in with a phone call or visit members who request congregational support during a difficult time.

If you would like assistance from the Committee, please contact the Committee Chairperson, Elise Ward, at 301-294-2493. You may also contact Rabbi Saltzman at 202-244-6871 and a Committee member will contact you to see how we may be of assistance.

If you would like to become a Committee member, please contact Elise Ward. Everyone is welcome. Your help will strengthen and support our Hevrat Shalom community.

---
Sponsor an ONEG
by Elise Ward
Onegs are an integral and very pleasant part of our Friday night Shabbat Services. The Onegs provide an opportunity for congregants to celebrate Shabbat with wine and challah as well as spend time conversing with one another. Onegs are also a wonderful opportunity to acknowledge a birthday, anniversary, graduation or other special lifecycle event. If you would like to sponsor an Oneg by ordering a cake or other special treat, please contact Bess Shay at 301.977.2822 or Sue Tubbs at suetubbs@verizon.net to make arrangements.
---


May Yahzreits

Laura Dahlquist, Mother of Kay Permison
Edith Felkow, Sister of Irene Shapiro
Irene Ginsberg, Mother of Miriam Rothchild00
Mollie Goldman, Mother of Sandra Wolk
Sally Hamburger, Mother of Irma Bierman
Loid Mackler, Sister of Sandra Wolk
Morris Myers, Father of Joseph Myers
Gladys Pearlstein, Sister of Gerald Lang
Louis Perlman, Grandfather of Diane Marcus
Evelyn Schulman, Mother of Bonnie Dutcher
Gary Sherman, Brother in law of John and Charlotte Lass
Theodore Sussman, Grandfather of Ted Bahr
Evette Weiss, Aunt of Elaine Moses
Herman Wolk, Husband of Sandra Wolk
Donations:
Mimi Goldstein , Memory of her Husband Herman Kravitz
Irving Pollack, Memory of his Wife Shirley
Carolyn & Ted Bahr, Memory of Joe Hamer
Carolyn & Ted Bahr, Memory of Joav Steinbach


---
Hevrat Shalom Board of Directors:

President: Steve Permison
Vice President: Jack Goldman
Treasurer: Jack Goldman
Ingleside Liaison: Carol Bahr
Publications Editor: Sid Verner
Members at Large: Bonnie Dutcher, Joseph Hein, John Lass, Diane Marcus, Gene Silverman, Sid Verner,
Elise Ward, Sandra Wolk

Committee Chairs:
Education: Rabbi Arnold Saltzman
Funeral Practices: Jack Goldman
Garden of Remembrance Diane Marcus
Good Neighbor: Elise Ward
Ingleside Advisory: Carolyn Bahr
Jewish Film Festival David Elkaim
Membership: Carolyn Bahr & Bonnie Dutcher
Oneg: Bess Shay
Public Relations: Gene Silverman & Sandra Wolk
Ritual: Board of Directors