From The President
July President's Message
On June 5th, with approximately sixty members and friends in attendance, Rabbi Saltzman and Rabbi Kuperman, together with our Senior Cantorial Soloist, Caron Dale provided a wonderfully spiritual, cultural and educational Sabbath Service. Our rabbis reminded us of the Vigil for Alan Gross that marked its fourth year this past December and Caron Dale spoke as our final Distinguished Speaker of the season.
Recently, the Jewish Community Relations Council (JCRC) honored Rabbi Saltzman with an award for his leadership organizing and maintaining the vigils held weekly on behalf of Alan Gross and the need to free him from his imprisonment in Cuba and bring him home. This past December the Vigil marked its fourth anniversary with speakers that included his wife, Judy Gross, the Honorable Ike Legget, Montgomery County Executive, the Honorable John Delaney, Congressman for Maryland's 6th District, the Honorable Chris Van Hollen, Congressman for Maryland's 8 District and our award-winning Rabbi Saltzman. The Jewish Relations Council recognized Rabbi Saltzman for his leadership of this critical vigil.
Caron Dale, as the final Distinguished Speaker for 5774, using audio, video and of course music, told us the story behind the exciting new not-for-profit organization she has formed known as Chords of Courage. Caron writes on the Chords of Courage website: "In the 1960's we experienced a social revolution with music at its core. Through broadcast and social media, schools, and popular events, we can do it again. Won't you join us in highlighting the courageous among us as we shine a spotlight on the ordinary to the extraordinary." More information about this wonderful initiative may be found at: chordsofcourage.org
Making the service particularly special: Carol and Ted Bahr's immediate family held and paraded the Torah and their grandson, Noah, who recently celebrated his Bar Mitzvah, chanted the Torah Blessings and read from the Torah; we welcomed new member, Carol Witt. Florence Margolis's cousin, Sidney Katz, Mayor of Gaithersburg, attended the service and graciously made himself available for questions about our community during the Oneg, which was greatly enhanced by a delicious cake provided by the Bahr's in celebrate of Noah's Bar Mitzvah.
---
An Ordinary Life NOT
Senior Cantorial Soloist Caron Dale
Part of her series, "People of Great Courage"
Nicholas started life in a seemingly ordinary way. His German Jewish parents were immigrants to his birth country England. They converted to Christianity in an effort to integrate. He became a banker and life seemed to be moving along normally.
Shortly before Christmas, when he was planning to go skiing in Switzerland, he decided instead to visit his friend Martin Blake in Prague who had asked him to assist in Jewish welfare work. The year was 1938. Nicholas Winton single-handedly established an organization to aid children of Jewish families at risk from the Nazis.
In November 1938, following Kristallnacht, the British House of Commons approved a measure to allow the entry of refugees younger than 17 providing they had a place to stay, and a warranty of 50 pounds was deposited for their eventual return to their own country.
Thanks to the guarantees he obtained from Britain, Nicholas Winton saved 669 children, many of whose parents perished in Auschwitz. His mother worked with him to place these children in homes and hostels.
The last group of 250 children, scheduled to leave Prague on September 1, 1939, did not reach safety. Hitler had invaded Poland and World War II had begun.
Winton kept quiet about his incredible accomplishment until 1988 when his wife Grete found a detailed scrapbook in their attic. It contained lists of the children, including their parents' names, and the names and addresses of the families that took them in. By sending letters to these addresses, 80 of "Winton's children" were found in Britain.
Sir Nicholas Winton is on record as acknowledging the vital roles of Beatrice Wellington, Doreen Warriner, Trevor Chadwick and others in Prague. Winton was only in Prague for about three weeks before the Nazis invaded. As he wrote "...Chadwick did the more difficult and dangerous work after the Nazis invaded...he deserves all praise."
He has received numerous honors including being knighted by the Queen of England in 2002 in recognition for his work on the Czech Kindertransport, in 2008 being honored by the Czech government in a number of ways, and at least 3 movies about what he did Prague.
He is 105, lives in London and is an inspiration beyond measure.
---
Hevrat Shalom Board of Directors:
President:
Stephen Permison
Vice President:
Jack Goldman
Treasurer:
Jack Goldman
Secretary/Bookkeeper:
Sue Tubbs
Ingleside Liaison:
Carol Bahr
Publisher:
Irwin Schaeffer
Publications Editor:
Sid Verner

Members at Large:

Bonnie Dutcher

Joseph Hein

John Lass

Diane Marcus

Irwin Schaeffer

Sid Verner

Elise Ward

---
No rain this year for the Annual Picnic, held again at Beth and Elihu Zimet's lovely home with deck, screened porch and patio. Approximately 40 members attended, including both Rabbis and their families, and enjoyed tasty refreshments and lively conversation. All basked in the great sunny Spring like day while sitting on the deck overlooking a beautiful green forest.. It was a real pleasure to get together in the relaxed atmosphere of a picnic with food deliciously prepared by the Zimets. Anyone who missed it should really plan to attend next year. Those who were there will certainly not fail to appear next year, It is a wonderful way to spend an afternoon with fellow congregation members. And a BIG thank you to Beth and Elihu and their son who helped with all the preparation and much of the cooking.
Carol Bahr
Pictures from the Picnic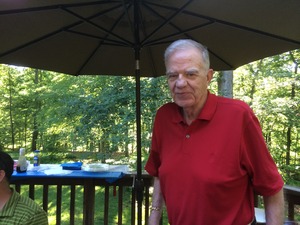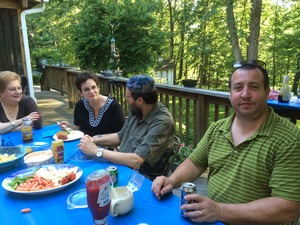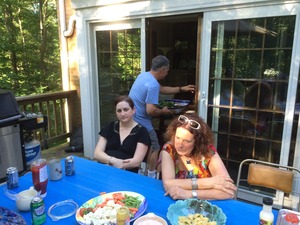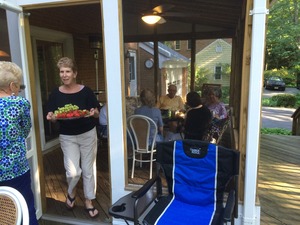 From Rabbi Saltzman

On the occasion of being given an award recognizing Rabbi Arnold Saltzman for Organizing the Vigil for Alan Gross
Ron Halber, Gwen Zuares, and JCRC Board Members
To Ron Halber, Executive Director of the Jewish Community Relations Council &
Gwen Zuares, Vice President of the American Sephardi Federation and sister-in-law of Alan Gross

Thank you for this award for organizing and maintaining the Vigil to Free Alan Gross, a prisoner in Cuba for four and half years.

I wish that Alan Gross were here so that we could celebrate his freedom.
There is so much misinformation about this case that it is important to set the record straight. Alan Gross had been arbitrarily seized by Cuba for minor infractions of Cuban Law, and instead of either a financial penalty or evicting him from Cuba, they illegally arrested him detained him for 14th months, and then came up with charges in order to trade him for Cubans in US prisons.

During the trial he was escorted by many Cuban 'special ops' guards, while Alan thought this was ludicrous. He went to Cuba a number of times and was interested in helping the Cuban Jewish community gain better access to outside communication which is strictly controlled by Cuba.

The United Nations ruled his arrest was illegal and arbitrary, yet people continue to go to Cuba ignoring this issue, at their own risk. Alan has done nothing wrong. His education in Maryland, his association with Jewish communal organizations, such as B'nai B'rith Youth, exemplify the kind of background we want in the Jewish community. In addition, for twenty-five years he travelled around the world helping communities in Africa, the Middle East and Afghanistan. None of his life work was taken into consideration by the Cuban legal system. Instead they gave him an unprecedentedly long prison sentence.

He and his family have suffered immeasurably during this time. Mostly, I am sorry to say our community has not rallied sufficiently in this matter. We demonstrate, yet, community leaders are absent from the Vigil. Why?
If we truly believe 'to save a life, is to save an entire world' should we not be out there to rescue this good man?
Would it damage anyone, even the United States, if we were to negotiate for his release? Maimonides says that if the exchange for a hostage does not do irreparable damage, then we should do it.

Israel demonstrated to its citizens that it would exchange 1000 prisoners for one young man. That message lifted the morale of all Israelis.
Before we go to settle wars, and ventures around the globe, perhaps we could learn something from rescuing this one man. Then we would demonstrate that being an American is valued by our government.

I have spent 400 hours working on this while Alan Gross has spent, 40,000 hours in prison. We need you to do more. Join us and nudge your representatives. Speak out, and ask your friends to make an issue of this. There is too much silence. We need to do what the Executive Director of the JCRC, Ron Halber did - demand Alan's release now!

Rabbi Arnold Saltzman
Rabbi, Hevrat Shalom Congregation of King Farm, Rockville, Maryland

The Vigil meets every Monday @ 12:00 Noon for 30 minutes at the Cuban Interests Section on 16th Street, two blocks south of Columbia Road in Washington, DC.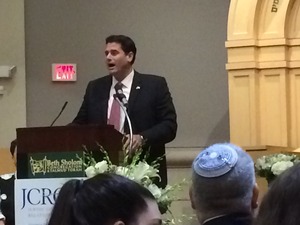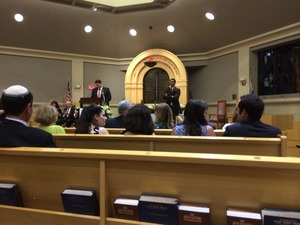 The new Ambassador of Israel, His Excellency Ron Dermer.
As part of my (Rabbi Saltzman) being on the Board of Directors of the Jewish Community Relations Council, Hevrat Shalom Congregation of Maryland is a supporter of the JCRC which represents over 100 Jewish organizations focusing on Social Justice, Israel Advocacy, and Government Relations. JCRC is a partner of the Jewish Federation. On June 16, 2014 several people were given awards including William Daroff, Yvonne Schlafstein Distenfeld and Jeffrey S. Distenfeld, and Paul Berger. On this occasion Ambassador Ron Dermer spoke which was the highlight of the evening (with honorary sponsors Robert and Arlene Kogod). This new and youthful Ambassador of Israel is very articulate and reminded us of how both Israel and the American Jewish community are united in demanding the release of three kidnapped teens in Israel.
---
Donation Funds
Hevrat Shalom is a small and growing congregation with two outstanding Rabbis and two fantastic Cantorial soloists. Dues cover many of our basic expenses but not everything. We are very fortunate to have members and friends who have generously donated to our various funds.

These donations have allowed us to present many additional services to the congregation and surrounding community such as Chanukah celebrations, Passover Seders, special musical presentations, Bible study, and the Jewish Film Festival.
If you would like to honor or remember a person or event, please consider donating to one of the funds listed below. If appropriate please give the name and address of the person or family member we should notify of your gift.
mail a check to:
Hevrat Shalom
P.O. Box 3606
Gaithersburg, MD 20878
GENERAL FUND

RABBI'S DISCRETIONARY FUND

JEWISH FILM FESTIVAL FUND

PRAYER BOOK FUND
In each newsletter we will mention the most current donations unless otherwise instructed.
---
Good Neighbor Committee

Hevrat Shalom's Good Neighbor Committee is available to assist sick or healing congregation members. Committee volunteers may help with an errand, prepare a meal, check-in with a phone call or visit members who request congregational support during a difficult time.

If you would like assistance from the Committee, please contact the Committee Chairperson, Elise Ward, at 301-294-2493. You may also contact Rabbi Saltzman at 202-244-6871 and a Committee member will contact you to see how we may be of assistance.

If you would like to become a Committee member, please contact Elise Ward - all are welcome to strengthen and support Hevrat Shalom.
---