President's Message
Steve Permison

Our New "Fiscal Year" is Here.
As I am writing, June is bursting out all over and with the sunshine and flowers comes the end of our fiscal year and the beginning of our next fiscal year. At our last Board of Directors meeting it was determined to maintain dues and the assessment at the current rate. The decision not to raise dues is based on our hope to increase membership during the new fiscal year at Ingleside, King Farm and surrounding communities by ten percent. Hopefully, membership growth will offset our increasing expenses.

As a reminder, your 2015 - 2016 High Holy Day tickets are included with your 2015 - 2016 membership as long as you are in good-standing vis-a-vis our new fiscal year which begins July 1, 2015. By the time you read this article, you will have received the 2015-2016 membership dues statement from our Secretary/Bookkeeper, Sue Tubbs, and will probably have already paid your 2015 - 2016 dues.

Due to construction at Ingleside, High Holy Day services this year will be held at the Bohrer Center on Route 355 in Rockville. The Bohrer Center is a beautiful, nearby facility with good logistical support and ample parking. We anticipate that Ingleside will provide bus support for Ingleside residents. We have not yet determined if and/or where the Yom Kippur Break-the-Fast will be held.

With our new fiscal year, Hevrat Shalom Congregation begins its 16th year as a congregation, having been incorporated as a 501 C3, non-profit organization in 1999. Since our beginning, every year has brought growth, broader services and increasing member
participation.

Currently, more congregations are shrinking than growing. We need your continued help and support to maintain our growth momentum. Please "step up to the plate" and offer - anyway you can - your individual support, both monetary and voluntary. Together let's make the new year a memorable year for our congregation; a year that enriches our Jewish heritage and brings us closer together as a community.

Shalom,
Steve

---
LET IT SHINE, LET IT SHINE,
LET IT SHINE
By Senior Cantorial Soloist Caron Dale

Summer is here and daylight is with us so much longer. It got me to thinking about the importance of light in Judaism. Fire is one of the most basic elements of our world. It is frightening while also warm and inviting. Candles are a powerful symbol in Jewish life. They are often thought of as a reminder of God's divine presence. We light candles on Jewish holidays and Shabbat, as part of shalom bayit-harmony in the home. We wave our hands around the Shabbat candles seven times to welcome the Sabbath bride and to draw light into ourselves. It symbolizes the six days of Creation and the beginning of the seventh day, the day of rest. And on Saturday night, Havdalah (separation) is made with a special candle, a cup of wine and fragrant spices, to bid farewell to the wonderful and holy Sabbath as we begin a new week.

Candles also represent joy. In the book of Esther there is a passage that equates light and joy (Esther 8:!6). In Jewish tradition the candle flame is thought to symbolically represent the human soul and serves as a reminder of the frailty and beauty of life.

In Proverbs (20:27) it says that, "The soul of man is the candle of God." Just like a human soul, flames must breath, grow, strive against the darkness and ultimately fade away. Thus the flickering of the candle helps remind us of the fragility of our lives and the lives of our loved ones. It reminds us how we must cherish and embrace these lives as much as possible. And because of this symbolism, Jews light memorial candles for yahrzeits.

As one of my favorite songs says, "This little light of mine, I'm gonna let it shine." Wishing you and your families much light and joy this summer and always.
---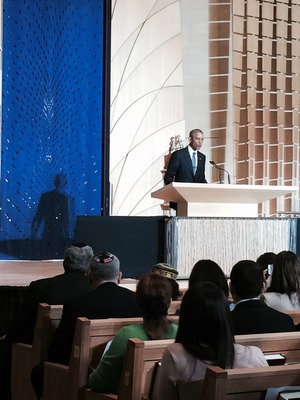 This photo was taken by Rabbi Arnold Saltzman of President Barak Obama on May 22, 2015 when he spoke at Adas Israel on American Jewry, America and Israel, Iran, and anti-Semitism.
"I was invited and given VIP treatment and I was very proud to be part of the audience for this historic occasion." Rabbi Arnold Saltzma - Rabbi of Hevrat Shalom of Maryland
---
Quote:
"Trusting in the One Above doesn't mean waiting for miracles. It means having confidence in what you are doing right now because you know He has put you on the right path and will fill whatever you do with divine energy and blessing from on high"
---
Welcome New Member:
Welcome to Harvey and Martha Goldstein to our congregation. The Goldstein's are residents of King Farm. Please introduce yourself and welcome them.
---
Good Neighbor Committee
by Elise Ward
Hevrat Shalom's Good Neighbor Committee is available to assist sick or healing congregation members. Committee volunteers may help with an errand, prepare a meal, check-in with a phone call or visit members who request congregational support during a difficult time.

If you would like assistance from the Committee, please contact the Committee Chairperson, Elise Ward, at 301-294-2493. You may also contact Rabbi Saltzman at 202-244-6871 and a Committee member will contact you to see how we may be of assistance.

If you would like to become a Committee member, please contact Elise Ward. Everyone is welcome. Your help will strengthen and support our Hevrat Shalom community.

Thank You Mr. President!
Sermon by Rabbi Saltzman
June 2015

On May 19, 2015 my former associate, Elinor Tattar, called to say that President Bark Obama would be speaking at Adas Israel Congregation in DC. on May 22, and that I was being informed and invited, just in case I would like to attend! My Washington, DC office is at Adas Israel where I served as Cantor-clergy, Chair in Jewish Music, and now Cantor Emeritus over a period of 34 years.

I said 'Yes!' Thank you!

If some of the leadership of the American Jewish Community and the citizens of Israel give low ratings to President Obama, they should take note that 1500 tickets were gone in 24 hours.

I arrived Thursday morning at 8:30 AM in order to stand on line for the 9:30 AM security check. There were already hundreds of people waiting with a line stretching down Porter Street. The atmosphere was joyous in anticipation of the event.

The President's Jewish liaison, Matt Nosanchuk, is a member of Adas Israel and suggested speaking there when asked to "find me a synagogue." The President's poll ratings have dropped below 50% approval, although it's not unusual. Among Jewish voters he is at 54%, and above the national average. Orthodox Jews are least likely to give him positive ratings. The advantage he has had is narrowing. Educated Jews, men and women, are most likely to support him.

His rating dropped over the flap with Israel over the Iran negotiations and has remianed the same. Why was he speaking at Adas Israel?

A young man came down the long line looking for me, and escorted me in early for a VIP seat. Rabbi Gil Steinlauf who spoke briefly mentioned that from President Ulysses S. Grant to Rev. Dr. Martin Luther King, Jr., to Golda Meir and Yizhak Rabin, to Vice President Al Gore, and the Dali Llama, the Adas Israel pulpit has a prestigious tradition like few others.

When President Obama entered and stood before the Ark and Torahs, he received tumultuous applause and cheers. If anyone thinks that this president is not liked by the Jewish Community they are mistaken. He is beloved by many.

In 1790 President George Washington sent a letter to the Jewish Community of Newport, Rhode Island, which Obama mentioned quoting "To Bigotry No Sanction, To Persecution No Assistance." Many American Presidents have corresponded with the Jewish community including Jefferson, Madison, Monroe, Lincoln...

It was President Grant who was the first to visit during the service of dedication of Adas Israel in 1876. President Grant had some guilt as the result of his General Order No. 11 that singled out Jews for expulsion for Black Market cotton trading. He mistakenly blamed the Jews. President Lincoln revoked General Grant's order. When President Grant was at Adas Israel he made a $10 donation. That was 139 years ago. I was invited to participate in the 139th anniversary, but had to send my regrets as we were expecting a granddaughter.

President Obama announced Jewish Heritage Month, recognizing the contribution that Jewish Americans have made to the United States, to the world, in every field including: Business, Science, Math, the Arts, Politics, IT, Law, Religion, Sports, Literature, Education, Jewish Philanthropy.
Why did he do this?

There is anti-Semitism in the world, even in the United States. Sending the message to all Americans of our good works is an affirmation from Washington, that we will not tolerate bigotry. This is a common cause with other groups that experience bigotry and racial hatred.

President Obama also denied that he has not been a good friend to Israel. He said that he is Israel's best friend and would never desert it. In Israel he has an 8% rating which is about the same for our congress. Obama joined a hand full of presidents who have spoken at synagogues while in office: Ulysses Grant, Calvin Coolidge, President Eisenhower, and George W. Bush who spoke at 6th and I Synagogue for the 350th Anniversary of Jews coming to America. Both Richard Nixon and Gerald Ford spoke at Adas Israel on the occasion of a memorial for Arthur Burns.

Senator Barak Obama and Michelle Obama visited Adas Israel attending the Bar Mitzvah for Jake Genakowski, son of Julius Genakowski and Martha Raddatz. I gave the Obamas a tour of the building following services after introducing myself as cantor and as the teacher of the Bar Mitzvah. I had no idea who they were, except that they were a beautiful couple.

We should be grateful for being Americans. Our President affirmed our contributions to the United States and the World. This was memorable and historic affirming the role that Jews play as Americans. I am grateful that our leaders have a tradition of inclusiveness going back to George Washington, and I will always remember May 22, 2015 and speak of it. Thank you, President Obama!

---
Sponsor an ONEG
by Elise Ward
Onegs are an integral and very pleasant part of our Friday night Shabbat Services. The Onegs provide an opportunity for congregants to celebrate Shabbat with wine and challah as well as spend time conversing with one another. Onegs are also a wonderful opportunity to acknowledge a birthday, anniversary, graduation or other special lifecycle event. If you would like to sponsor an Oneg by ordering a cake or other special treat, please contact Bess Shay at 301.977.2822 or Sue Tubbs at suetubbs@verizon.net to make arrangements.
---

July Yahzreits
Bertha Baitz, Mother of Micky Hamer
Betty Bryan, Mother of Sonja Dunie
Devera Danovitz, Mother of Norma Dancis
Rise Dickter, Mother of Irene Shapiro
Manual Dickter, Brother of Irene Shapiro
Lullie Geneslaw, Mother of Charlotte Lass
Mollie Goldman, Mother of Sandra Wolk
Samuel Gordon, Father Meyer Gordon
Jacbo Levin, Father of Inabelle Levin
Philip Rothchild, Husband of Miriam Rothchild
Sara Shapiro, Mother of Hyman Shapiro
Jack Verner, Father of Sid Verner
Marvin Zim, Husband of Anne Zim
Rebecca Zimet, Mother of Elihu Zimet
Sidney Zimet, Father of Elihu Zimet
Donations:
Barry Muchnick, Baby Naming "Clio"
Harry Zutz, Oneg Sponsor
Harry Zutz, Memory of Max Zutz

---
Hevrat Shalom Board of Directors:

President: Steve Permison
Vice President: Jack Goldman
Treasurer: Jack Goldman
Ingleside Liaison: Carol Bahr
Publications Editor: Sid Verner
Members at Large: Bonnie Dutcher,
Joseph Hein, John Lass, Diane Marcus, Gene Silverman, Sid Verner,
Elise Ward, Sandra Wolk

Committee Chairs:
Education: Rabbi Arnold Saltzman
Funeral Practices: Jack Goldman
Garden of Remembrance Diane Marcus
Good Neighbor: Elise Ward
Ingleside Advisory: Carolyn Bahr
Jewish Film Festival David Elkaim
Membership: Carolyn Bahr & Bonnie Dutcher
Oneg: Bess Shay
Public Relations: Gene Silverman & Sandra Wolk
Ritual: Board of Directors