October 2010
Amaz!ng Updates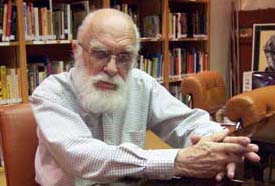 Friends,
The past year has been noteworthy to say the very least. D.J. Grothe came on board as President of our Foundation and there were new additions in staff (with a focus on educational programs and fundraising). These facts have ensured that the JREF is moving in directions that still astound these old bones. July saw TAM 8 draw a record number of attendees (over 1300!), and by all accounts it was the best Amaz!ng Meeting ever. I have to concur with the consensus. And I am happy to say that the dates for TAM 2011 are announced below.
There have been other changes at the JREF. As happens in the life of many organizations, some of our staffers, including longtime employee Jeff Wagg, have moved on. But we are happy to say Jeff remains with the JREF in spirit, and as you will read below, will be involved in an exciting new program that we are currently launching, along with another meritorious addition to our ranks, Karen Stollznow.
For those of you who have supported the JREF since our inception in 1996, and even for those folks who are new to our coterie, there are a plenitude of reasons to be delighted. For instance, the JREF plans in the short term to enter the realm of digital publishing with skeptical titles poised for release on the iPad and iPhone, Kindle, and other digital schemes. We are increasing our video content on randi.org. We have also launched a new Grants for Educators program and our Regional Workshops are a reality with St. Louis, Chicago and Louisville already on record as the first of many such planned skeptical assemblages. We also recently awarded four new academic scholarships.
As we unveiled at TAM 8, we are working to expand our famous Million Dollar Challenge under the leadership of our close friend Banachek, more details of which will be announced shortly, I'm sure. And our own Brandon Thorp continues to break news stories of keen interest to the skeptical community, first with the exposé of pseudoscientific anti-gay Christian activist George Rekers and then most recently with an exposé of anti-vax efforts to pressure the Florida Department of Health with possible support from none other than Gov. Charlie Crist!
As for myself, I'm back in fine fettle and feeling healthy. I recently completed a rollicking peregrination of Europe where sold-out venues were the norm. And I also just returned from appearances at Dragon*Con in Atlanta and at the Magic Castle in Hollywood, speaking to standing-room-only audiences. This response has inspired me to get out on the road and traverse North America more in the coming months — a tour of science centers is in the works! And of course, the next few weeks and months you will see me at TAM London and TAM Australia, in addition to appearances at the secular humanism conference in Los Angeles, and at events in Montreal, Quebec and in Dublin, Ireland. This proves to me that our message of sanity and reason is well-received around the world!
I have never been more optimistic about the future of our humble organization. And so, may I thank you, from the bottom of my heart, for supporting the James Randi Educational Foundation!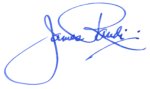 James Randi, Founder

The Amaz!ng Meeting 2010 Largest Yet!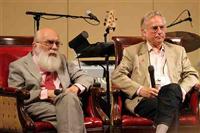 The skeptical blogosphere was abuzz with reviews and comments about this year's Amaz!ng Meeting. Here's a round up of some of the interesting reactions we've run across:
The JREF thanks all these bloggers for taking the time to share their thoughts about this Amaz!ng event.



2010-2011 Academic Scholarship Winners
The James Randi Educational Foundation is pleased to announce the recipients of the academic scholarships for 2010 - 2011. Now in its fourth year, this program once again awards $10,000 to four students that have demonstrated critical thinking in their studies and promoted rational skepticism within their institutions and future disciplines.
The awards are made based on how closely each applicant's achievements and activities reflect the goals and values of the James Randi Educational Foundation: bringing critical thinking to the public, exposing pseudoscientific frauds, and promoting real science and rationality. This year the JREF has modified the awards to make sure that the students at both the undergraduate and graduate levels are supported. To this end the annual $10,000 was split into four grants of $2500 each, two which were awarded to undergraduates, Patrick Neal Russell Julius and Jasleen Grewal, and two more to students in Masters or Doctorial programs, Nani Dahniar and Andrew Luttrell.
More information on the program and this year's winners can be found on randi.org.

JREF Appoints Two Research Fellows
The James Randi Educational Foundation is pleased to announce Jeff Wagg and Karen Stollznow as newly appointed Research Fellows. The new program recognizes writers and researchers in scientific skepticism and aims to give them a platform to further their research into scientific skepticism, science communication, critical thinking and belief in the paranormal. Fellows will conduct original works of research or scholarship for the Foundation, which may include documented reports of paranormal investigations, production of a manuscript published by the JREF for print, iPad or Kindle; management of a Million Dollar Challenge, or similar work. In addition, research fellows will write regular blog posts and be offered in the JREF speakers bureau, available for selected speaking engagements throughout North America.
Jeff Wagg, formerly on the staff at the JREF, is a long-time contributor to randi.org and to a number of local skeptics organizations. He is constantly asking the question "what does it mean to be a skeptic?" He believes the issue isn't whether science offers enough answers, but rather, does it offer enough questions? Jeff was involved in running several TAMs, and created the Amaz!ng Adventure program, JREF's popular travel club. He also instituted the $10,000 in annual scholarships awarded by the JREF, and administered the JREF's Million Dollar Challenge for a number of years. And he is one of the few people who have been in the employ of the JREF to have also been the subject of a Million Dollar Challenge.
"When Jeff decided to move on from the JREF, I was personally sad to see him go, but we are all very pleased that he will stay involved in our efforts. Through this Research Fellowship, he will continue to contribute to skeptical education," said JREF founder James Randi. "He is a man of many talents, and I look forward to seeing what his research reveals!"
Dr. Karen Stollznow is a host of the Point of Inquiry podcast, and co-host of the Skeptics Society's Monster Talk podcast. A prolific skeptical writer and investigator of pseudoscience and the paranormal, she is the "Naked Skeptic" web columnist for the Committee for Skeptical Inquiry and the "Bad Language" columnist for Skeptic magazine. Dr. Stollznow is Contributing Editor for Skeptical Inquirer, is the Managing Editor of CSI's Scientific Review of Mental Health Practice, and a frequent contributor to many sites and publications. She is a Linguist and Researcher at the University of California, Berkeley, and a Director of the San Francisco Bay Area Skeptics.
"Karen is a leading voice of a younger generation of scientific skeptics. She is an experienced paranormal investigator and science writer, and I am confident she will develop thought-provoking ideas for the science education and skeptical communities through her research at the foundation," said JREF president D.J. Grothe. "Our new research fellows are a welcome addition to the JREF's stable of academic supporters and activists as it expands its efforts to advance critical thinking and skepticism in society."

Upcoming JREF Events
October 7 - 10 - Council for Secular Humanism Conference in Los Angeles to feature James Randi on Faith Healers. Randi joins an outstanding roster of other speakers such as Richard Dawkins, Paul Kurtz, PZ Myers, Lawrence Krauss, Richard Carrier, Rev. Barry Lynn, Barry Kosmin, Chris Mooney, Robert Price, Ron Lindsay, Sam Harris, Robert Wright, Victor Stenger, Sean Faircloth, and others.
October 14 - The University College Dublin Humanist Society in Dublin, Ireland is hosting James Randi for a lecture titled: Search for the Chimera, An Overview of How Science Has Pursued Magic and Miracles in the 20th Century and Into the 21st Century.
October 16 - 17 - McGill University's Lorne Trottier Public Science Symposium Series in Montreal, Canada is hosting James Randi for a disucssion on the difference between science and "pseudo" or "false" science. Other panelists include Ben Goldacre, David Gorski, and Michael Shermer.
October 18 - TAM London 2010 in London, England to feature James Randi. Other speakers include Richard Dawkins, PZ Myers, Alan Moore, Stephen Fry, Andy Nyman, Cory Doctorow, Susan Blackmoore, Richard Wiseman, D.J. Grothe, Tim Minchin, Simon Singh, and Rebecca Watson among many others.
November 19 - 21 - Skepticon 3 in Springfield, Missouri to feature James Randi, D.J. Grothe. Skepticon is an annual skeptics convention organized by the Missouri State University's student freethought organization, and underwritten by private donations and the University of Missouri. Past Skepticons have featured speakers such as Victor Stenger, Dan Barker, Rebecca Watson, D.J. Grothe, PZ Myers, Robert Price, amd Joe Nickell. This year, Skepticon 3 will feature panel discussions on "Confrontation vs. Accommodation" and the question "Does skepticism necessarily lead to atheism?"
November 26 - 28 - TAM Australia 2010 in Sydney, Australia will feature James Randi and other speakers such as Simon Singh, the entire cast of The Skeptics' Guide to the Universe, D.J. Grothe, Brian Dunning from Skeptoid, Krissy Wilson, Eugenie Scott, George Hrab from the Geologic Podcast, Dr Karl, Fred Watson, Rachael Dunlop and others.

New JREF Videos Online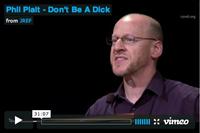 To extend its educational mission online, the JREF is publishing a number of archival videos in their entirety. These include popular sessions from previous TAMs heretofore only available for purchase.
One video posted recently was Phil Plait's much discussed "Don't be a Dick" talk from this year's Amaz!ng Meeting about the best approaches to adopt when working to advance skepticism and critical thinking in our world.
Other videos online at randi.org include: Professor Richard Wiseman discussing Sai Baba, the psychology of perception and deception, and a demonstrating a how-to on "psychic" spoon-bending (featuring instruction from Teller, of the magician duo Penn & Teller) for the 800+members of the audience, breaking a world record; Ben Goldacre's presentation on homeopathy at TAM 6, South Park Creators Trey Parker and Matt Stone; and an extensive discussion of the relationship of magic to skepticism featuring James Randi, Penn and Teller, Ray Hyman, and Jamy Ian Swiss from TAM 7. More videos will be added each week.

Dowsing Workshop in Chicago Finds Skeptics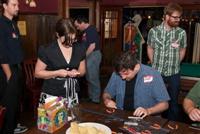 Thanks to Jennifer Newport and the Chicago Skeptics for helping to host the James Randi Educational Foundation's regional workshop in Chicago in August. Participants made their own dowsing rods and pendulums while learning how to set up a scientific study to test their effectiveness. The workshop also included a historical review of divination as well as an in-depth look at the dangers of contemporary dowsing including the ADE 651 "bomb detector" exposed as a fraud by James Randi.
The Chicago Dowsing workshop was the third in a series that also included events in St. Louis, Missouri and Louisville, Kentucky.
Watch Randi.org for information about new JREF regional workshops in additional cities to be announced soon.

First JREF Educator Grant Awarded to Alan Leipzig
The James Randi Educational Foundation is pleased to announce that it will be providing funding to Alan Leipzig of Seminole Middle School in Plantation, Florida. Leipzig's project, called Retaking the Stars, will be part of his Starfleet Academy, an astrophysics/engineering class for 8th graders.
Students will use the research materials purchased by this grant to systematically investigate the claims and history behind astrology and the science against it. At the same time Leipzig will use a variety of approaches to teach critical thinking concepts such as the Forer Effect, wishful thinking, confirmation bias, logical fallacies, and selective thinking.
The JREF is very excited to support this kind of work and will be awarding additional grants as funding allows. Click here for more information on applying for a grant or to help support this important program.

The JREF Needs Your Support!

The James Randi Educational Foundation is a not-for-profit organization founded in 1996 by celebrated social critic and magician James Randi. Through media appearances, public lectures, grassroots organizing, resources for educators, academic scholarships, regional and national events and digital publishing, the JREF promotes critical thinking by reaching out to the public and media with reliable information about paranormal and supernatural ideas so widespread in our society today.
Members support the important work of James Randi and the Foundation.
All members receive:
Satisfaction of Supporting the JREF's important work
Membership Card
$50 Discount to The (U.S.) Amaz!ng Meeting
Free or discounted admission to regional JREF events
First time members receive a gift of a JREF USB flash drive (2 GB). This drive is tiny, laser-etched so the JREF logo never rubs off, and contains the digital version of the Encyclopedia of Claims, Frauds, and Hoaxes of the Occult and Supernatural. The drive also contains three Randi Speaks videos, formatted for viewing on an iPod or Zune media player.
Please become a member today by clicking here.