OPEN POSITION: PT Urban Gardener
JOB REQUIREMENTS: The successful applicant will have at least three years of successful experience in gardening or farming, possess at least a High School or Vocational School diploma, demonstrate the ability to communicate in English (Spanish Helpful), possess a valid driver's license. Will work PT including one weekend day per week, and at least one evening per month.
JOB DESCRIPTION:
The Camden City Garden Club is seeking a part time gardener to assume responsibility for a large vegetable, fruit and herb garden located in South Camden. Produce from this garden will be sold at a farms stand at the Camden Children's Garden, and potentially in the Mobile Market scheduled to launch in Spring 2013
Send resume and cover letter to:
Camden Children's Garden
3 Riverside Drive, Camden, NJ 08103
No phone calls!
Sprouts and Seedlings ~
October 10, 17 & 24
Wednesdays--Sprouts & Seedlings "TREEmendous Trees"
Parent-Child Workshops, Ages 2-4 with one adult
Wednesdays from 10:00-11:30 AM
Registration Required$12 for each class
Join us once a month or once a week as you and your youngster plant the seeds for a life-long connection with nature. These engaging garden-themed programs nurture your child's growth in a supportive, natural setting. Each week focuses on a subtopic of the monthly theme and includes circle time, songs, hands-on activities, healthy snacks, story time, nature crafts, guided garden explorations, and a ride on our train or carousel.
Advanced registration is required. Call 856-365-9741 to reserve your spot today!
Or email: education@camdenchildrensgarden.org
Fall Family Festivals

October 13 & 14 Saturday & Sunday - 1 - 4 pm.
Mum Madness and Pumpkin Parade Family Festival.
Camden Children's Garden's salute to Autumn with pumpkin crafts, a pumpkin story and pumpkin activities. For a small fee, you can purchase and paint a pumpkin to take home (while supplies last).
Stop by the Fall Flavors Concession Stand.
October 27 & 28 Saturday & Sunday - 1-4 pm
Goblins in the Garden Family Festival.
Come in costume and have howling good time. Dodge costumed characters in our Haunted Maze, meet the bumbling burglars and have your fortune told. Trick or Treat during the Costume Parade. Celebrate the Mexican tradition of "Día de los Muertos," a fun and educational activity for the whole family.
Stop by the Creepy concession stand.
http://camdenchildrensgarden.files.wordpress.com/2012/09/fall-family-fun.jpg
-----------------------------------------------------------------------------------------------------------------------------------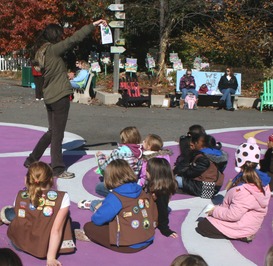 GIRL SCOUTS
October 20
Saturday – 9:30AM-1:30PM
Brownie Quest Girl Scout Festival:
Connect with other Brownies and celebrate your world with the Brown Quest Festival. On their quest in the Camden Children's Garden, Brownies will work together to discover the identity of a mystery tree based on clues in its leaves, bark, branches, and seeds. Each Girl Scout Festival begins and ends with a ceremony and makes time for lunch and rides. Reservations are required. Cost is $12.00 per Girl Scout (includes 2 ride tokens and one fun patch).
Call 856-365-9741 to reserve your spot today!
PLEASE FORWARD THIS TO A FRIEND
Would you like to be added to our email list?
http://oi.vresp.com/?fid=752bc8b170