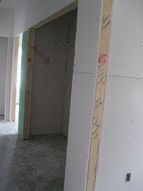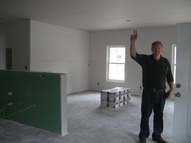 Now that the dry wall is installed, just a few of the decorative studs remain visible at The Stud House. The spaces between the studs have become real rooms!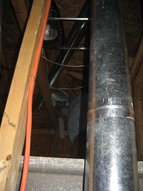 At the Tribute House, our volunteers are attending to the final details before the next inspection, and then we'll be ready for dry wall there too. Here's a glimpse of our volunteer, Wayne Richardson, attending to one of those details, getting the duct situated just so, very tricky in that small work space!
Saturday, August 8 we need more volunteers to work with Daniel McLaughlin, our Saturday Construction Supervisor. If you have already attended our Volunteer Orientation Meeting and are ready to volunteer on the construction site, Daniel will be there to greet you at 8 a.m. Work continues until around noon.
If you have not yet attended a Volunteer Orientation then please come along to this month's meeting at our office at 616 Parris Island Gateway this Saturday, August 8, at 10 a.m. to learn how you can begin to help build more affordable homes in northern Beaufort County. We have a variety of volunteer opportunities available.
This coming week there will be no construction. Work will continue Tuesday, August 18.
THANKS again for all our wonderful and dedicated volunteers do to help LowCountry Habitat for Humanity.