The Hammer, March 2018
Brooklynn Husmann watches the walls being raised on the 25th Anniversary House build - her future
home! Photo by Mike Kaneshige, USMC.
Now under construction:
the 25th Anniversary and Beaufort Bank Build homes

On three beautiful Spring afternoons this month, we raised the walls of the 25th Anniversary and Beaufort Bank Build homes at 904 and 906 Greene Street. Many thanks to all the volunteers and sponsors who came out to join in all the excitement. Special thanks to our Marine volunteers from the 1st Recruit Training battalion, to all our regular and dedicated volunteers and Board members, our 25th Anniversary House and Beaufort Bank Build Sponsors from: Ameris Bank, BB&T, Beaufort Realty Consultants, Bank of America/Merrill Lynch, CBC National Bank, Kinghorn Insurance of Beaufort, Lowcountry Real Estate and Wells Fargo, our photographers: Charlotte, John, Joshua, Mike and Patrick, and to our Family Partners who all worked together to raise the walls on these two house builds that will become home to Natiema Fuller-Busby and Brandi Hussmann, pictured below.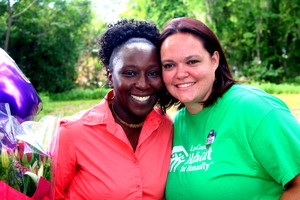 In order to complete these two house builds before the end of our fiscal year on June 30th, we are following a tight construction schedule and we need the help of all our oriented construction volunteers. The construction week has been extended and is now: Tuesday through Friday, 8 am until noon and Saturdays 8 am until 2 pm. On Saturday, we take a break around noon and volunteers staying until 2 pm are asked to bring a packed lunch in order to maintain their energy.

In observance of Good Friday, there will be no construction on Friday, March 29th.

If you wish to volunteer in construction, please notify Lee, in the office, of which shift(s) you plan to work, by emailing: info@lowcountryhabitat.org

Thank you!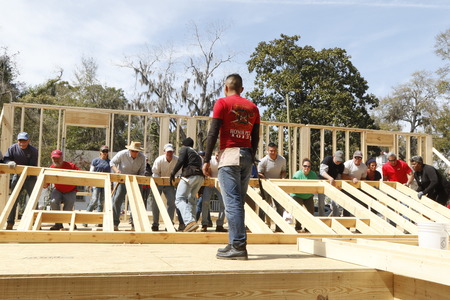 25th Anniversary house build wall raising photo by Mike Kaneshige



For more pictures of the wall raisings and progress on the 25th Anniversary and Beaufort Bank house builds, see our facebook page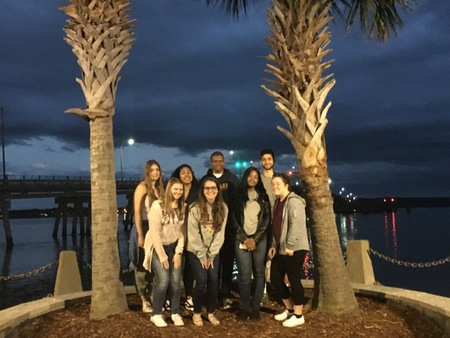 Pictured above: Neumann University Campus Ministry and below: Chi Alpha Christian Fellowship, Marshall University. Our two 2018 Collegiate Challenge groups.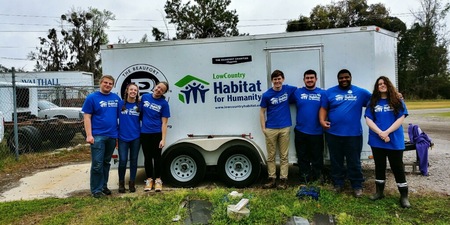 Collegiate Challenge 2018
Our two Collegiate Challenge groups this year spent their Spring break weeks working alongside our volunteers, sponsors and Family Partners on the 25th Anniversary and Beaufort Bank Build Homes on Greene Street. We are extremely thankful to them for all the work they were able to accomplish and also to those who helped make these two exciting weeks possible. We would like to recognize the following for their generosity and fabulous support: Boondocks Restaurant, Bricks on Boundary, KC MIkes Smoking Brunswick Stew, The Beaufort Charities, The Fripp Island Golf and Beach Resort, The Upper Crust, the congregations of St John's Lutheran Church, Sea Island Presbyterian Church and Waters Edge UMC, LowCountry Habitat for Humanity volunteers: Buddy Coleman, Jim Daniels, Dena Dardzinski, Pat Grasch-Carberry, Debbie Mattox, Sally Mayse, Kathy Paulik and Carlene Rogan.Thank you!

LowCountry Habitat is looking for new Family Partners. Help us spread the word.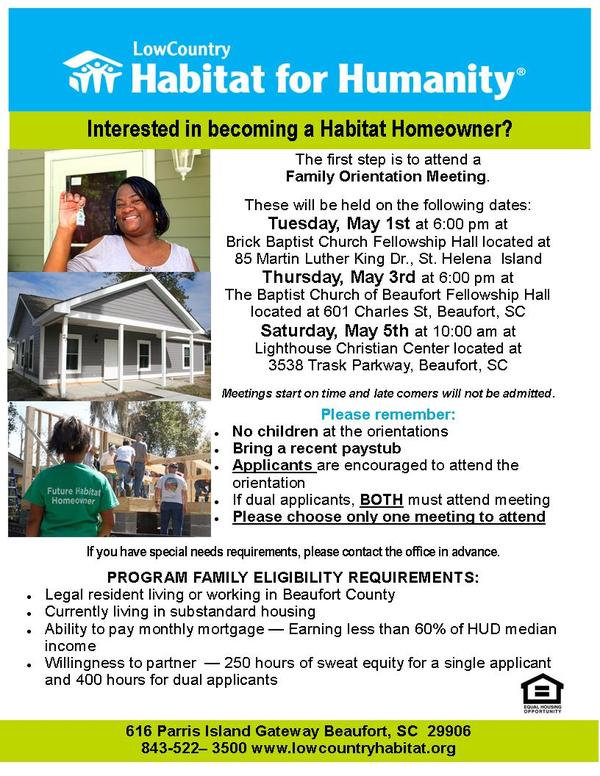 The RBC Heritage Presented by Boeing is Hilton Head Island's largest sporting and social event – and thanks to Birdies for Charity, it's also the fast, easy and fun way to have your donation to LowCountry Habitat for Humanity matched by 15%.
Birdies for Charity is like a walk-a-thon, but instead of donating per mile, participants make a pledge for every birdie made at the RBC Heritage presented by Boeing. Donors have the flexibility to pay in advance or to be billed after the tournament, or they may make a one-time donation.
In 2017, the Pros made 1,398 Birdies during the tournament. If 1,300 Birdies are made during the 2018 event, the pledges would look like this:
1 cent pledge = $13.00 total pledge
3 cent pledge = $39.00 total pledge
10 cent pledge = $130.00 total pledge
$1.00 pledge = $1,300 total pledge
All pledges must be made
online
between January 1 and April 15. All pledges must be made payable and returned to the Heritage Classic Foundation no later than April 15. Money received after that date will be sent to the charity but not matched.
Please note the following pledge guidelines:
A minimum flat donation is $25.
A minimum per birdie pledge $.01 is required.
A maximum per birdie pledge is $1.00.
A maximum flat donation of $1,500 will be accepted.
In 2017, the Heritage Classic Foundation distributed $212,000 to local nonprofits thanks to the Birdies for Charity Program, pushing the total to $5.5 million since 2000!
Volunteers needed for upcoming events
Our Lego booth will be at two more community events this Spring and we need volunteers to help. Typically we have two volunteer shifts to provide adequate cover.
Please email Lee at info@lowcountryhabitat.org if you are interested in participating in any of these fun events, or call the office:843-522-3500.
Egg Drop, Beaufort Academy
on March 31, 9 am-2 pm
Softshell Crab Festival, Paris Ave, Port Royal,
on April 14, 11 am-5 pm
We also need volunteers to help us at
The Sheldon Township Community Forum
on April 28, 8 am - 2 pm



Other Volunteer Needs


If you are interested in learning more or getting started with any of the opportunities below, please contact Lee in the office at info@lowcountryhabitat.org, or call 843-522-3500.
ReStore Advisory Committee member

Monday through Friday, 9am-1pm/1pm-5pm office volunteers for front desk cover, data-entry, and mailing our online book orders

Tuesday, Thursday, Friday 8 am-noon construction volunteers

Saturday 8 am until 2 pm construction volunteers

Tuesday and Wednesday, 9am-noon ReStore merchandisers

Tuesday through Thursday 7:30am-1pm warehouse craftsmen and painters

Shopping online?
How signing up with amazonsmile will help LowCountry Habitat
Click on the
amazon

smile
banner to see how you can help support LowCountry Habitat for Humanity by shopping on
amazon

smile
!

amazon

smile

is a simple and automatic way for you to support your favorite charitable organization every time you shop, at no cost to you. When you shop at smile.amazon.com you'll find the exact same low prices, vast selection and convenient shopping experience as Amazon.com, with the added bonus that Amazon will donate a portion of the purchase price to your favorite charitable organization. Read more here
Are you on Facebook?
Did you know that we have two Facebook pages?
LowCountry Habitat ReStore
LowCountry Habitat for Humanity
Help us grow our network and spread the word by Liking us, Following us and Share with your friends!
Love it, Like it, Share it! It all starts with you!
#lowcountryhabitatrestore #thestorethatbuildshouses
Save-the-Dates:

March 30 ♦ Good Friday, office closed ♦ no construction

March 31 ♦ Lego Build Booth at The Beaufort Academy Egg Drop

April 1 ♦ Easter Sunday

April 14 ♦ Soft Shell Crab Festival

April 14 ♦ Volunteer Orientation

April 26 ♦ Volunteer Role Appreciation Party 6-8 pm

April 28 ♦ Sheldon Township Community Forum, 8 am - 2 pm

May 1 ♦ Family Orientation Meeting 6 pm Brick Batptist Church

May 3 ♦ Family Orientation Meeting 6 pm Baptist Church of Beaufort

May 5 ♦ Family Orientation Meeting 10 am Lighthouse Christian Center

May 12 ♦ Volunteer Orientation

NEW EVENT! November 22 ♦ Turkey Trot 5K