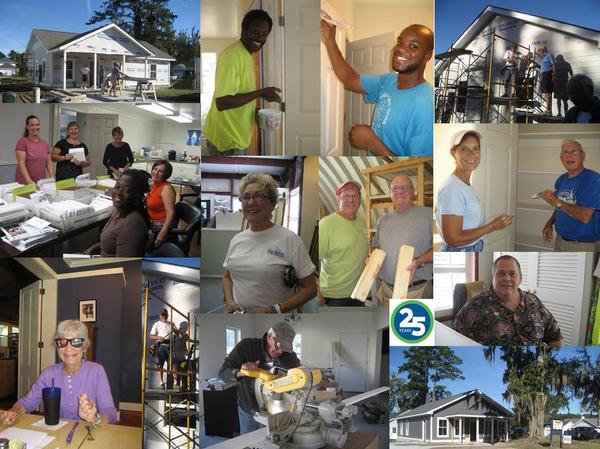 Celebrating our Superstar Volunteers
During the month of October, many of our LowCountry Habitat for Humanity Summer Migrants have returned to South Carolina, and have resumed their regular volunteer schedules. We are delighted to welcome you all home!
October has been a busy month, with great progress made on our two homes under construction at Mint Farm Drive. The Adderley Family will be moving into #19, the Stud House, in time for Thanksgiving, and the Greene Family into #20, the Tribute House, before Christmas. Details of the Dedication of these two homes will be announced soon.
None of this would be possible without the help of our fabulous Volunteers. Whether "swinging a hammer" on the Construction site, helping customers at the ReStore, making furniture at the Warehouse, serving on a Committee, or working in the office, our Volunteers are essential to our mission, to put an end to poverty housing in northern Beaufort County. In recognition of their dedication, a Volunteer Appreciation Event is being planned for the New Year. This will be a fun event to look forward to after the Holidays, so be on the look out for details to be announced soon!
Quick Links:


Construction Site Updates
Volunteer Opportunities at the ReStore
Volunteer Orientation Meeting Saturday November 14
Employment Opportunity: Truck Driver/Donations Ambassador
There's still time to join the Silver Hammer Club!
Belk Charity Day Sale

Support LowCountry Habitat for Humanity by purchasing a ticket to the Belk November 7, 2015 Charity Sale!

Belk offers a private, 4-hour sale that is dedicated to supporting non-profit organizations.

Read More

ReStore ReReads bid farewell to
Carol Butler

At LowCountry Habitat ReStoreReReads, we have a great group of book lovers that sort, price, shelve, and organize the books donated to the ReStore. For many years, Carol Butler has been a dedicated member of the team, and she is now relocating to Florida. The ReStoreReReads team gathered for lunch recently to bid Carol a fond farewell. Thank You Carol for all that you have done to help LowCountry Habitat for Humanity.

Introducing our new member of the ReStore Team

Next time you visit the ReStore in search of that perfect piece of furniture or art work to complete your decor, or when you have your donation of gently used household articles collected from your home, you might just meet Peter Green, our new Truck Donations Ambassador. Welcome aboard Peter!

Holy Land Tour and Habitat for Humanity Jordan in March, 2016


​As you may know, LowCountry Habitat Board Member Pastor Heather

​Doss​ has moved on to Lowell,

​Massachusetts, ​but she is certainly not forgotten. In March, Heather will lead

​ a​ trip to the Holy Land. This trip will be loosely connected with Barbara Thomas' next Habitat Global Village team to Jordan. Loosely connected means that you are invited to join

one

or

both

of the trips. Heather's

Holy Land Sampler

highlights the places and stories important in the life of Jesus. Then, as our time in Israel ends, those continuing on to build with

Habitat Jordan

will transfer by van​ to Amman. Otherwise,

​you may choose departure from Tel Aviv to return home.

​Of course, you may choose only the Global Village team to Jordan. ​

2016 Resolution Run/Walk 5K
& Health Fair

Visit beautiful Dataw Island for the 5th Annual Resolution Run/ Walk 5K and Health Fair, to benefit LowCountry Habitat for Humanity. Participants will have a fast, flat course. Awards will be given to first place finishers in eight categories. Read More



Beaufort Regional Chamber of Commerce announce this week's Business of the Week: LowCountry Habitat for Humanity!

Following presentation of the commemorative certificate, the Chamber made an informative videon about LowCountry habitat for Humanity, and the ReStore. You can see the video by clicking on the arrow, and listen to what Chet and Jenny have to say about LowCountry Habitat for Humanity: