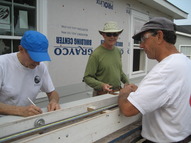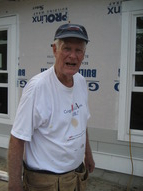 At Mint Farm this Wednesday, four of our construction workers began the cutting and installation of hardiplank siding. Paris, pictured above in the green shirt, attended our volunteer orientation on August 8, and has become quite the regular at Mint Farm. Bruce, directly above, and recently returned from his summer retreat, has volunteered with LowCountry Habitat for 14 years. Welcome back Bruce! Our experienced volunteers help our new volunteers learn new skills, so if you have completed volunteer orientation but have not yet worked on the construction site and would like to, please call Lee on 843-522-3500, to coordinate your availability with our Construction Manager and Supervisor.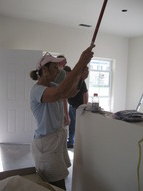 Here's Bobbi, completing the painting of the ceiling of the Stud house, before the laying of floor tile begins.

Thanks again to all our wonderful and dedicated volunteers for everything you do to help LowCountry Habitat for Humanity.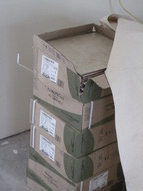 P.S. Have you heard about our 25th Anniversary Celebration, on Thursday September 17th? Click here for more details.