The Hammer, January 2018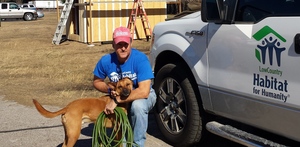 Michael Perry, Construction Manager and his super sweet canine companion, Bo.
Photo by Barbara Krakehl
Construction Update
While we await permiting on the Greene Street house builds, we are building sheds which will be sold through the ReStore. In additon to creating a new stream of revenue for our building programs, the construction of these sheds provides an excellent training tool to develop volunteer skills needed on our house builds. If you have completed volunteer orientation and would like to help, shed constriction at the warehouse continues this Tuesday through Thursday. Winter construction hours have been moved forward to 8:30 am to 12:30 pm.
IMPORTANT! If you plan to volunteer, please email our construction manager well ahead of time, and at least 24 hours beforehand, at michael@lowcountryhabitat.org so that he can plan accordingly. In the event of inclement weather, Michael may need to cancel construction plans and will notify all volunteers planning to work that shift, so it is important that he knows who to contact!
REMINDER: We are currently seeking experienced construction volunteers who will be able to make a regular commitment on the Greene Street house builds on Tuesday and/or Thursdays. We hope to have build site volunteer opportunities by mid February! If you are interested, please contact Lee in the office on 843-522-3500 or email info@lowcountryhabitat.org.
Thanks to all of our volunteers who help LowCountry Habitat for Humanity bring people together to build homes, communities and hope in northern Beaufort County.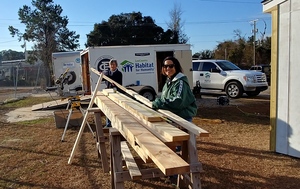 Working on shed construction are dedicated Wednesday crew volunteers, Barbara and Bobbi.
Photo by Michael Perry.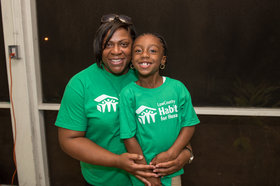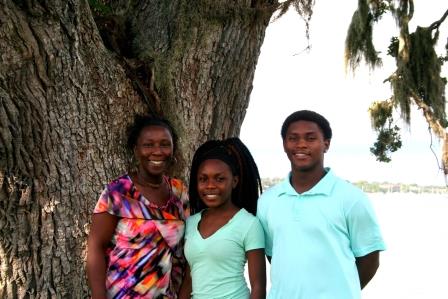 Family Partner, Denise Simmons, Family Partner, Natiema Fuller-Busby,
and her daughter Jamie and her children Coco and Michael

Congratulations!
Family Partners Denise Simmons and Natiema Fuller-Busby have successfully completed their sweat equity requirement of 250 hours in an impressive 9 months! Way to go Denise and Natiema!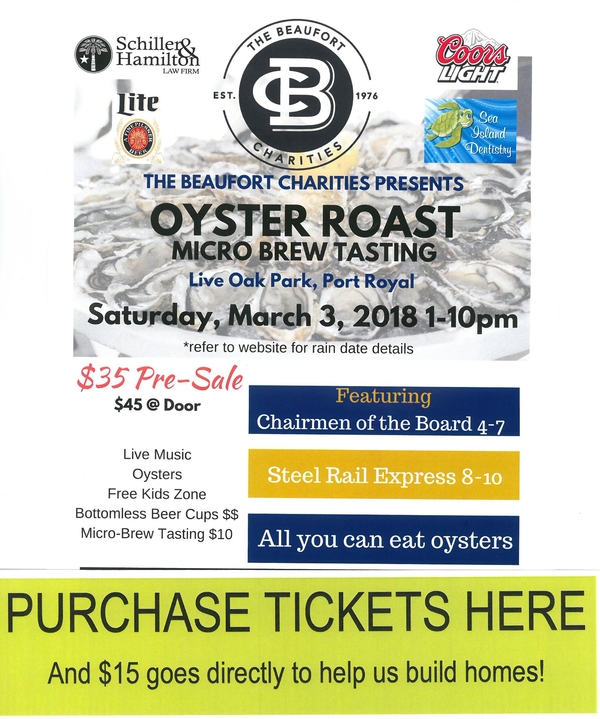 Need Beaufort Charities Oyster Roast Tickets?


LowCountry Habitat for Humanity is partnering with The Beaufort Charities on this. Purchase your tickets from our office or LowCountry Habitat ReStore and $15 goes directly to help us build homes! Cash or Check only please. This is a super fun event that you will not want to miss!

The RBC Heritage Presented by Boeing is Hilton Head Island's largest sporting and social event – and thanks to Birdies for Charity, it's also the fast, easy and fun way to have your donation to LowCountry Habitat for Humanity matched by 15%.
Birdies for Charity is like a walk-a-thon, but instead of donating per mile, participants make a pledge for every birdie made at the RBC Heritage presented by Boeing. Donors have the flexibility to pay in advance or to be billed after the tournament, or they may make a one-time donation.
In 2017, the Pros made 1,398 Birdies during the tournament. If 1,300 Birdies are made during the 2018 event, the pledges would look like this:
1 cent pledge = $13.00 total pledge
3 cent pledge = $39.00 total pledge
10 cent pledge = $130.00 total pledge
$1.00 pledge = $1,300 total pledge
All pledges must be made
online
between January 1 and April 15. All pledges must be made payable and returned to the Heritage Classic Foundation no later than April 15. Money received after that date will be sent to the charity but not matched.
Please note the following pledge guidelines:
A minimum flat donation is $25.
A minimum per birdie pledge $.01 is required.
A maximum per birdie pledge is $1.00.
A maximum flat donation of $1,500 will be accepted.
In 2017, the Heritage Classic Foundation distributed $212,000 to local nonprofits thanks to the Birdies for Charity Program, pushing the total to $5.5 million since 2000!
LowCountry Habitat for Humanity volunteer craftsman's contribution to Valentine Ball Silent Auction
Talented Beaufort Collection craftsman, Robb Alexander has volunteered with LowCountry Habitat for Humanity since March 2004. He's pictured above working with Mark Hooper and Kevin Conroy, two more fabulous Beaufort Collection volunteers. Robb has made a beautiful white settee with caned seat, see picture below, ideal for your entryway, hallway or the end of your bed. It can be YOURS by bidding in the silent auction at Beaufort Memorial Hospital Foundation's Valentine Ball on February 10th. You may bid with your cell phone, iPad or computer starting February 1, at www.Valentineball.cbo.io - Look for item #57.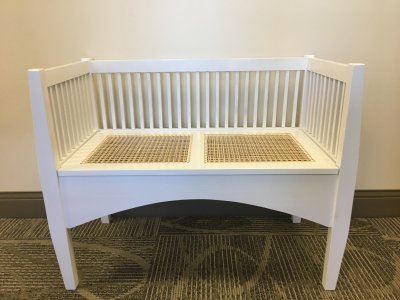 Check our volunteer role of honor as at December 31, 2017 here
Volunteers needed for upcoming events
Our Lego booth will be at four community events this Spring and we need volunteers to help. Typically we have several 4 hour volunteer shifts to provide adequate cover.
Please email Lee at info@lowcountryhabitat.org if you are interested in participating in any of these fun events, or call the office:843-522-3500.
Friends of Caroline Hospice Bands Brews and BBQ, Paris Ave, Port Royal, on February 23, 6-9 pm February 24, noon-4pm.
The Beaufort Charities Oyster Roast, Live Oak Park, Port Royal,
on March 3, 1-10pm
22nd Annual Kidfest, Cross Creek Shopping Center,
on April 7, 9am-3pm
Softshell Crab Festival, Paris Ave, Port Royal,
on April 14, 11am-5pm



Other Volunteer Needs


If you are interested in learning more or getting started with any of the opportunities below, please contact Lee in the office at info@lowcountryhabitat.org, or call 843-522-3500.
ReStore Advisory Committee member

Monday through Friday, 9am-1pm/1pm-5pm office volunteers for front desk cover, data-entry, and mailing our online book orders

Tuesday and Thursday, 8:30am-12:30pm construction volunteers

Tuesday and Wednesday, 9am-noon ReStore merchandisers

Tuesday through Thursday 7:30am-1pm warehouse craftsmen and painters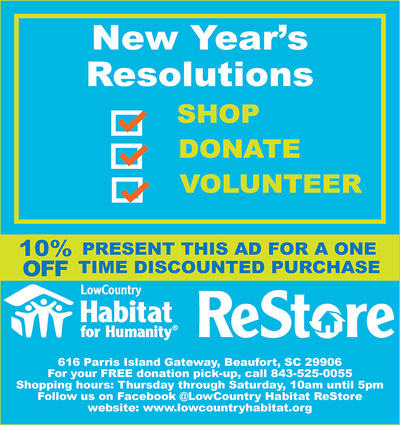 Shopping online?
How signing up with amazonsmile will help LowCountry Habitat
Click on the
amazon

smile
banner to see how you can help support LowCountry Habitat for Humanity by shopping on
amazon

smile
!

amazon

smile

is a simple and automatic way for you to support your favorite charitable organization every time you shop, at no cost to you. When you shop at smile.amazon.com you'll find the exact same low prices, vast selection and convenient shopping experience as Amazon.com, with the added bonus that Amazon will donate a portion of the purchase price to your favorite charitable organization. Read more here
Are you on Facebook?
Did you know that we have two Facebook pages?
LowCountry Habitat ReStore
LowCountry Habitat for Humanity
Help us grow our network and spread the word by Liking us, Following us and Share with your friends!
Love it, Like it, Share it! It all starts with you!
#lowcountryhabitatrestore #thestorethatbuildshouses
Save-the-Dates:

February 13, 2018 ♦ Volunteer Orientation

February 23-24 ♦ Bands Brews and BBQ

February 25 - March 3 ♦ Collegiate Challenge week: Neumann University

February 27, 2018 ♦ Come and visit our volunteer booth at The Get involved Expo, Carolina Ballroom, Dataw Island 2-4pm

March 3, 2018 ♦ Beaufort Charities Oyster Roast

March 10, 2018 ♦ Volunteer Orientation

March 18-24 ♦ Collegiate Challenge week: Marshall University

April 1, 2018 ♦ Easter Sunday

April 7, 2018 ♦ Kidfest

April 14, 2018 ♦ Soft Shell Crab Festival

April 14, 2018 ♦ Volunteer Orientation